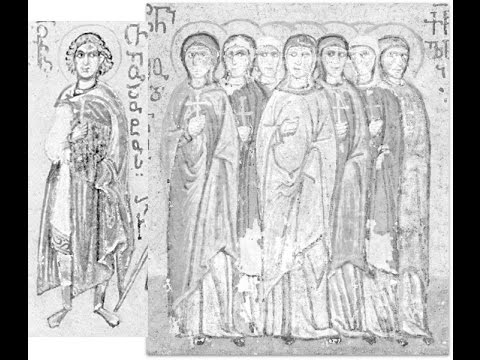 The Holy Martyr Theodotus and the Holy Seven Virgins Tecusa, Phaine, Claudia, Matrona, Julia, Alexandra and Euphrasia lived during the second half of the third century in the city of Ancyra, Galatia, and died as martyrs for Christ at the beginning of the fourth century. Saint Theodotus was an innkeeper and was married. The prefect of Ancyra issued a proclamation informing Christians that they were obliged to offer sacrifice to idols, and if they refused, they would be tortured and killed. Pagans would deliver Christians over to torture, and then divide up their property. Theodotus was not afraid to bury the remains of holy martyrs, either carrying them off secretly or ransoming them from the soldiers. When the Christian churches at Ancyra were destroyed and closed, the Divine Liturgy was celebrated in his inn. At this time, seven holy virgins died for Christ. The eldest, St. Tecusa, was the aunt of St. Theodotus. The holy virgins Tecusa, Phaine, Claudia, Matrona, Julia, Alexandra and Euphrasia had dedicated themselves to God from their youth, living in constant prayer, fasting, temperance and good deeds. Brought to trial as Christians, the holy virgins bravely confessed their faith in Christ before the prefect and were given over to torture, yet remained steadfast. A heavy stone was tied to the legs of each, and all seven of the holy virgins were drowned in a lake. The next night, St. Tecusa appeared to St. Theodotus in a dream asking him to retrieve her body and give her a Christian burial. St. Theodotus found all the bodies of the seven martyrs and brought them to church where they were buried. After this act, St. Theodotus gave his life for Christ.
Troparion
O Lord our God, your holy martyrs have deserved the crown of immortality on account of their good fight. Armed with your strength, they have vanquished their persecutors and crushed Satan's dreadful might. Through their supplications, O Christ our God, save our souls.
Kontakion
You fought well by your martyrdom, O Theodotus, as did those who were martyred with you. You were crowned along with those martyred virgins. Implore Christ our God unceasingly for all of us.
Epistle
Acts 1: -12
In my first account, Theophilus, I dealt with all that Jesus did and taught until the day he was taken up to heaven, having first instructed the apostles he had chosen through the Holy Spirit. In the time after his suffering he showed them in many convincing ways that he was alive, appearing to them over the course of forty days and speaking to them about the reign of God. On one occasion when he met with them, he told them not to leave Jerusalem: "Wait, rather, for the fulfillment of my Father's promise, of which you have heard me speak. John baptized with water, but within a few days you will be baptized with the Holy Spirit."
While they were with him they asked, "Lord, are you going to restore the rule to Israel now?" His answer was: "The exact time it is not yours to know. The Father has reserved that to himself. You will receive power when the Holy Spirit comes down on you; then you are to be my witnesses in Jerusalem, throughout Judea and Samaria, yes, even to the ends of the earth." No sooner has he said this than he was lifted up before their eyes in a cloud which took him from their sight.
They were still gazing up into the heavens when two men dressed in white stood beside them. "Men of Galilee," they said, "why do you stand here looking up at the skies? This Jesus who has been taken from you will return, just as you saw him go up into the heavens."
After that they returned to Jerusalem from the Mount of Olives near Jerusalem.
Gospel
Luke 24: 36-53
At that time, after his resurrection, Jesus stood in the midst of his disciples and said to them: "Peace to you!" In their panic and fright they thought they were seeing a ghost. He said to them, "Why are you disturbed? Why do such ideas cross your mind? Look at my hands and my feet; it is really I. Touch me, and see that a ghost does not have flesh and bones as I do." As he said this he showed them his hands and feet. They were still incredulous for sheer joy and wonder, so he said to them, "Have you anything here to eat?" They gave him a piece of cooked fish, which he took and ate in their presence. Then he said to them, "Recall those words I spoke to you when I was still with you: everything written about me in the law of Moses and the prophets and psalms had to be fulfilled." Then he opened their minds to the understanding of Scriptures.
He said to them: Thus it is written that the Messiah must suffer and rise from the dead on the third day. In his name, penance for the remission of sins is to be preached to all the nations, beginning at Jerusalem. You are witnesses of this. See, I send down upon you the promise of my Father. Remain here in the city until you are clothed with power from on high."
Then he led them out near Bethany, and with hands upraised, blessed them. As he blessed, he left them, and was taken up to heaven. They fell down to do him reverence, then returned to Jerusalem filled with joy. There they were to be found in the temple constantly, speaking the praises of God.
Wednesday, May 17 –