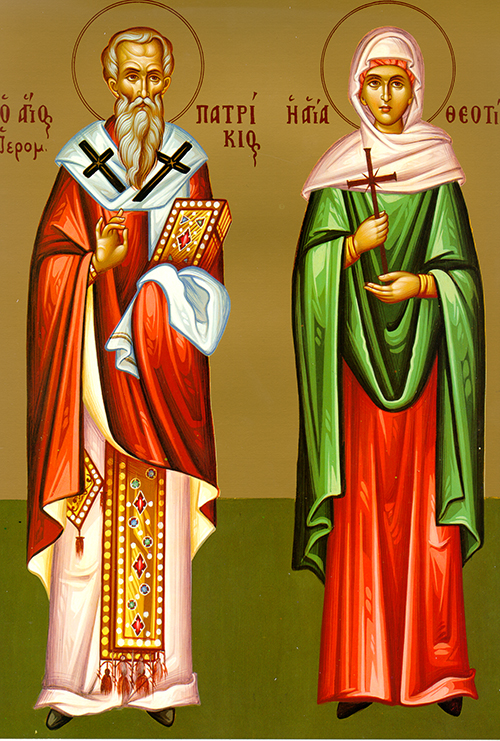 The holy martyr Patrick, Bishop of Prusa, and his companions were martyred during the reign of the emperor Julian the Apostate. Taken to a boiling spring, the governor asked if Christ would save them. Patrick replied, "If he will, he can keep me whole and uninjured, although I would wish, in this water, to be parted from this temporal life that I may live eternally with Christ; but let his holy will be done, without which not a hair of a man's head can fall." He was thrown in the spring, but remained unharmed. He was then beheaded with his three presbyters.
Troparion
O holy priest-martyr Patrick, you lent yourself to the apostles' way of life and succeeded them on their throne. Inspired by God, you found the way to contemplation through the practice of virtue. Therefore, you became a perfect teacher of the truth, fighting for the faith unto the shedding of your blood. Intercede with Christ our God that He may save our souls.
Kontakion
As a beacon fed by the virtue of the priesthood, you were emblazoned with the blood of martyrdom. Standing before Christ with those who died with you, remember us, O precious martyr Patrick.
Epistle
Acts 19: 1-8
In those days, while Apollos was in Corinth, Paul passed through the interior of the country and came to Ephesus. There he found some disciples to whom he put the question, "Did you receive the Holy Spirit when you became believers?" They answered, "We have not yet heard that there is a Holy Spirit." "Well, how were you baptized?" he persisted. They replied, "With the baptism of John." Paul then explained, "John's baptism was a baptism of repentance. He used to tell the people about the one who would come after him whom they were to believe- that is Jesus." When they heard this, they were baptized in the name of the Lord Jesus. As Paul laid his hands on them, the Holy Spirit came down on them and they began to speak in tongues and to utter prophecies. There were in the company about twelve men in all. Paul entered the synagogue, and over a period of three months debated fearlessly, with persuasive arguments, about the Kingdom of God.
Gospel
John 14: 1-11
The Lord said to his disciples: "Do not let your hearts be troubled. Have faith in God and faith in me. In my Father's house there are many dwelling places; otherwise, how could I have told you that I was going to prepare a place for you? I am indeed going to prepare a place for you, and then I shall come back to take you with me, that where I am you also may be. You know the way that leads where I go."
"Lord," said Thomas, "we do not know where you are going. How can we know the way?" Jesus told him: "I am the way, and the truth, and the life; no one comes to the Father but through me. If you really knew me, you would know my Father also. From this point on you know him; you have seen him."
"Lord," Philip, said to him, "show us the Father and that will be enough for us." Jesus replied, "Philip, after I have been with you all this time, you still don't know me? Whoever has seen me has seen the Father. How can you say, 'Show us the Father'? Do you not believe that I am in the Father and the Father is in me? The words I speak are not spoken of myself; it is the Father who lives in me accomplishing his works. Believe me that I am in the Father and the Father is in me."
Icon courtesy of Jack Figel, Eastern Christian Publications – ecpubs.com
Thursday, May 18 –