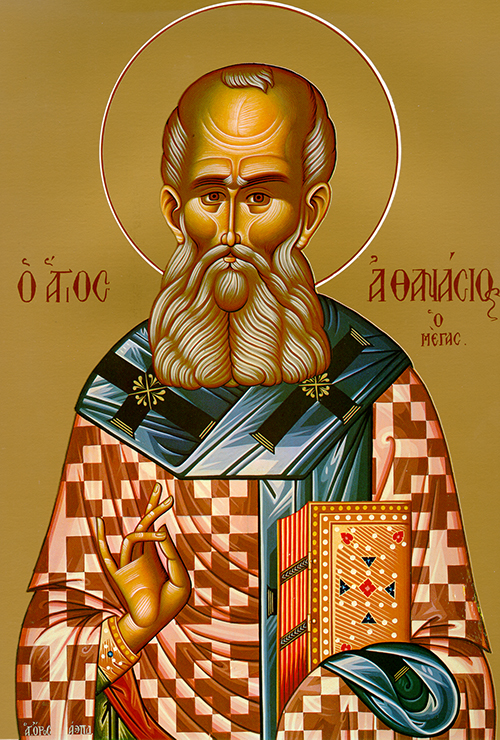 Our holy father Athanasius the Great, archbishop of Alexandria, most outstanding in his holiness and teaching, who vigorously fought for the orthodox faith in Alexandria and Egypt from the time of Constantine to that of the emperor Valens. He patiently suffered many intrigues from the Arians and was frequently forced into exile. When he had finally returned to the Church entrusted to him, after many trials and crowns of patience, he rested in the peace of Christ in the forty-sixth year of his priesthood in the year 373.
Troparion
You were the pillar of Orthodoxy, supporting the Church. You preached the divine dogma that the Son was of one nature with the Father, O holy father and archbishop Athanasius, you made Arius blush with shame. Beg Christ our God to have mercy on us.
Kontakion
Blaring trumpet of the Lord and flute of the Spirit, O great Athanasius, o fiery mind, it is fitting to sing your praises with hymns; for you taught us to honor the Trinity of one essence.
Epistle
Acts 10: 21-33
In those days, Peter went down to the men and said, "I am the man you are looking for. What has brought you here?" They answered: "the centurion Cornelius, who was an upright and God-fearing man, well thought of in the whole Jewish community, has been instructed by a holy messenger to summon you to his house. There he is to hear what you have to say." With that, Peter invited them in and treated them as guests.
The next day Peter went off with them, accompanied by some of the brothers from Joppa. The following day, he arrived in Caesarea. Cornelius, who was expecting them, had called in his relatives and close friends. As Peter entered, Cornelius went to meet him, dropped to his knees before him and bowed low. Peter said as he helped him to his feet, "Get up! I am only a man myself." Peter then went in, talking with him all the while. He found many people assembled there, and he began speaking to them thus: "You must know that it is not proper for a Jew to associate with a Gentile or to have dealings with him. But God has made it clear to me that no one should call any man unclean or impure. That is why I have come in response to your summons without raising any objection. I should, of course, like to know why you summoned me." Cornelius replied: "Just three days ago at this very hour, namely three o'clock, I was praying at home when a man in dazzling robes stood before me. 'Cornelius,' he said, 'your prayer has been heard and your generosity remembered in God's presence. Send someone to Joppa to invite Simon known as Peter to come here. He is a guest in the house of Simon the leather tanner, by the sea.' (Then Cornelius continued) I sent for you immediately, and you have been kind enough to come. All of us stand before God at this moment to hear whatever directives the Lord has given you."
Gospel
John 7: 1-13
At that time, Jesus moved about within Galilee. He had decided not to travel in Judea because some of the Jews were looking for a chance to kill him. However, as the Jewish feast of Booths drew near, his brothers had this to say: "You ought to leave here and go to Judea so that your disciples there may see the works you are performing. No one who wishes to be known publicly keeps his actions hidden. If you were going to do things like these, you may as well display yourself to the world at large." As a matter of fact, not even his brothers had much confidence in him.
Jesus answered them: "It is not yet the right time for me, whereas the time is always right for you. The world is incapable of hating you, but it does hate me because of the evidence I bring against it that what it does is evil. Go up yourselves to the festival. I am not going up to this festival because the time is not yet ripe for me." Having said that, he stayed on in Galilee. However, once his brothers had gone up to the festival he too went up, but as if in secret and not for all to see.
During the festival, naturally, the Jews were looking for him, asking, "Where is that troublemaker?" Among the crowds there was much guarded debate about Jesus. Some maintained, "He is a good man," while others kept saying, "Not at all — he is only misleading the crowd!" No one dared talk openly about him, however, for fear of the Jews.
Icon courtesy of Jack Figel, Eastern Christian Publications – ecpubs.com
Tuesday, May 2 –