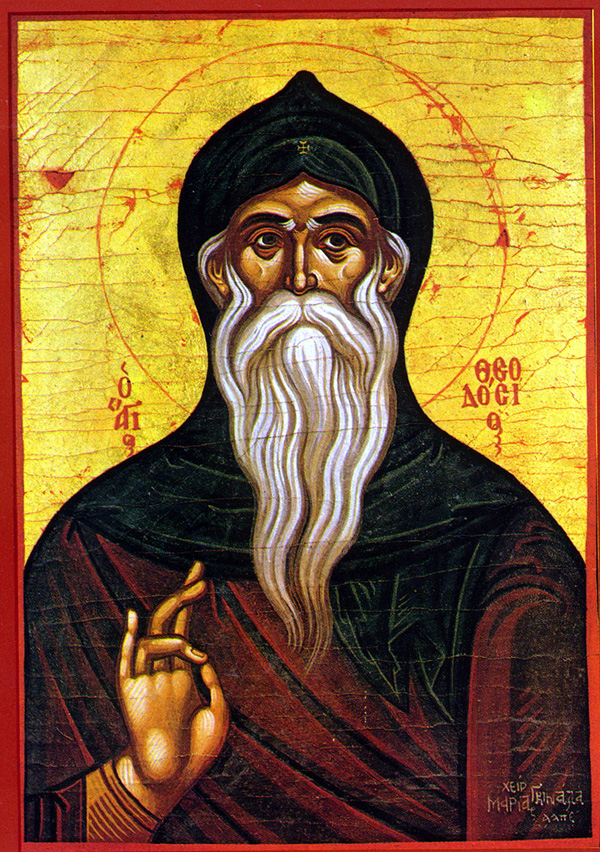 Our venerable father Theodosius the Great founded the first cenobitic monastery in Palestine during the fifth century. He left his monastery to champion Orthodoxy when a heresy arose under the Emperor Anastasius. He traveled to Jerusalem and in the church, he stood at the high place and cried out for all to hear: "Whoever does not honor the four Ecumenical Councils, let him be anathema!" For this bold deed the monk was sent to prison, but soon returned after the death of the emperor. Saint Theodosius accomplished many healings and other miracles during his life, coming to the aid of the needy. Also by his intercession, soldiers were saved from death, and he saved those perishing in shipwrecks and those lost in the desert. Before his death, Saint Theodosius summoned to him three beloved bishops and revealed to them that he would soon depart to the Lord. After three days, he died at the age of 105. The saint's body was buried with reverence in the cave in which he lived at the beginning of his ascetic deeds.
Troparion
Loving the monastic life from your youth, you climbed the summit of virtue. Achieving your goal, you took up life in a cave. Perfecting your life by fasting, you became like an angel. You have enlightened all the Slav lands like a star. O father Theodosius, intercede with Christ our God to save our souls.
Kontakion
We venerate the star of all the Slav lands today, rising in the East and traveling West. The blessed Theodosius radiated miracles and holiness by his goodness and monastic piety.
Readings for the saint
Epistle
Hebrews 13: 7-16
Brothers and sisters: Remember your leaders who spoke the word of God to you; consider how their lives ended, and imitate their faith. Jesus Christ is the same yesterday, today, and forever.
Do not be carried away by all kinds of strange teachings. It is good to have our hearts strengthened by the grace of God and not by foods which are useless to those who take them as a standard for living. We have an altar from which those who serve the tabernacle have no right to eat. The bodies of the animals whose blood is brought into the sanctuary by the high priest as a sin offering are burned outside the camp. Therefore Jesus died outside the gate, to sanctify the people by his own blood. Let us go to him outside the camp, bearing the insult which he bore. For here we have no lasting city; we are seeking one which is to come. Through him let us continually offer God a sacrifice of praise, that is, the fruit of lips which acknowledge his name. Do not neglect good deeds and generosity; God is pleased by sacrifices of that kind.
Gospel
Matthew 11: 27-30
The Lord said to his disciples: "everything has been given over to me by my Father. No one knows the Son but the Father, and no one knows the Father but the Son– and anyone whom the Son wished to reveal him.
"Come to me, all you who are weary and find life burdensome, and I will refresh you. Take my yoke upon your shoulders and learn from me, for I am gentle and humble of heart. Your souls will find rest, for my yoke is easy and my burden light."

Readings for the day
Epistle
Acts 14: 6-18
In those days, Paul and Barnabas fled to the Lycaonian towns of Lystra and Oebre and to the surrounding country, where they continued to proclaim the good news.
At Lystra there was a man who was lame from birth; he used to sit crippled, never having walked in his life. On one occasion he was listening to Paul preaching, and Paul looked directly at him and saw that he had the faith to be saved. Paul called out to him in a loud voice, "Stand up! On your feet!" The man jumped up and began to walk around. When the crowds saw what Paul had done, they cried out in Lycaonian, "Gods have come to us in the form of men!" They named Barnabas Zeus; and Paul they called Hermes, since he was the spokesman. Even the priests of the temple of Zeus, which stood outside the town, brought oxen and garlands to the gates because he wished to offer sacrifice to them with the crowds.
When the apostles Barnabas and Paul heard of this, they tore their garments and rushed out into the crowds. "Friends, why do you do this?" they shouted frantically. "We are only men, human like you. We are bringing you the good news that will convert you from just such follies as these to the living God, 'the one who made heaven and earth and the sea and all that is in them.' In past ages he let the Gentiles go their way. Yet in bestowing his benefits, he has not hidden himself completely, without a clue. From the heavens he sends down rain and rich harvests; your spirit he fills with food and delight." Yet even with a speech such as this, they could scarcely stop the crowds from offering sacrifice to them.
Gospel
John 7: 14-30
At that time the feast of Tabernacles was half over by the time Jesus went into the temple area and began to teach. The Jews were filled with amazement and said, "how did this man get his education when he had no teacher?"
This was Jesus's answer: "My doctrine is not my own; it comes from him who sent me. Any man who chooses to do his will will know about this doctrine – namely, whether it comes from God or is simply spoken on my own. Whoever speaks on his own is bent on self-glorification. The man who seeks glory for him who sent him is truthful; there is no dishonesty in his heart. Moses has given you the law, has he not? Yet not one of you keeps it. Why do you look for a chance to kill me?"
"You are mad!" The crowd retarded. "Who wants to kill you?" Jesus answered: "I have performed a single work and you profess astonishment over it. Moses gave you circumcision though it did not originate with Moses but with the patriarchs. And so, even on a Sabbath you circumcise a man. If a man can be circumcised on the sabbath to prevent a violation of Mosaic law, how is it that you are angry with me for curing a whole man on the Sabbath? Stop judging by appearances and make an honest judgment."
This led some of the people of Jerusalem to remark: "Is this not the one they want to kill? Here he is speaking in public and they don't say a word to him! Perhaps even the authorities have decided that this is the Messiah. Still, we know where this man is from. When the Messiah comes, no one is supposed to know his origins."
At this, Jesus, who was teaching in the temple area, cried out: "So you know me, and you know my origins? The truth is, I have not come of myself. I was sent by One who has the right to send, and him you do not know. I know him because it is from him I come: he sent me."
At this they tried to see him, but no one laid a finger on him because his hour had not yet come.
Tuesday, May 2 –