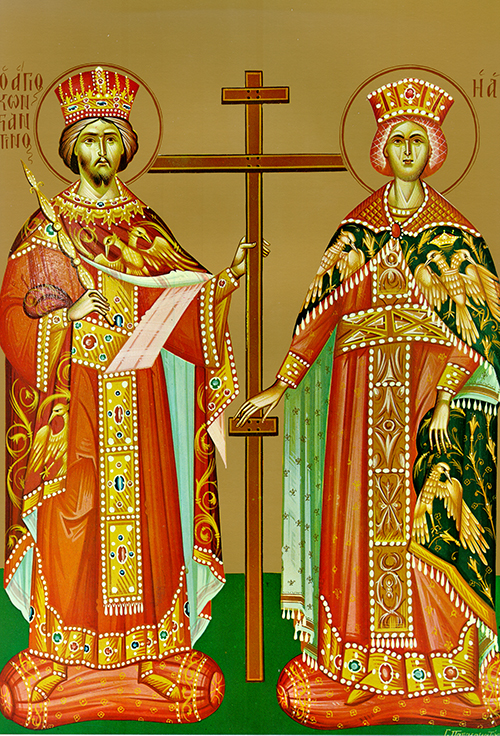 The holy Emperor Constantine reigned in ancient Rome and in Byzantium (which became New Rome), and was the first Christian emperor and champion of the Faith. Though he was not baptized until on his deathbed, he considered himself a Christian, and called the First Ecumenical Council at Nicea in 325 to settle the Arian heresy.
On the Via Labicana in old Rome, Helen, the mother of emperor Constantine, is remembered. She single-mindedly worked to help the needy and piously visited churches, mingling with the crowds. Having made a pilgrimage to Jerusalem to see the places of the Nativity, Passion, and Resurrection of Christ, she honored the manger and cross of the Lord by building basilicas worthy of respect.
Troparion
Seeing the cross in the sky like Paul, and like him you received a call from the Divine. You committed the royal city into the hands of the Lord. Save this city always in peace, O only Lover of Humankind, through the prayers of the Theotokos.
Kontakion
Today Constantine and his mother Helen reveal the cross, that most precious tree which puzzles the Jews. It is the armor of Christian authority against enemies. It has proved itself awesome in war by its many miracles.
Readings for the saints
Epistle
Acts 26: 1-5 & 12-20
In those days Agrippa spoke to Paul: "You have permission to state your case." So Paul stretched out his hand and began his defense. "Many charges have been leveled against me by the Jews, King Agrippa. I count myself fortunate to be able to make my defense today in your presence, especially since you are expert in all the various Jewish customs and disputes. I beg you to listen to me patiently.
"The way I have lived since my youth, and the life I have led among my own people from the beginning and later at Jerusalem, is well known to all Jews. They have been acquainted with me for a long time and can testify if they wish, to my life lived as a Pharisee, the strictest sect of our religion.
"On one such occasion I was traveling toward Damascus armed with the authority and commission of the chief priests. On this journey, Your Majesty, I saw a light more brilliant than the sun shining in the sky at midday. It surrounded me and those who were traveling with me. All of us fell to the ground and I heard a voice saying to me in Hebrew, 'Saul, Saul, why do you persecute me? It is hard for you to kick against the goad.' I said, at that, 'Who are you, sir?' and the Lord answered: 'I am that Jesus who you are persecuting. Get up now and stand on your feet. I have appeared to you to designate you as my servant and as a witness to what you have seen of me and what you will see of me.
'I have delivered you from this people and from the nations, to open the eyes of those to whom I am sending you, to turn them from darkness to light and from the dominion of Satan to God; that through their faith in me they may obtain the forgiveness of their sins and a portion among God's people.'
"King Agrippa, I could not disobey that heavenly vision. I preached a message of reform and of conversion to God, first to the people of Damascus, then to the people of Jerusalem and all the country of Judea; yes, even to the Gentiles. I urged them to act in conformity with their change of heart."
Gospel
John 10: 1-9
The Lord said, "Truly I assure you: whoever does not enter the sheepfold through the gate but climbs in some other way is a thief and a marauder. The one who enters through the gate is shepherd of the sheep; the keeper opens the gate for him. The sheep hear his voice as he calls his own by name and leads them out. When he has brought out those that are his, he walks in front of them, and the sheep follow him because they recognize his voice. They will not follow a stranger; such a one they will flee, because they do not recognize a stranger's voice."
Even though Jesus used this figure with them, they did not grasp what he was trying to tell them. He therefore said to them again: "My solemn word is this: I am the sheepgate. All who came before me were thieves and marauders whom the sheep did not heed. I am the gate. Whoever enters through me will be safe. He will go in and out, and find pasture."
Readings for the day
Epistle
Acts 20: 16-18a, 28-38
In those days, Paul had decided to sail past Ephesus so as not to lose time in Asia, for he was eager to get to Jerusalem by the feast of Pentecost if at all possible. Paul sent word from Miletus to Ephesus, summoning the presbyters of that church. When they came to him he delivered this address: "Keep watch over yourselves, and over the whole flock the Holy Spirit has given you to guard. Shepherd the church of God, which he has acquired at the price of his own blood. I know that when I am gone, savage wolves will come among you who will not spare the flock. From your own number, men will present themselves distorting the truth and leading astray any who will follow them. Be on guard, therefore. Do not forget that for three years, night and day, I never ceased warning you individually even to the point of tears. I commend you now to the Lord, and to that gracious word of his which can enlarge you, and give you a share among all who are consecrated to him. Never did I set my heart on anyone's silver or gold or envy the way he dressed. You yourselves know that these hands of mine have served both my needs and those of my companions. I have always pointed out to you that it is by such hard work that you must help the weak. You need to recall the words of the Lord Jesus himself, who said, 'There is more happiness in giving than receiving.'"
After this discourse, Paul knelt down with them all and prayed. They began to weep without restraint, throwing their arms around him and kissing him, for they were deeply distressed to hear that they would never see his face again. Then they escorted him to the ship.
Gospel
John 17: 1-13
At that time Jesus looked up to heaven and said: "Father, the hour has come! Give glory to your Son that your Son may give glory to you, inasmuch as you have given him authority over all mankind, that he may bestow eternal life on those you gave him. Eternal life is this: to know you, the only true God, and him whom you have sent, Jesus Christ. I have given glory on earth by finishing the work you gave me to do. Do you now, Father, give me glory at your side, a glory I had with you before the world began. I have made your name known to those you gave me out of the world. These men you gave me were yours; they have kept your word. Now they realize that all you gave me comes from you. I entrusted to them the message you entrusted to me and they received it. They have known that in truth I came from you, they have believed it was you who sent me.
For these I pray–not for the world but for these you have given me, for they are really yours. Just as all that belongs to me is yours, so all that belongs to you is mine. It is in them that I have been glorified. I am in the world no more, but these are in the world as I come to you. O Father most holy, protect them with your name which you have given me that they may be one, even as we are one. As long as I was with them, I guarded them with your name which you gave me. I kept careful watch, and not one of them was lost, none but him who was destined to be lost – in fulfillment of Scripture. Now, however, I come to you; I say all this while I am still in the world that they may share my joy completely."
Icon courtesy of Jack Figel, Eastern Christian Publications – ecpubs.com
Saturday, May 20 –