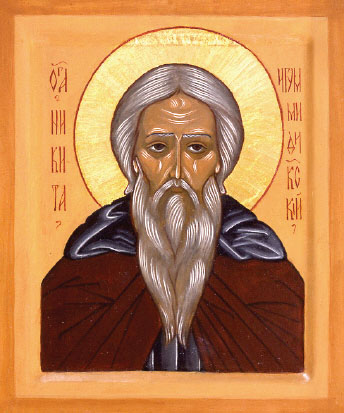 St. Nicetas, Bishop of Chalcedon, lived during the second half of the eighth century. He distinguished himself by his charity. He always helped the poor, lodged travelers in his home, cared for orphans and widows, and interceded for those who had been wronged. During the reign of the iconoclast emperor Leo the Armenian (813-820), St. Nicetas bravely denounced the Iconoclast heresy and urged his flock to venerate the holy icons of Christ, the Theotokos, and the saints. For this, St. Nicetas was subject to torture and was sent off into exile. The holy confessor Nicetas died at the beginning of the ninth century. From his holy relics occurred many miracles of healing.
Troparion
The sincerity of your deeds has revealed you to your people as a teacher of moderation, a model of faith, and an example of virtue. Therefore, you attained greatness through humility, and wealth through poverty. O father and archbishop Nicetas, ask Christ our God to save our souls.
Kontakion
You were resplendent from your good works, O Nicetas, and you inherited the apostolic seat, O venerable father. You beamed like the sun over your flock, radiating all of the divine dogmas. That is why we sing to you: Rejoice, O inspiration of Chalcedon.
Epistle
Acts 20: 7-12
In those days, on the first day of the week when we gathered for the breaking of bread, Paul preached to them. Because he intended to leave the next day, he kept on speaking until midnight. As it happened there were many lamps in the upstairs room where we were assembled. Paul talked on and on, and a certain young lad named Eutychus who was sitting on the window-sill became drowsier and drowsier. He finally went sound asleep, and fell from the third story to the ground. When they picked him up he was dead. Paul hurried down immediately and threw himself on him, clutching the boy to himself. "Don't be alarmed!" he said to them. "There is life in him." Afterwards, Paul went upstairs again, broke bread, and ate. Then he talked for a long while-until his departure at dawn. To the great comfort of the people, they were able to take the boy away alive.
Gospel
John 14: 10-21
The Lord said to his disciple: "The words I speak are not spoken for myself; it is the Father who lives in me accomplishing his works. Believe me that I am in the Father and the Father is in me, or else, believe because of the works I do. I solemnly assure you, the man who has faith in me will do the works I do, and greater far than these. Why? Because I go to the Father, and whatever you ask in my name I will do, so as to glorify the Father in the Son. Anything you ask me in my name I will do. If you love me and obey the commands I give you, I will ask the Father and he will give you another Paraclete–to be with you always: the Spirit of truth, whom the world cannot accept, since it neither sees him nor recognizes him; but you can recognize him because he remains with you and will be within you. I will not leave you orphaned; I will come back to you. A little while now and the world will see me no more; but you see me as one who has life, and you will have life. On that day you will know that I am in my Father, and you in me, and I in you. He who obeys the commandments he has from me is the man who loves me; and he who loves me will be loved by my Father. I too will love him and reveal my birth to him."
Icon courtesy of Jack Figel, Eastern Christian Publications – ecpubs.com
Friday, May 27 –