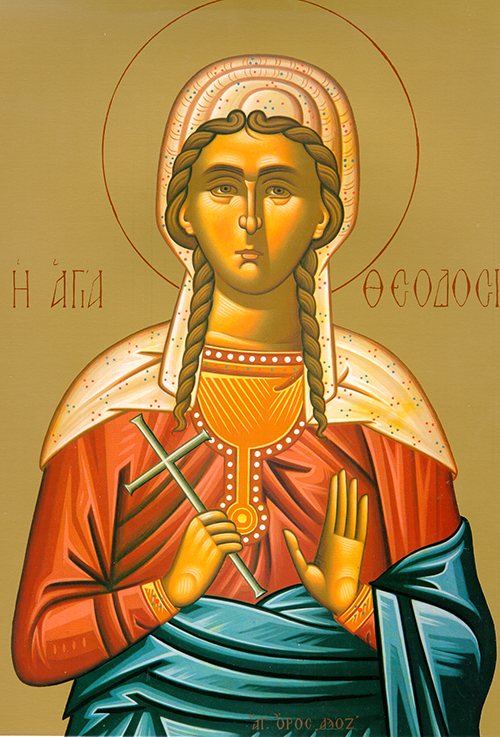 The holy virgin martyr Theodosia lived during the third and fourth centuries during a time of great Christian persecutions. At seventeen years of age, St. Theodosia visited some condemned Christian prisoners on Pascha to ask them to remember her when they appeared before the Lord. Soldiers grabbed her as she bowed before the prisoners and dragged her before the governor. The saint refused the governor's request that she make a sacrifice to the idols. She was tortured, but suffered in silence. When the governor asked her again to make a sacrifice to the idols, she mocked him saying: "Foolish man, why do you persist? Can you not see that I have received everything I prayed for, and that I am honored to share the fate of these Martyrs for Christ?" For this taunt, the severity of her punishments increased, and each time she was spared by the Lord until she was finally beheaded around the year 308.
Troparion
You were a friend of Christ and a dwelling of the Spirit, and you embraced the blessing of martyrdom joyfully. You shamed the enemy who wars against the human race. You slew Copronymus by your patient endurance. You entered the hall of heaven by the sword of faith. Seek mercy and peace for those who venerate you.
Kontakion
By your labors you obtained a life of rest and peace. By shedding your blood you vanquished the enemy of Christ's Church. With the heavenly hosts you now rejoice in heaven, O Theodosia, and shelter those who honor your memory.
Epistle
Acts 20: 16-18a, 28-38
In those days, Paul had decided to sail past Ephesus so as not to lose time in Asia, for he was eager to get to Jerusalem by the feast of Pentecost if at all possible. Paul sent word from Miletus to Ephesus, summoning the presbyters of that church. When they came to him he delivered this address: "Keep watch over yourselves, and over the whole flock the Holy Spirit has given you to guard. Shepherd the church of God, which he has acquired at the price of his own blood. I know that when I am gone, savage wolves will come among you who will not spare the flock. From your own number, men will present themselves distorting the truth and leading astray any who will follow them. Be on guard, therefore. Do not forget that for three years, night and day, I never ceased warning you individually even to the point of tears. I commend you now to the Lord, and to that gracious word of his which can enlarge you, and give you a share among all who are consecrated to him. Never did I set my heart on anyone's silver or gold or envy the way he dressed. You yourselves know that these hands of mine have served both my needs and those of my companions. I have always pointed out to you that it is by such hard work that you must help the weak. You need to recall the words of the Lord Jesus himself, who said, 'There is more happiness in giving than receiving.'"
After this discourse, Paul knelt down with them all and prayed. They began to weep without restraint, throwing their arms around him and kissing him, for they were deeply distressed to hear that they would never see his face again. Then they escorted him to the ship.
Gospel
John 17: 1-13
At that time Jesus looked up to heaven and said: "Father, the hour has come! Give glory to your Son that your Son may give glory to you, inasmuch as you have given him authority over all mankind, that he may bestow eternal life on those you gave him. Eternal life is this: to know you, the only true God, and him whom you have sent, Jesus Christ. I have given glory on earth by finishing the work you gave me to do. Do you now, Father, give me glory at your side, a glory I had with you before the world began. I have made your name known to those you gave me out of the world. These men you gave me were yours; they have kept your word. Now they realize that all you gave me comes from you. I entrusted to them the message you entrusted to me and they received it. They have known that in truth I came from you, they have believed it was you who sent me.
For these I pray–not for the world but for these you have given me, for they are really yours. Just as all that belongs to me is yours, so all that belongs to you is mine. It is in them that I have been glorified. I am in the world no more, but these are in the world as I come to you. O Father most holy, protect them with your name which you have given me that they may be one, even as we are one. As long as I was with them, I guarded them with your name which you gave me. I kept careful watch, and not one of them was lost, none but him who was destined to be lost – in fulfillment of Scripture. Now, however, I come to you; I say all this while I am still in the world that they may share my joy completely."
Icon courtesy of Jack Figel, Eastern Christian Publications – ecpubs.com
Saturday, May 28 –