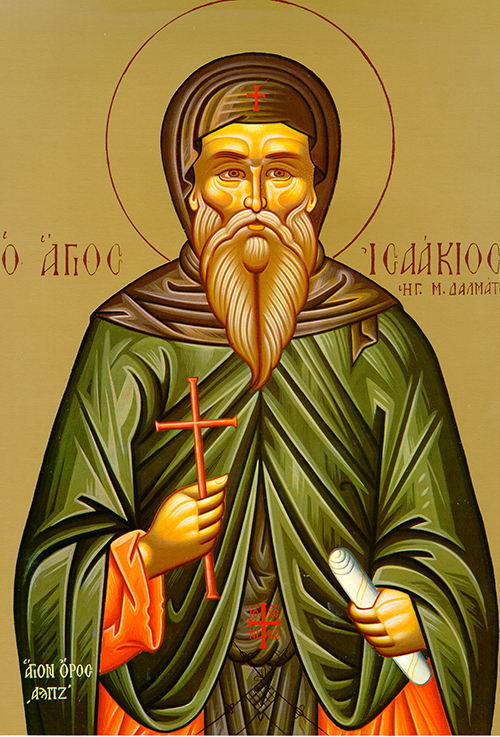 St. Isaac lived during the fourth century, received monastic tonsure and pursued ascetic labors in the desert. During the reign of the emperor Valens (364-378), a zealous adherent of the Arian heresy, there was a persecution of the Orthodox, and churches were closed and destroyed. Hearing of the persecution, St. Isaac left the wilderness and went to Constantinople to console and encourage the Orthodox. When the holy Emperor Theodosius the Great (379-395) came to the throne, he summoned the Elder, treating him with great respect. Obeying his instructions, he banished the Arians from Constantinople and restored the churches to the Orthodox.
Troparion
In you, O holy father Isaac, the faithful image of God shone forth, for you carried your cross and followed Christ. You taught by your deeds how to spurn the body, for it passes away; and how to value the soul, for it is immortal. Therefore, your soul is forever in happiness with the angels.
Kontakion
As a champion of God, you were inflamed with zeal for the Church of Christ. Grasping the bridle of Valentian, you warned him of a horrible death. You foretold terrible events if the Churches remained closed to those of the true faith. Therefore we venerate you, O Isaac, and ask you to pray for us in turn.
Epistle
Acts 21: 8-14
In those days, Paul and Luke came to Caesarea. There they entered the home of Philip the evangelist, one of the Seven, with whom they stayed. This man had four unmarried daughters gifted with prophecy. During their few days' stay, a prophet named Agabus arrived from Judea. He came up to them, and taking Paul's belt, tied his own hands and feet with it. Then he said, "Thus says the Holy Spirit: 'This is how the Jews in Jerusalem will bind the owner of this belt and hand him over to the Gentiles.'" Upon hearing this, both we ourselves and the people of Caesarea urged Paul not to proceed to Jerusalem. He answered with a question: "Why are you crying and breaking my heart in this way? For the name of the Lord Jesus I am prepared, not only for imprisonment, but for death, in Jerusalem." Since he would not be dissuaded, we said nothing further except, "The Lord's will be done."
Gospel
John 14: 27-31, 15: 1-7
The Lord said to his disciples: "Do not be distressed or fearful. You have heard me say, 'I go away for a while, and I come back to you.' If you truly loved me you would rejoice to have me go to the Father, for the Father is greater than I. I tell you this now, before it takes place, so that when it takes place you may believe. I shall not go on speaking to you longer; the Prince of this world must know that I love the Father and do as the Father has commanded me. Come, then! Let us be on our way.
"I am the true vine and my Father is the vinegrower. He prunes away every barren branch, but the fruitful ones he trims clean to increase their yield. You are clean already thanks to the words I have spoken to you. Live on in me, as I do in you. No more than a branch can bear fruit of itself apart from the vine, can you bear fruit apart from me. I am the vine, you are the branches. He who lives in me and I in him, will produce abundantly, for apart from me you do nothing. A man who does not live in me is like a withered, rejected branch, picked up to be thrown in the fire and burnt. If you live in me, and my words stay part of you then you may ask what you will – it will be done for you."
Icon courtesy of Jack Figel, Eastern Christian Publications – ecpubs.com
Sunday, May 29 –