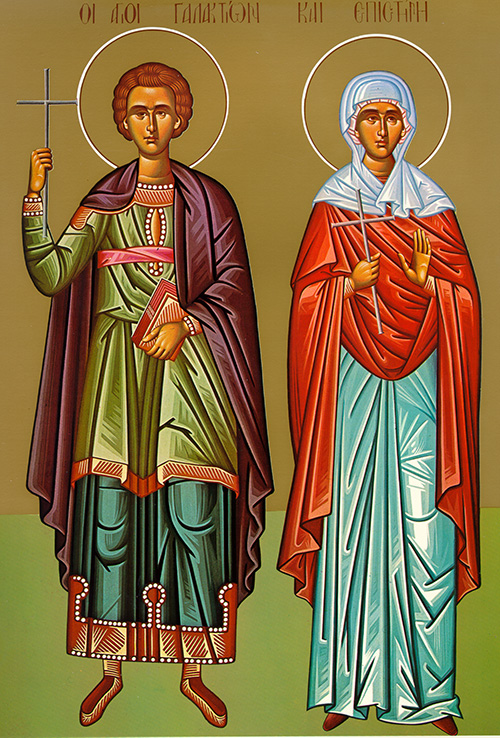 The holy martyrs Galaction and Episteme were husband and wife who joined nearby monasteries immediately after their marriage. They did not see each other for many years, until the persecution of Christians which brought them both to court and saw them die on the same day in the year 253.
Troparion
Your martyrs, O Lord our God, in their struggles received incorruptible crowns from You. With Your strength, they brought down the tyrants and broke the cowardly valor of demons. Through their prayers, O Christ our God, save our souls.
Kontakion
O glorious Galaction, you and your honorable wife and fellow-sufferer, Episteme, were numbered among the martyrs of Christ because you fought the good fight in radiant ascetical struggles. Therefore, pray unceasingly to the only God for all of us.
Epistle
2 Corinthians 5: 1-10
Brothers and sisters: Indeed, we know that when the earthly tent in which we dwell is destroyed we have a dwelling provided for us by God, a dwelling in the heavens, not made by hands but to last forever. We groan while we are here, even as we yearn to have our heavenly habitation envelop us. This it will, provided we are found clothes and not naked. While we live in out present tent we groan; we are weighed down because we do not wish to be stripped naked but rather to have the heavenly dwelling envelop us, so that what is mortal may be absorbed by life. God has fashioned us for this very thing and has given us the Spirit as a pledge of it.
Therefore we continue to be confident. We know that while we dwell in the body we are away from the Lord. We walk by faith, not by sight. I repeat, we are full of confidence and would much rather be away from the body and at home with the Lord. This being so, we make it our aim to please him whether we are with him or away from him. The lives of all of us are to be revealed before the tribunal of Christ.
Gospel
Luke 9: 1-6
At that time Jesus called the Twelve together and gave them the power and authority to overcome all demons and to cure diseases. He sent them forth to proclaim the reign of God and heal the afflicted. Jesus advised them: "Take nothing for the journey, neither walking staff nor traveling bag; no bread, no money. No one is to have two coats. Stay at whatever house you enter and proceed from there. When people will not receive you, leave that town and shake its dust from your feet as a testimony against them." So they set out and went from village to village, spreading the good news everywhere and curing diseases.
Icon courtesy of Jack Figel, Eastern Christian Publications – ecpubs.com
Friday, November 4 –