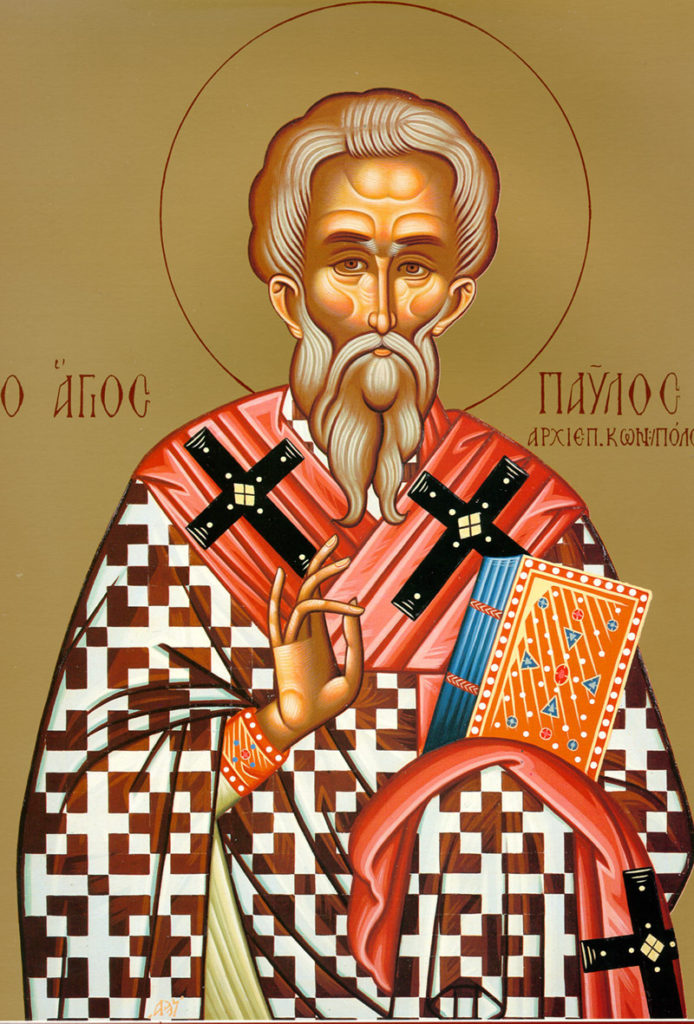 Our father Paul the Confessor, archbishop of Constantinople, was frequently exiled by the Arians because of his adherence to the Nicene faith, and was as often restored to dignity. Finally, he was sent by Constantius the emperor to Cucusum, a small village in Cappadocia. There, it is said, he was strangled in a conspiracy of the Arians in the year 351. St. Athanasius the Great, a contemporary of St. Paul, writes briefly about his exiles, "St. Paul the first time was sent by Constantine to Pontus, the second time he was fettered with chains by Constantius, and then he was locked up in Mesopotamian Syngara and from there moved to Emesus, and the fourth time to Cappadocian Cucusus in the Taurian wilderness."
Troparion
The Church sees you among her priests as another Paul because of your confession of the divine faith. The blood of Abel and Zechariah calls for you to the Lord. O venerable father, pray to Christ our God to grant great mercy to our souls.
Kontakion
You shone over the earth like a heavenly star, and now you enlighten the universal Church. For her sake, you suffered, shed your blood and made a gift of your soul, O Paul. And like the blood of Abel and Zechariah, your blood cried out to the Lord with might.
Epistle
Galatians 6: 11-18
Brothers and sisters: See, I write to you in my own large handwriting! Those who are trying to force you to be circumcised are making a play for human approval–with an eye to escaping persecution for the cross of Christ. The very ones who accept circumcision do not follow the law themselves. They want you to be circumcised only that they may boast about your bodily observance.
May I never boast of anything but the cross of our Lord Jesus Christ! Through it, the world has been crucified to me and I to the world. It means nothing whether one is circumcised or not. All that matters is that one is created anew. Peace and mercy on all who follow this rule of life, and on the Israel of God.
Henceforth, let no man trouble me, for I bear the brand marks of Jesus in my body. Brethren, may the favor of our Lord Jesus Christ be with your spirit. Amen.
Gospel
Luke 8: 41-56
At that time a man named Jairus, who was chief of the synagogue, came up and fell at the feet of Jesus, begging that he come to his home because his only daughter, a girl of about twelve, was dying. As Jesus went, the crowds almost crushed him. A woman with a hemorrhage of twelve years' duration, incurable at any doctor's hands, came up behind him and touched the tassel of his cloak. Immediately her bleeding stopped. Jesus asked, "Who touched me?" Everyone disclaimed doing it, while Peter said, "Lord, the crowds are milling and pressing around you!" Jesus insisted, "Someone touched me; I know that power has gone forth from me." When the woman saw that her act had not gone unnoticed, she came forward trembling. Falling at his feet, she related before the whole assemblage why she had touched him and how she had been instantly cured. Jesus said to her, "Daughter, it is your faith that has cured you. Now go in peace."
He was still speaking when a man came from the ruler's house with the announcement, "Your daughter is dead; do not bother the Teacher further." Jesus heard this, and his response was: "Fear is useless; what is needed is trust and her life will be spared." Once he had arrived at the house, he permitted no one to enter with him except Peter, John, James, and the child's parents. While everyone wept and lamented her, Jesus said, " Stop crying for she is not dead but asleep." They laughed at him, being certain she was dead. Jesus took her by the hand and spoke these words: "Get up, child." The breath of life returned to her and she got up immediately; whereupon he told them to give her something to eat. Her parents were astounded, but Jesus ordered them not to tell anyone what had happened.
Icon courtesy of Jack Figel, Eastern Christian Publications – ecpubs.com
Saturday, November 5 –