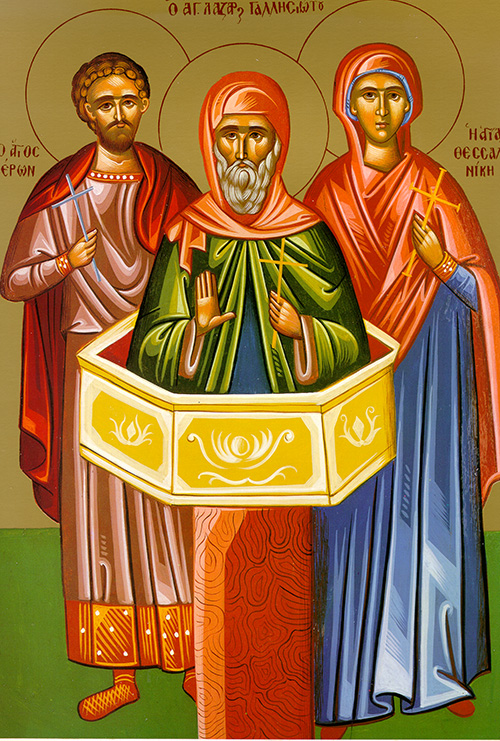 The holy thirty-three martyrs at Melitene: Heiron was a devout Christian who cared diligently for his blind mother, Stratonica. He was forcibly impressed into the army, where he refused to worship idols. He was brought before the local governor with thirty-two other Christians in the year 298. They went to their death singing the psalm, "Blessed are those undefiled in their way, who walk in the Law of the Lord."
Our venerable father Lazarus the Wonder-worker, who fasted in the hills of Galilee. He left for the Holy Land on pilgrimage and became a monk of the monastery of St. Sabbas the Sanctified. After ten years, he settled in Galilee and lived as a stylite in the 11th century.
Troparion – Martyrs
Your martyrs, O Lord our God, in their struggles received incorruptible crowns from You. With Your strength, they brought down tyrants and broke the cowardly valor of demons. Through their prayers, O Christ our God, save our souls.
Troparion – Venerable
Your falling tears and prayer vigils watered the pillar, and the thoughts of your heart produced fruit a hundredfold. And you were a shepherd, obtaining forgiveness for all, our venerable father Lazarus, pray to Christ God to save our souls.
Kontakion – Martyrs
The radiant choir of martyrs, the light-bearing army, descends perceptibly to us. Today the Church is enlightened by wondrous ray. Therefore, we celebrate their honorable memory, beseeching from You, our Savior: Through their prayers deliver us from distress that we might sing to You: Alleluia.
Kontakion – Venerable
The Church of Christ praises you with rejoicing psalms, for you have become like her largest candle stand. Therefore, do not cease praying to Christ to give remission of sins to all.
Epistle
1 Thessalonians 1: 1-5
Paul, Silvanus, and Timothy, to the church of the Thessalonians who belong to God the Father and the Lord Jesus Christ. Grace and peace be yours.
We keep thanking God for all of you and we remember you in our prayers, for we constantly are mindful before our God and Father of the way you are proving your faith, and laboring in love, and showing constancy of hope in our Lord Jesus Christ. We know, too, brothers beloved of God, how you were chosen. Our preaching of the gospel proved not a mere matter of words for you but one of power; it was carried on in the Holy Spirit and out of complete conviction. You know as well as we do what we proved to be like when, while still among you, we acted on your behalf.
Gospel
Luke 12: 13-15; 22-31
At that time someone in the crowd said to Jesus, "Teacher, tell my brother to give me my share of our inheritance."Jesus replied, "Friend, who has set me up as your judge or arbiter?" Then Jesus said to the crowd, "Avoid greed in all its forms. A man may be wealthy, but his possessions do not guarantee him life."
Then Jesus said to his disciples: "That is why I warn you, Do not be concerned for your life, what you are to eat, or for your body, what you are to wear. Life is more important than food and the body more than clothing. Consider the ravens: they do not sow, they do not reap, they have neither cellar nor barn–yet God feeds them. How much more important you are than the birds! Which of you by worrying can add a moment to his life-span? If the smallest things are beyond your power, why be anxious about the rest?
"Or take the lilies: they do not spin, they do not weave; but I tell you, Solomon in all his splendor was not arrayed like any one of them. If God clothes in such splendor the grass of the field, which grows today and is thrown on the fire tomorrow, how much more will he provide you, O weak in faith! It is not for you to be in search of what you are to eat or drink. Stop worrying. The unbelievers of this world are always running after these things. Your Father knows that you need such things. Your Father knows that you need such things. Seek out instead the kingship over you, and the rest will follow in turn."
Icon courtesy of Jack Figel, Eastern Christian Publications – ecpubs.com
Sunday, November 6 –