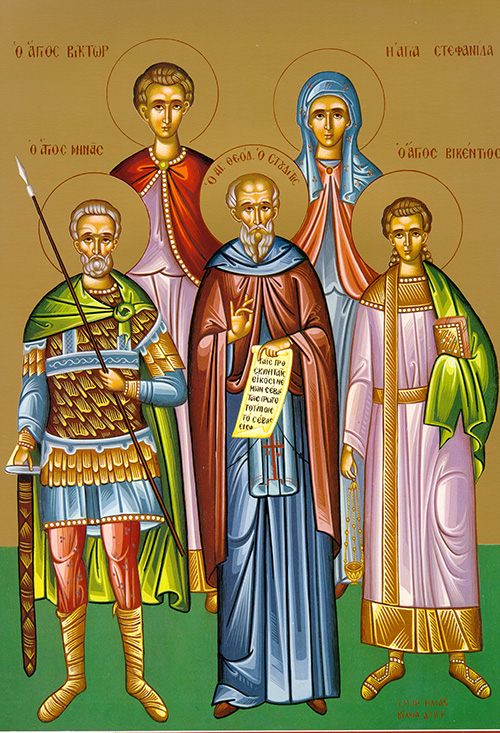 The holy martyr Menas was a soldier from Egypt. When ordered to worship pagan idols and arrest and persecute Christians, St. Menas refused and left the army to go into the wilderness and live an ascetic life. At the age of fifty, St. Menas had a vision that he regarded as a sign to follow the path to martyrdom. He sought out a pagan festival and disrupted it, confessing the One True God, and our Lord Jesus Christ. He was arrested, tortured, and eventually beheaded in 304. His relics were gathered and hidden until the persecution was over. They were brought to Egypt and placed in a church dedicated to the saint where they continue to work miracles for those who entreat him with faith and love.
The holy martyr Victor was a soldier, during the reign of the emperor Marcus Aurelius the Philosopher (161-180). He was tortured, but he came through all the torments unharmed. Through St. Victor's prayers, blind soldiers suddenly received their sight. The torturer ordered that the holy Martyr Victor be beheaded. Hearing the commander's order, St. Victor told his executioners that they would all die in 12 days, and that the commander would be captured by the enemy in 24 days. As he foretold, so it came to pass.
The holy martyr Vincent was a deacon ordained by Bishop Valerian of Augustopolis (now Saragossa, Spain). He was an eloquent orator, and preached in church and among the people. St. Vincent was arrested with his bishop during the persecution under the emperor Diolcatian. The holy deacon underwent many torments, but came through all of them, and exhausted his torturers. After the tortures they threw the martyr back into prison. That night the astonished guard heard him singing Psalms, and saw an unearthly radiant light in the prison. The next morning the holy martyr was condemned to be burned on a gridiron. Christians took the saint's body and buried it with reverence. This occurred in the year 304.
The holy martyr Stephanis was the young Christian wife of one of the tortures of the holy martyr Vincent. After she witnessed the miracles worked by the Lord through St. Vincent, Stephanis openly glorified Christ, for which she was condemned to a cruel death. She was 15 years old.
Our venerable father and confessor Theodore the Studite was hegumen of that monastery in Constantinople who suffered greatly for his defense of the cult of the holy icons. He was a wise organizer of monastic life, an inspired teacher of the Orthodox faith, and a great ascetic. He died in Constantinople in the year 826 and the age of 68.
Troparion – Martyrs
O Lord, You have made those martyrs who shared in Your passion ornaments of glory for the world. Therefore, we have in them an invincible advocate.
Troparion – Theodore
Guide to Orthodoxy, teacher of piety and holiness, luminary of the world, inspired adornment of monks, O wise Theodore, harp of the Spirit, you enlightened all by your teachings; intercede with Christ our God to save our souls.
Kontakion – Menas
Christ our God summoned you from an earthly army, and enlisted you in the army of heaven, O martyr Menas. You have been given the untarnishing crown of the martyrs.
Kontakion – Theodore
You surrounded yourself with every ascetic practice in order to protect your angelic life. With the grace of God you became like the angels. Together with them, O Theodore, never cease to intercede with Christ our God for the sake of all of us.
Epistle
2 Corinthians 11: 1-6
Brothers and sisters: You must endure a little of my folly. Put up with me, I beg you! I am jealous of you with the jealousy of God himself, since I have given you in marriage to one husband, presenting you as a chaste virgin to Christ. My fear is that, just as the serpent seduced Eve by his cunning, your thoughts may be corrupted and you may fall away from your sincere and complete devotion to Christ. I say this because, when someone comes preaching another Jesus than the one we preached, or when you receive a different spirit than the one you have received, or a gospel other than the gospel you accepted, you seem to endure it quite well. I consider myself inferior to the "super-apostles" in nothing. I may be unskilled in speech but I know that I am not lacking in knowledge. We have made this evident to you in every conceivable way.
Gospel
Luke 9: 37-43
At that time Jesus and the disciples came down from the mountain and a large crowd met them. Suddenly a man from the crowd exclaimed: "Teacher, I beg you to look at my son; he is my only child. A spirit has possession of him and with a sudden cry throws him into a convulsion and makes him foam at the mouth, then abandons him in his shattered condition. I asked your disciples to cast out the spirit but they could not." Jesus said in reply: "What an unbelieving and perverse lot you are! How long must I remain with you? How long can I endure you? Bring your son here to me." As he was being brought, the spirit threw him into convulsions on the ground. Jesus then rebuked the unclean spirit, cured the boy, and restored him to his father. And all who saw it marveled at the greatness of God.
Icon courtesy of Jack Figel, Eastern Christian Publications – ecpubs.com
Friday, November 10 –