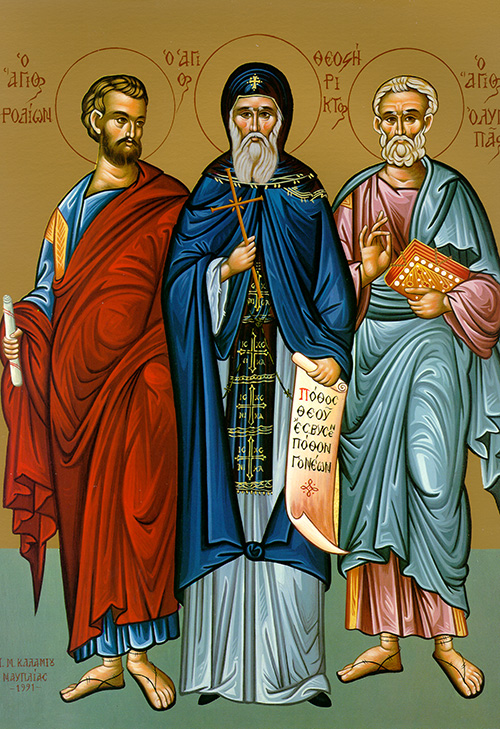 The holy apostles Erastus, Sosipater, Olympas, Rodion, Quartus, and Tertius were disciples of St. Paul. They all lived during the first century. The Apostle to the Gentiles speaks of them in the Epistle to the Romans, "And Erastus, the city treasurer, greets you, and Quartus, a brother" (Rom 16:23). St. Sosipater, a native of Achaia, was Bishop of Iconium, where he also died. St. Paul mentions him in Romans 16:21. St. Olympas was mentioned by the holy apostle Paul (Rom 16:15). He was also a companion of the Apostle Peter. St. Rodion (Herodion), was a kinsman of the Apostle Paul (Rom 16:11), and left the bishop's throne at Patras to go to Rome with apostle Peter. Saints Rodion and Olympas were beheaded on the very day and hour when St. Peter was crucified. St. Quartus endured much suffering for his piety and converted many pagans to Christ, dying peacefully as a bishop in the city of Beirut. St. Tertius is mentioned in the Epistle to the Romans, "I, Tertius, who wrote this epistle, salute you in the Lord" (Rom 16:22). St. Tertius, to whom St. Paul dictated the Epistle to the Romans, was the second Bishop of Iconium, where he also died.
Troparion
O holy apostles, intercede with the merciful God that he may grant our souls forgiveness of sins.
Kontakion
You enlightened your mind with light divine. You destroyed deceptive arguments with true wisdom, and having fished for all the Gentiles, O glorious apostles, you brought them to the Master, teaching them to glorify the Divine Trinity.
Epistle
1 Thessalonians 5: 9-13; 24-28
Brothers and sisters: God has not destined us for wrath but for acquiring salvation through our Lord Jesus Christ. He died for us, that all of us, whether awake or asleep, together might live with him. Therefore, comfort and upbuild one another, as indeed you are doing.
We beg you, brethren, respect those among you whose task it is to exercise authority in the Lord and admonish you; esteem them with the greatest love because of their work. Remain at peace with one another.
He who calls us is trustworthy, therefore he will do it. Brethren, pray for us too. Greet all the brothers with a holy embrace. I adjure you by the Lord that this letter be read to them all. May the grace of our Lord Jesus Christ be with you.
Gospel
Luke 13: 31-35
At that time certain Pharisees came to Jesus. They said, "Go on your way! Leave this place! Herod is trying to kill you." Jesus answered: "Go tell that fox, 'Today and tomorrow I cast out devils and perform cures, and on the third day my purpose is accomplished. For all that, I must proceed on course today, tomorrow, and the day after, since no prophet can be allowed to die anywhere except in Jerusalem.'
"O Jerusalem, Jerusalem, you slay the prophets and stone those who are sent to you! How often have I wanted to gather your children together as a mother bird collects her young under her wings, and you refused me! Your temple will be abandoned. I say to you, you shall not see me until the time comes when you say, 'Blessed is he who comes in the name of the Lord.'"
Icon courtesy of Jack Figel, Eastern Christian Publications – ecpubs.com
Thursday, November 9 –