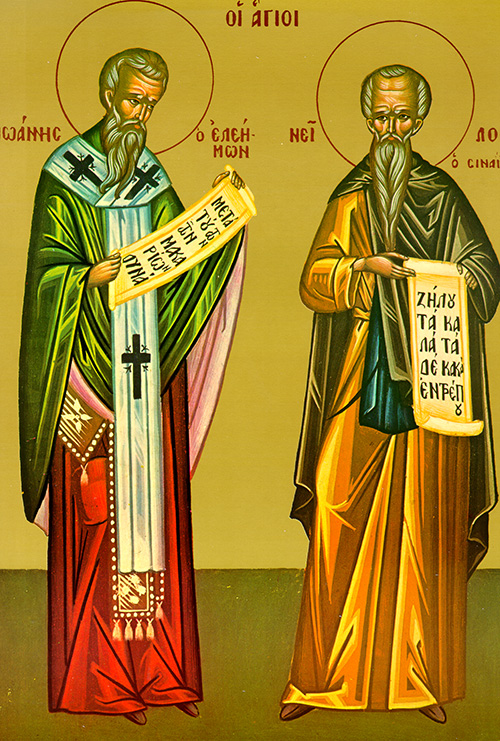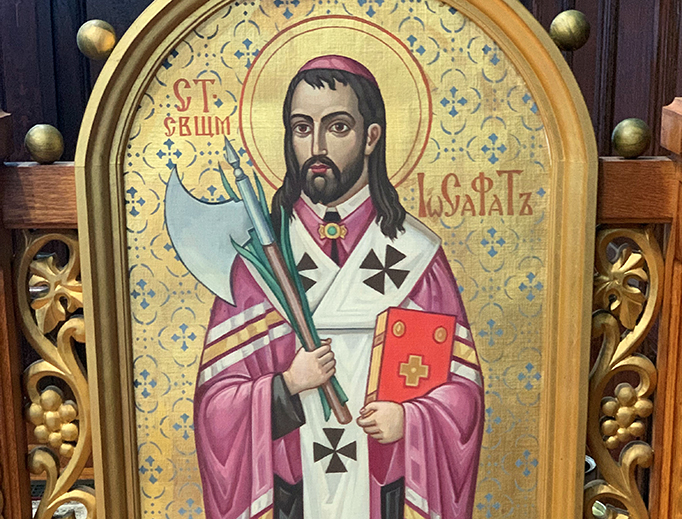 Our venerable father John the Merciful, also called "the Almsgiver", died at Amathus in the island of Cyprus in the year 620. He was famous for his compassion to the poor. Filled with love toward all, he built many churches, hospitals, orphanages, and worked with great care to relieve every misfortune of the city. To this end, he gave away the goods of the Church and diligently urged the rich to help them out with their wealth.
Our venerable father Nilus was a government official in Constantinople. He and his wife, seeing the state of morals there, joined monasteries. She in Egypt, and he on Mt. Sinai. Nilus lived the monastic life for sixty years and died at the age of 80 in 450.
The holy martyr Josaphat, Bishop of Polotsk: Josaphat Kuncewicz, bishop of the Greek Catholic church, and martyr, spurred his flock to Catholic unity by his constant effort and nurtured the Byzantine-Slavic Church by his pious love. At Vitebsk in Belarus (then part of Poland), he was cruelly seized by an angry mob and died for the unity of the Church and in defense of the Catholic truth in 1623.
Troparion – John
By your patience, you deserved your reward, O venerable father. You were assiduous in prayer, and you loved and helped the poor. Blessed John the Merciful, intercede with Christ God that He may save our souls.
Troparion – Nilus
Your abundant tears made the wilderness sprout and bloom, and your deep sighing made your labor fruitful a hundredfold. You became a star shining over the world with miracles, holy father Nilus. Pray to Christ God that He may save our souls.
Troparion – Josaphat
You have become a brilliant light, O Priest-Martyr Josaphat. You gave up your life for your sheep like the Good Shepherd. You were slain by the lovers of schism, and you have entered into the Holy of Holies to rest in the company of the angels. O long-suffering saint, we make this petition to you: Beg Christ, the Prince of Shepherds, to save our souls and to number us among the sheep at His right hand.
Kontakion – John
O John, most wise, by distributing all your possessions to the poor, you now received the wealth of heaven. Therefore, we honor you for the sake of all, celebrating your memory who bears the name merciful because of your charity.
Kontakion – Nilus
O blessed Nilus, your vigils of prayers cut down the needs of bodily passions like a scythe. Since you have confidence before the Lord, free me from every misfortune so that I may exclaim you: rejoice, universal father.
Kontakion – Josaphat
You were enlightened by a spark from the crucified Christ from the time you were a child. You were like an angel in monastic life, living in it with true holiness. You openly preached unity, and with your martyr's blood, you calmed the hearts of those who had been tossed about with schism. Christ has crowned you and we sing to you: Rejoice, unshatterable pillar of unity.
Readings for the holy martyr Josephat
Epistle
Hebrews 4:14 – 5:10
Brothers and sisters: Since, then, we have a great high priest who has passed through the heavens, Jesus, the Son of God, let us hold fast to our profession of faith. For we do not have a high priest who is unable to sympathize with our weakness, but one who was tempted every way that we are, yet never sinned. So let us confidently approach the throne of grace to receive mercy and favor and to find help in time of need.
Every high priest is taken from among men and made their representative before God, to offer gifts and sacrifices for sins. He is able to deal patiently with erring sinners, for he himself is beset by weakness and must make sin offerings for himself as well as for the people. One does not take this honor on his own initiative, but only when called by God as Aaron was. Even Christ did not glorify himself with the office of high priest; he received it from the One who said to him, "You are my son; today I have begotten you"; just as he says in another place, "You are a priest forever, according to the order of Melchizedek."
In the days when he was in the flesh, he offered prayers and supplications with loud cries and tears to God, who was able to save him from death, and he was heard because of his reverence. Son though he was, he learned obedience from what he suffered; and when perfected, he became the source of eternal salvation for all who obey him, designated by God as high priest, according to the order of Melchizedek.
Gospel
John 10 9-16
The Lord said: "I am the gate. Whoever enters through me will be safe. He will go in and out, and find pasture. The thief comes only to steal and slaughter and destroy. I came that they might have life and have it to the full. I am the good shepherd; the good shepherd lays down his life for the sheep. The hired hand — who is no shepherd nor owner of the sheep — catches sight of the wolf coming and runs away, leaving the sheep to be snatched and scattered by the wolf. That is because he works for pay; he has no concern for the sheep. I am the good shepherd. I know my sheep and my sheep know me in the same way that the Father knows me and I know the Father; for these sheep I will give my life. I have other sheep that do not belong to this fold. I must lead them, too, and they shall hear my voice. There shall be one flock then, one shepherd."
Readings for the day
Epistle
2 Corinthians 8: 1-5
Brothers and sisters, I should like you to know of the grace of God conferred on the churches of Macedonia. In the midst of severe trial their overflowing joy and deep poverty have produced an abundant generosity. According to their means – indeed I can testify even beyond their means – and voluntarily, they begged us insistently for the favor of sharing in this service to members of the church. Beyond our hopes they first gave themselves to God and then to us by the will of God.
Gospel
Luke 9: 37-43
At that time Jesus and the disciples came down from the mountain and a large crowd met them. Suddenly a man from the crowd exclaimed: "Teacher, I beg you to look at my son; he is my only child. A spirit has possession of him and with a sudden cry throws him into a convulsion and makes him foam at the mouth, then abandons him in his shattered condition. I asked your disciples to cast out the spirit but they could not." Jesus said in reply: "What an unbelieving and perverse lot you are! How long must I remain with you? How long can I endure you? Bring your son here to me." As he was being brought, the spirit threw him into convulsions on the ground. Jesus then rebuked the unclean spirit, cured the boy, and restored him to his father. And all who saw it marveled at the greatness of God.
Icon courtesy of Jack Figel, Eastern Christian Publications – ecpubs.com
Friday, November 11 –