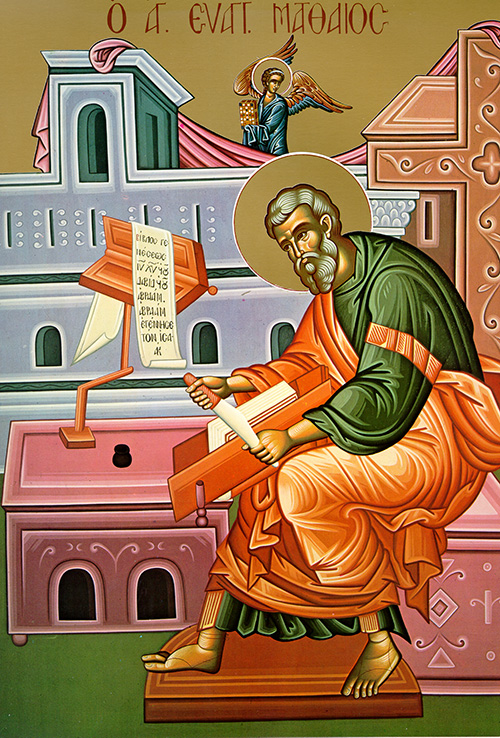 The holy apostle and evangelist Matthew who, named Levi, was called by Jesus to follow him and leave his job of publican or tax collector. Matthew, son of Alphaeus, was called by the Lord in Capernaum and said: "Follow Me." After that, Matthew prepared a reception for the Lord in his home and thus provided the occasion for the Lord to express several great truths about His coming to earth. After receiving the Holy Spirit, Matthew preached the Gospel to the Parthians, Medes, and Ethiopians. In Ethiopia he appointed his follower Plato as bishop, and withdrew to prayerful solitude on a mountain. Matthew baptized the wife and son of the prince of Ethiopia, at which the prince became greatly enraged and dispatched a guard to bring Matthew to him for trial. The soldiers returned to the prince saying that they had heard Matthew's voice, but could not see him with their eyes. The prince then sent a second guard. When this guard approached the apostle, he shone with a heavenly light so powerful that the soldiers could not look at him; filled with fear, they threw down their weapons and returned. Then the prince went himself. Matthew radiated such light that the prince was instantly blinded. However, the holy apostle had a compassionate heart. He prayed to God, and the prince was given back his sight. Unfortunately, he saw only with physical eyes and not spiritual eyes. Then the apostle prayed to God and gave up his spirit.
Troparion
You rose from the tax collector's booth and you followed Christ in all earnestness. He made you a blessing for all, a chosen apostle and evangelist for the world. Therefore, we honor your sacred memory and we ask you to beg God to forgive our sins.
Kontakion
You cast off the yoke of gathering taxes, and you put on the yoke of justice. You became a shrewd merchant, obtaining a wealth of wisdom from heaven itself. When you preached the word of truth, you lifted up depressed spirits. You wrote of the coming hour of judgment.
Readings for the apostle
Epistle
1 Corinthians 4: 9-16
Brothers and sisters: As I see it, God has put us apostles at the end of the line, like men doomed to die in the arena. We have become like a spectacle to the universe, to angels and men alike. We are fools on Christ's account. Ah, but in Christ you are wise! We are the weak ones, you the strong! They honor you, while they sneer at us! Up to this very hour we go hungry and thirsty, poorly clad, roughly treated, wandering about homeless. We work hard at manual labor. When we are insulted we respond with a blessing. Persecution comes our way; we bear it patiently. We are slandered, and we try conciliation. We have become the world's refuse, the scum of all; that is the present state of affairs.
I am writing you this way not to shame you but to admonish you as my beloved children. Granted you have ten thousand guardians in Christ, you have only one father. It was I who begot you in Christ Jesus through my preachings of the gospel. I beg you, be imitators of me.
Gospel
John 21: 14-25
At that time Jesus appeared to the disciples after being raised from the dead. When they had rated their meal, Jesus said to Simon Peter, "Simon, son of John, do you love me more than these?" "Yes, Lord," he said, "you know I love you." At which Jesus said, "Feed my lambs."
A second time he put his question, "Simon, son of John, do you love me?" "Yes, Lord," Peter said, "you know that I love you." Jesus replied, "Tend my sheep."
A third time Jesus asked him, "Simon, son of John, do you love me?" Peter was hurt because Jesus had asked a third time, "Do you love me?" So Peter said to him: "Lord, you know everything. You know well that I love you." Jesus said to him, "Feed my sheep. I tell you solemnly: as a young man you fastened your belt and went about as you pleased; but when you are older you will stretch out your hands, and another will tie you fast and carry you off against your will."
What he said indicated the sort of death by which Peter was to glorify God. When Jesus had finished speaking he said to Peter, "Follow me."
Peter turned around at that, and noticed that the disciple whom Jesus loved was following – the one who had leaned against Jesus's chest during the supper and said, "Lord, which one will hand you over?" – Seeing that disciple, Peter was prompted to ask Jesus, "But Lord, what about him?" Jesus replied, "Suppose I want him to stay until I come, how does that concern you? Your business is to follow me." This is how the report spread among the Brothers that this disciple was not going to die. Jesus never told him, as a matter of fact, the disciple was not going to die; all he said was, "Suppose I want him to stay until I come. How does that concern you?"
It is this same disciple who is the witness to these things; it is he who wrote them down and is his testimony, we know, it's true. There are still many other things that Jesus did, if they were written about in detail, I doubt there would be room enough in the entire world to hold the box to record them.
Readings for the day
Epistle
1 Thessalonians 4: 1-12
Brothers and sisters, we beg and exhort you in the Lord Jesus that, even as you learned from us how to conduct yourselves in a way pleasing to God–which you are indeed doing–so must you learn to make still greater progress. You know the instructions we gave you in the Lord Jesus. It is God's will that you grow in holiness: that you abstain from immorality, each of you guarding his member in sanctity and honor, not in passionate desire as do the Gentiles who know not God; and that each refrain from overreaching or cheating his brother in the matter at hand; for the Lord is an avenger of all such things, as we once indicated to you by our testimony. God has not called us to immorality but to holiness; hence, whoever rejects these instructions rejects not man, but God who sends his Holy Spirit upon you.
As regards brotherly love, there is no need for me to write you. God himself has taught you to love one another, and this you are doing with respect to all the brethren throughout Macedonia. Yet we exhort you to even greater progress, brethren. Make it a point of honor to remain at peace and attend to your own affairs. Work with your hands as we directed you to do, so that you will give good example to outsiders and want for nothing.
Gospel
Luke 15: 1-10
At that time the tax collectors and sinners were all gathering around to hear Jesus, at which the Pharisees and the scribes murmured, "This man welcomes sinners and eats with them." Then Jesus addressed this parable to them: "Who among you, if he has a hundred sheep loses one of them, does not leave the ninety-nine in the wasteland and follow the lost one until he finds it? And when he finds it, he puts it on his shoulders in jubilation. Once arrived home, he invites friends and neighbors in and says to them, 'Rejoice with me because I have found my lost sheep.' I tell you, there will likewise be more joy in heaven over one repentant sinner than over ninety-nine righteous people who have no need to repent.
"What woman, if she has ten silver pieces and loses one, does not light a lamp and sweep the house in a diligent search until she has retrieved what she lost? And when she finds it, she calls her friends and neighbors to say, 'Rejoice with me! I have found the silver piece I lost.' I tell you, there will be the same kind of joy before the angels of God over one repentant sinner."
Icon courtesy of Jack Figel, Eastern Christian Publications – ecpubs.com
Tuesday, November 15 –