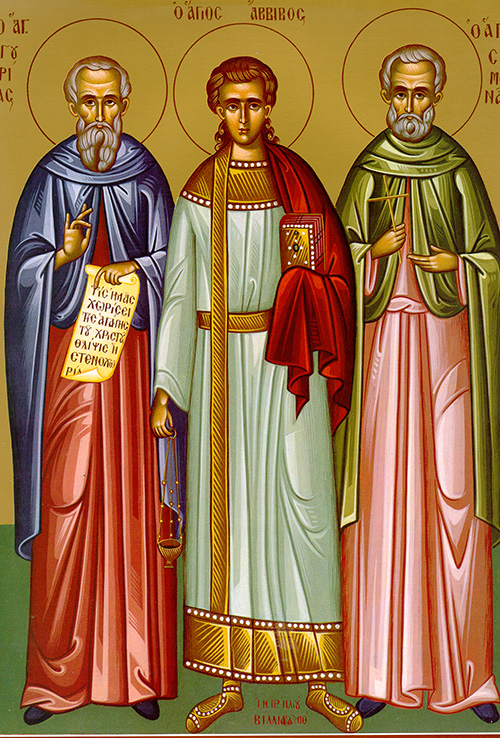 The holy martyrs and confessors Gurias, and ascetic, and Samonas suffered at Edessa in Osrhoene. They were condemned to death under Diocletian the emperor after a lengthy and savage torture, they were then beheaded by sword. Habibus was a deacon who suffered for the faith later. The martyrs endured everything with firmness and Samonas uttered a prayer to the Lord, which one of the witnesses to their death wrote down: "O Lord my God, against Whose will not a single sparrow falls into the snare. It was You Who made room for David in his sorrow (Ps. 4:1)." The martyrs were buried reverently by Christians after their death. After some years, the last pagan emperor, Licinius (311-324), began a persecution against Christians. Habibus, a deacon of the Church of Edessa whom the emperor ordered to be arrested for his zealous spreading of the True Faith, presented himself before the executioners when he learned they were searching for him. The saint confessed for Christ and was sentenced to be burned alive. The martyr went willingly into the fire and with a prayer surrendered his soul to the Lord. When the fire went out, the mother and relatives of the saint found his body unharmed. They buried the martyr next to Saints Gurias and Samonas.
Troparion
You granted us the miracles of Your holy martyrs as an unshakable stronghold, O Christ God. Through their prayers, confound the snares of pagans, strengthen the scepters of the kingdom for You alone are good and love mankind.
Kontakion
Having received grace from on high O wise ones, you stood before those tempters, O all-praised ones. Therefore, like the three holy youths, you were delivered from bitter death, for in truth you are the glory of Edessa and the joy of the world.
Epistle
1 Thessalonians 3: 9-13
Brothers and sisters: What thanks can we give to God for all the joy we feel in his presence because of you, as we ask him fervently night and day that we may see you face to face and remedy any shortcomings in your faith? May God himself, who is our Father, and our Lord Jesus make our path a straight one! And may the Lord increase you and make you overflow with love for one another and for all, even as our love does for you. May he strengthen your hearts, making them blameless and holy before our God and Father at the coming of our Lord Jesus with all his holy ones.
Gospel
Luke 14: 25-35
At that time when a great crowd was with Jesus, he turned to them and said, "If anyone comes to me without turning his back on his father and mother, his wife and his children, his brothers and sisters, indeed his very self, he cannot be my follower. Anyone who does not take up his cross and follow me cannot be my disciple. If one of you decides to build a tower, will he not first sit down and calculate the outlay to see if he has enough money to complete the project? He will do that for fear of laying the foundation and then not being able to complete the work; for all who saw it would jeer at him, saying, 'That man began to build what he could not finish.'
"Or is a king is about to march on another king to do battle with him, will he not sit down first and consider whether, with ten thousand men, he can withstand an enemy coming against him with twenty thousand? If he cannot, he will send a delegation while the enemy is still at a distance, asking for terms of peace. In the same way, none of you can be my disciple if he does not renounce all his possessions. Salt is good, but if salt loses its flavor what good is it for seasoning? It is fit for neither soil not the manure heap' it has to be thrown away. Let him who hears it, heed it."
Icon courtesy of Jack Figel, Eastern Christian Publications – ecpubs.com
Monday, November 14 –