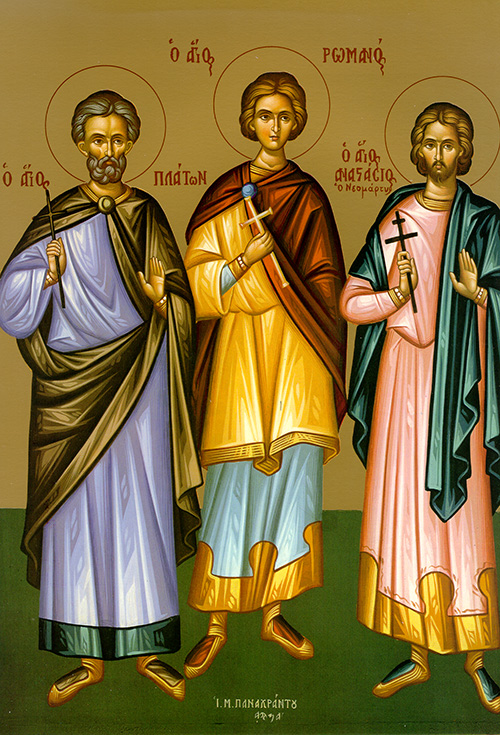 Born in the town of Ancyra in Galatia, Plato showed early and great perfection in virtue. While still a youth he left home and went through the cities preaching the Word of God to pagans. He amazed his audience with the persuasiveness and beauty of his speech and his profound knowledge of Greek learning. Because he did not hide his faith, he was called before the governor for trial. After having been cruelly tortured, he was beheaded and died in 266.
Romanus was born in Palestine, and served as a deacon in Caesarea. At the time of the persecution against Christians, he was living in Antioch. Through his preaching, he encouraged the faithful to stand firm in their confession of Christ when the Eparch Asclypiades wanted to raze the church to its foundations. St. Romanus told the people that they must fight to prevent the destruction of the house of God, assuring them that even if they died in their efforts they would sing a hymn of victory in heaven. Boldly accusing the governor of idolatry, he was tortured and killed in 303.
Troparion
Your martyrs, O Lord our God, in their struggles received incorruptible crowns from You. With Your strength, they brought down the tyrants and broke the cowardly valor of demons. Through their prayers, O Christ our God, save their souls.
Kontakion
Your holy memory delights the universe and brings all the faithful together in your holy temple. Since we are now gathered together in our joy, we praise your great deeds with hymns, O Plato and Romanus, as we cry out to you with faith: O holy ones, deliver our nation and your city from its enemies.
Epistle
1 Thessalonians 5: 9-13; 24-28
Brothers and sisters: God has not destined us for wrath but for acquiring salvation through our Lord Jesus Christ. He died for us, that all of us, whether awake or asleep, together might live with him. Therefore, comfort and upbuild one another, as indeed you are doing.
We beg you, brethren, respect those among you whose task it is to exercise authority in the Lord and admonish you; esteem them with the greatest love because of their work. Remain at peace with one another.
He who calls us is trustworthy, therefore he will do it. Brethren, pray for us too. Greet all the brothers with a holy embrace. I adjure you by the Lord that this letter be read to them all. May the grace of our Lord Jesus Christ be with you.
Gospel
Luke 16: 15-18; 17: 1-4
The Lord said to the Pharisees: "You justify yourselves in the eyes of men, but God reads your hearts. What man thinks important, God holds in contempt. The law and the prophets were in force until John [the Baptizer]. From this time on, the good news of God's kingdom has been proclaimed, and people of every sort are forcing their way in. It is easier for the heavens and the earth to pass away than for a single stroke of a letter of the law to pass. Everyone who divorces his wife and marries another commits adultery. The man who marries a woman divorced from her husband likewise commits adultery.
Jesus said to his disciples: "Scandals will inevitably arise, but woe to him through whom they come. He would be better off thrown into the sea with a millstone around his neck than giving scandal to one of these little ones. Be on your guard. If your brother does wrong, correct him; if he repents, forgive him. If he sins against you seven times a day, and seven times a day turns back to you saying, 'I am sorry,' forgive him."
Icon courtesy of Jack Figel, Eastern Christian Publications – ecpubs.com
Thursday, November 17 –