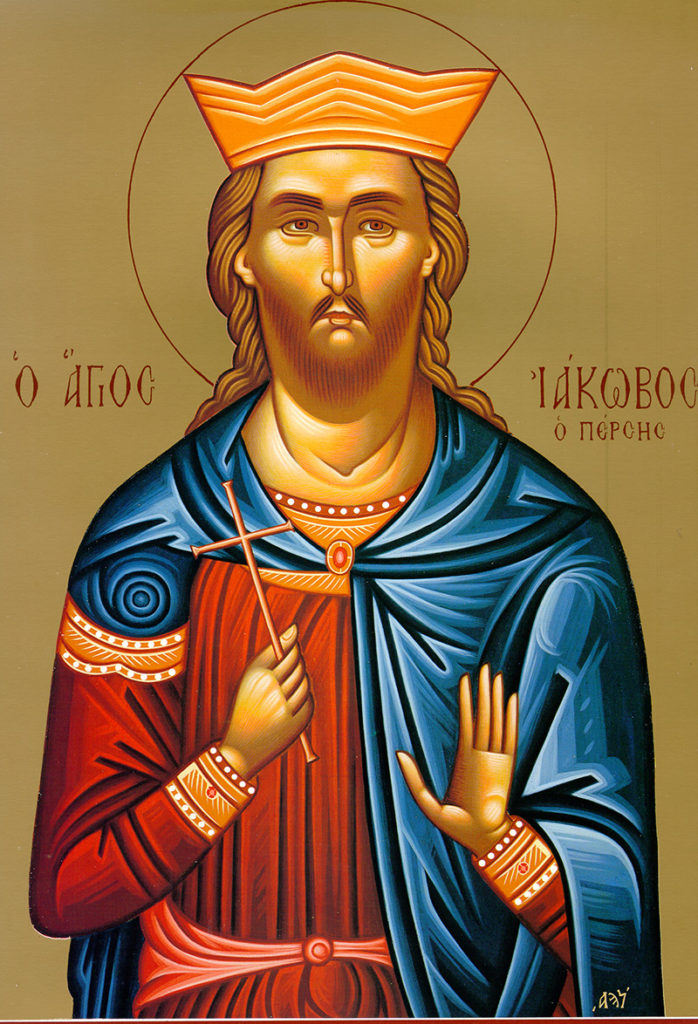 The holy martyr James was a noble at the Persian court at the end of the 4th century. He offered sacrifice to idols despite his baptism. His mother and wife reproached him, begging him to repent. Moved by their plea, James repented bitterly and returned to Christ. The king sentenced him to death by being cut to death, bit by bit, until the end. He praised God and forgave his persecutors till they cut off his head. His holy head was taken to Rome, and a part of his relics are venerated in Portugal, where his feast is kept on May 22.
Our venerable father Palladius was born in Thessaloniki. He contended in asceticism in Alexandria at the end of the 6th and the beginning of the 7th century. His Service is sung at Compline.
Troparion – James
You astonished everyone by enduring horrible torture with great patience, O long-suffering one. As the evil assembly performed the slaughter, you uttered prayers of thanksgiving to the Lord. Through your suffering you received your crown, and went up to the throne of the heavenly King, Christ God. O James, pray to Him to save our souls.
Troparion – Palladius
In you, O father, the divine image was strictly preserved; taking up your cross you followed Christ. You taught us by example how to spurn the flesh, for it passes away, and how to care for the soul, which is immortal. Therefore, O venerable Palladius, your soul rejoices with the angels.
Kontakion – James
You believed your good wife, O patient guide, and were awed by the dread judgment of God. You despised the commands and threats of the Persians, O James, and as they cut your body as though a vine, you were revealed an honorable martyr.
Kontakion – Palladius
You gained God by prayer and fasting, by living a God-directed monastic life. You were a pure offering to the Holy Spirit and a shining example of virtuous deeds to the faithful. You enlighten all who look to you, and so we are led to sing: Glory to Christ who exalted you! Glory to Him who strengthened you! Glory to Him who heals all through you!
Epistle
Ephesians 4: 1-6
Brothers and sisters: I plead with you, then, as a prisoner for the Lord, to live a life worthy of the calling you have received, with perfect humility, meekness, and patience, beating with one another lovingly. Make every effort to preserve the unity which has the Spirit as its origin and peace as its binding force. There is but one body and one Spirit, just as there is but one hope given to all of you by your call. There is one Lord, one faith, one baptism; one God and Father of all, who is over all, and works through all, and is in all.
Gospel
Luke 13: 10-17
At that time on a sabbath day Jesus was teaching in one of the synagogues. There was a woman there who for eighteen years had been possessed by a spirit which drained her strength. She was badly stooped–quite incapable of standing erect. When Jesus saw her, he called her to him and said, "Woman, you are free of your infirmity." He laid his hand on her, and immediately she stood up straight and began thanking God.
The chief of the synagogue, indignant that Jesus should have healed on the sabbath, said to the congregation, "There are six days for working. Come on those days to be cured, not on the sabbath." The Lord said in reply, "O you hypocrites! Which of you does not let his ox or ass out of the stall on the sabbath to water it? Should not this daughter of Abraham here who has been in the bondage of Satan for eighteen years have been released from her shackles on the sabbath?" At these words, his opponents were covered with confusion; meanwhile, everyone else rejoiced at the marvels Jesus was accomplishing.
Icon courtesy of Jack Figel, Eastern Christian Publications – ecpubs.com
Saturday, November 26 –