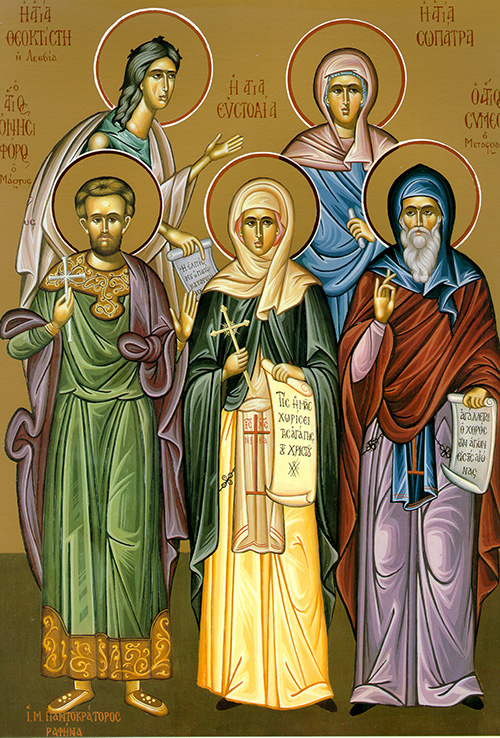 The holy martyrs Onesiphorus and Porphyrius of Ephesus suffered during the persecution of Christians by emperor Diocletian (284-305). They beat them and burned them. After this, they tied the saints to wild horses, which dragged them over stones, after which the martyrs died. Believers gathered the remains of the saints and reverently buried them.
Our venerable mother Matrona was from Perga in Pamphylia. She fled a horrible marriage by dressing in men's clothing and, under the name of Babylas, lived in a monastery in Constantinople. She went from monastery to monastery to evade her husband. She lived the monastic life for seventy-five years and fell asleep in the Lord in the year 492.
The venerable Theoctista of Lesbos became a nun at the age of seventeen. Saracens descended on the island and enslaved all the people they captured. Theoctista escaped and lived in an abandoned church on the island of Paros for thirty-five years. She fell asleep in the Lord in the year 881.
Troparion
In you, O mother, the divine image was strictly preserved; taking up your cross, you followed Christ. You taught us by example how to spurn the flesh, for it passes away, and how to care for the soul, which is immortal. Therefore, O venerable Matrona, your soul rejoices with the angels.
Kontakion
O venerable Matrona, for the love of the Lord, you rejected longing for rest; you gave light to your soul through fasting; you trampled on beasts by your might, but you destroy the wiles of satan through your prayers.
Epistle
1 Thessalonians 5: 1-8
Brothers and sisters: As regards specific times and moments, we do not need to write you; you know very well that the day of the Lord is coming like a thief in the night. Just when people are saying, "Peace and security," ruin will fall on them with the suddenness of pains overtaking a woman in labor, and there will be no escape. You are not in the dark, brethren, that the day should catch you off guard, like a thief. No, all of you are children of light and of the day. We belong neither to darkness nor to night; therefore let us not be asleep like the rest, but awake and sober! Sleepers sleep by night and drunkards drink by night. We who live by day must be alert, putting on faith and love as a breastplate and the hope of salvation as a helmet.
Gospel
Luke 13: 1-9
At that time some people were present who told Jesus about the Galileans whose blood Pilate had mixed with their sacrifices. Jesus said in reply: "Do you think that these Galileans were the greatest sinners in Galilee just because they suffered this? By no means! But I tell you, you will all come to the same end unless you reform. Or take those eighteen who were killed by a falling tower in Siloam. Do you think they were more guilty than anyone else who lived in Jerusalem? Certainly not! But I tell you, you will all come to the same end unless you reform." Jesus spoke this parable: "A man had a fig tree growing in his vineyard, and he came out looking for fruit in it but did not find any. He said to the vinedresser, 'Look here! For three years now I have come in search of fruit on this fig tree and found none. Cut it down. Why should it clutter up the ground?' In answer, the vinedresser said, 'Sir, leave it another year, while I hoe around it and manure it; then perhaps it will bear fruit. If not, it shall be cut down.'"
Icon courtesy of Jack Figel, Eastern Christian Publications – ecpubs.com
Wednesday, November 8 –