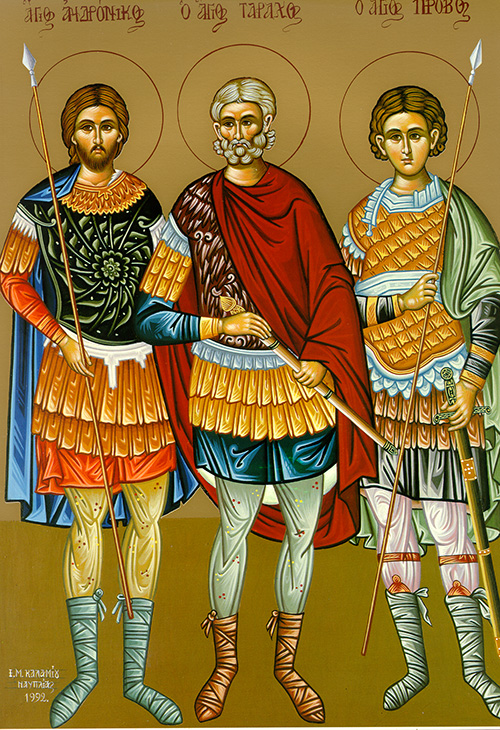 The holy martyrs Probus, Tarachus, and Andronicus were persecuted under the emperor Diocletian, and gave their lives confessing for Christ at Anazarbus in Cilicia in the year 292.
Our venerable father Cosmas, bishop of Maiuma, the hymnographer, was born in Jerusalem. He was a friend to St. John Damascene, whose parents took him in as an orphan and educated him. He helped St. John to compile the Ochtoechos, and he composed many canons to the saints. The canons of Christmas, Lazarus Saturday, Palm Sunday, and the Sunday of the Last Judgment are ascribed to him. He became bishop of the town of Maiuma, near Gaza, in Palestine and died in great old age in the 8th century.
Troparion – Martyrs
The angelic powers of heaven were rapt in amazement at the successful accomplishments of these holy martyrs: for even in their mortal bodies, they vanquished the bodiless enemy by the power of the holy Cross, and they obtained a spiritual victory. Wherefore, they now intercede with the Lord that He may have mercy on our souls.
Troparion – Cosmas
You were an eloquent orator in the church, and a divinely inspired musician. You were an image of life and a font of theology, for you soothed all who heard you, our Father Cosmas by your inspired words and beautiful music.
Kontakion – Martyrs
The soldiers of Christ, the holy martyrs Probus, Tarachus, and Andronicus have shown us the glory of the Holy Trinity by refuting the error of their persecutors and fighting courageously for the faith.
Kontakion – Cosmas
You were adorned with virtue, blessed Cosmas, and you adorned the Church of Christ with wonderful music. Pray to the Lord for our deliverance from all the snares of enemies, for we appeal to you, O Father, truly rich.
Epistle
Philippians 1: 12-20a
Brothers and sisters, I want you to know that my situation has worked out to be furtherance of the gospel. My imprisonment in Christ's cause has become well known throughout the praetorium here, and to others as well; most of my brothers in Christ, taking courage from my chains, have been further emboldened to speak the word of God fearlessly. It is true, some preach Christ from motives of envy and rivalry, but others so do out of good will. Some act from unaffected love, aware that my circumstances provide an opportunity to defend the gospel's cause; others promote Christ, not from pure motives but as an intrigue against me, thinking that it will make my imprisonment even harsher.
What of it? All that matters is that in any and every way, whether from specious motives or genuine ones, Christ is being proclaimed! That is what brings me joy. Indeed, I shall continue to rejoice, in the conviction that this will turn out to my salvation, thanks to your prayers and the support I receive from the Spirit of Jesus Christ. I firmly trust and anticipate that I shall never be put to shame for my hopes.
Gospel
Luke 8: 22-25
At that time Jesus got into a boat with his disciples and said to them, "Let us cross over to the far side of the lake." So they set out, and as they sailed he slept. A windstorm descended on the lake, and they began to ship water and to be in danger. They came to awaken him, saying, "Master, master, we are lost!" He awoke and rebuked the wind and the tumultuous waves. The waves subsided and it grew calm. Then he asked them, "Where is your faith?" Filled with fear and admiration, they said to one another, "What sort of man can this be who commands even the winds and the sea and they obey him?"
Icon courtesy of Jack Figel, Eastern Christian Publications – ecpubs.com
Tuesday, October 11 –