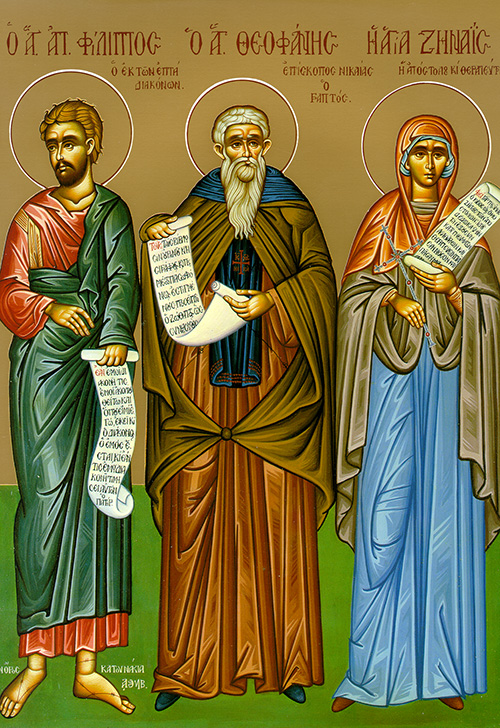 The holy apostle Philip was one of seven deacons chosen by the Apostles. He converted Samaria to the faith of Christ, baptized the eunuch of Candace the queen of the Ethiopians, and passed through cities evangelizing them all until he came to Caesarea, where it is said he rested.
Our venerable father Theophane, the artist and hymnographer, was bishop of Nicea in the 9th century. He and his brother Theodore joined the monastery of St. Sabbas the Sanctified. They were sent by the Patriarch of Jerusalem to emperor Leo the Armenian, to explain the orthodox teaching about holy icons. He tortured them and his successor, Theophilus, had derisory words branded onto their faces. After the Iconoclastic controversy was ended, Theophane was made bishop in Nicea.
Troparion – Philip
O Philip, you won apostolic favor and you astonished all Samaria. Your divinely inspired words gave the eunuch understanding so that he was baptized and gave glory to God when he comprehended the Incomprehensible. O holy apostle, obtain grace and great mercy for us from God.
Troparion – Theophane
Guide to Orthodoxy, teacher of piety and holiness, luminary for the world, inspired adornment of bishops, O wise Theophane, harp of the Spirit, you enlightened all by your teachings; intercede with Christ our God to save our souls.
Kontakion – Philip
Philip conversed with apostles and fished for people. He was one of the first chosen by the apostles. Today he gives a wealth of cures to the world and protects from calamity those who honor him. Therefore we sing out to him: O apostle, save all of us through your prayers.
Kontakion – Theophane
You proclaimed the divine Incarnation of Christ, and you exposed the bodiless enemies, O wonderful Theophane. Because of this we perseveringly and piously call to you: Pray unceasingly for all of us.
Epistle
Philippians 1: 8-14
Brothers and sisters: God himself can testify how much I long for each of you with the affection of Christ Jesus! My prayer is that your love may more and more abound, both in understanding and wealth of experience, so that with a clear conscience and blameless conduct you may learn to value the things that really matter, up to the very day of Christ. It is my wish that you may be found rich in the harvest of justice which Jesus Christ has ripened in you, to the glory and praise of God.
My brothers and sisters, I want you to know that my situation was worked out to the furtherance of the gospel. My imprisonment in Christ's cause has become well known throughout the praetorium here, and to others as well; most of my brothers in Christ, taking courage from my chains, have been further emboldened to speak the word of God fearlessly.
Gospel
Luke 8: 1-3
At that time Jesus journeyed through towns and villages preaching and proclaiming the good news of the kingdom of God. The Twelve accompanied him, and also some women who had been cured of evil spirits and maladies: Mary called the Magdalene, from whom the seven devils had gone out, Joanna, the wife of Herod's steward Chuza, Susanna, and many others who were assisting them out of their means.
Icon courtesy of Jack Figel, Eastern Christian Publications – ecpubs.com
Monday, October 10 –