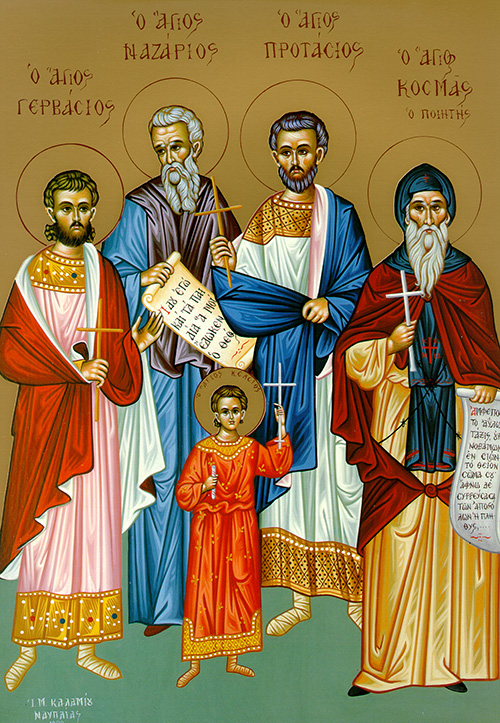 The holy martyrs Nazarius, Gervase(Gervasius), Protasius(Protase), and Celsus: Nazarius was a fearless Christian who visited Gervase and Protasius in prison in Milan. The governor ordered Nazarius to be whipped and driven from the city. He eventually returned to Milan with his disciple Celsus. Gervase and Protasius were still in prison, and Nero the emperor ordered all four of them to die by beheading. St. Ambrose found the relics of Gervase and Protasius on this day and had them translated with solemn rites to a new basilica he built himself.
Our venerable mother Paraskeva of Trnovo was of Serbian birth with devout Christian parents. She left her home and went first to Constantinople and then to Jerusalem, and then to the wilderness beyond the Jordan, where she lived to old age in asceticism. At the end of her life, she returned to her birthplace of Epibata and gave her spirit to God there, sometime in the 11th century.
Troparion – Martyrs
This quartet of martyrs illumines the Church like a brilliant star in the sky. Through the martyrdom of Nazarius, and the faith of Gervasius, and with the confession of Celsus and Protasius, the Church has been made to sing: Glory to God, Who has given strength to the martyrs!
Troparion – Venerable
You followed closely in the steps of Christ, your Spouse, loving the silent, desert life. As a young woman you took up His yoke, and armed yourself against the enemy with the cross. By fasting and prayer, by tears and penance, you utterly quenched the fires of passion. Now you stand with the wise virgins in Christ's presence, and pray for those who honor your memory, O Paraskeva.
Kontakion – Martyrs
Let us celebrate the quadruple glory of the witnesses of Christ, O faithful! Let us sing of Nazarius and Protase! In our hymn, let us acclaim Celsus and Gervase! For they fought the good fight unto the point of being beheaded. Having received the crown of immortality, they intercede for our salvation.
Kontakion – Venerable
Let us all sing of Paraskeva, holy intercessor of all who are in trouble. For she rejected the corruptible and accepted the incorruptible way of life forever. Therefore discover the glory, the grace of wonders, by the command of God.
Epistle
Philippians 1:27 – 2:4
Brothers and sisters: Conduct yourselves, then, in a way worthy of the gospel of Christ. If you do, whether I come and see you myself or hear about your behavior from a distance, it will be clear that you are standing firm in unity of spirit and exerting yourselves with one accord for the faith of the gospel. Do not be intimidated by your opponents in any situation. Their opposition foreshadows downfall for them, but salvation for you. All this is as God intends, for it is your special privilege to take Christ's part-not only to believe in him but also to suffer for him. Yours is the same struggle as mine, the one in which you formerly saw me engaged and now hear that I am caught up.
In the name of the encouragement you owe me in Christ, in the name of the solace that love can give, of fellowship in spirit, compassion, and pity, I beg you: make my joy complete by your unanimity, possessing the one love, united in spirit and ideals. Never act out of rivalry or conceit; rather, let all parties think humbly of others as superior to themselves, each of you looking to others' interests rather than to his own.
Gospel
Luke 9: 12-18
As sunset approached the Twelve came and said to Jesus, "Dismiss the crowd so that they can go into the villages and farms in the neighborhood and find themselves lodging and food, for this certainly is an out-of-the-way place." Jesus answered them, "Why do you not give them something to eat yourselves?" They replied, "We have nothing but five loaves and two fish. Or shall we ourselves go and buy food for all these people?" (There were about five thousand men.) Jesus said to his disciples, "have them sit down in groups of fifty or so." They followed his instructions and got them all seated. Then, taking the five loaves and the two fish, Jesus raised his eyes to heaven, pronounced a blessing over them, broke them, and gave them to his disciples for distribution to the crowd. They all ate until they had enough. What they had left, over and above, filled twelve baskets. Jesus went to pray in seclusion and his disciples were with him.
Icon courtesy of Jack Figel, Eastern Christian Publications – ecpubs.com
Thursday, October 13 –