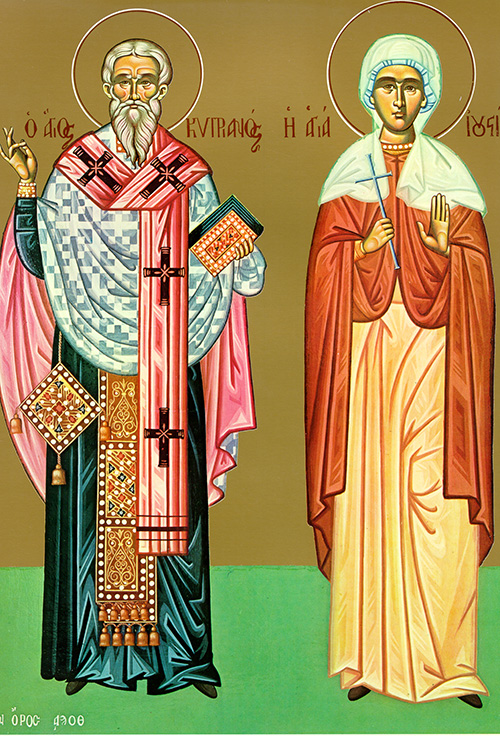 The holy priest-martyr Cyprian was originally a pagan magician, in league with evil spirits. He was converted by the words and example of St. Justina and became a bishop of the church. He was beheaded with Justina in Nicomedia in 258.
The holy martyr Justina was brought to faith in Christ and then brought the same faith to her whole family. She was martyred with bishop Cyprian in Nicomedia in 258.
The holy Andrew, fool for Christ, was a Slav by birth. He was bought as a slave and brought to Constantinople during the reign of emperor Leo the Wise. He was a man beautiful in body and in soul, and was moved to adopt the ascesis of folly for Christ's sake. Feigning madness in the daytime and praying all night, he became a wonderworker in Constantinople. In the year 911, he entered into the rest of the Lord.
Troparion
You shared in the apostles' way of life and succeeded to their throne, divinely inspired bishop. You found access to contemplation in the active life. Therefore, you rightly taught the word of truth and struggled for the faith to the shedding of your blood. O Priest-Martyr Cyprian, pray to Christ our God to save our souls.
Kontakion
You renounced the magic arts in order to learn of God, and you became on of the wisest men on earth, healing those who venerate you and Justina. Join her in seeking salvation for us from Christ our God.
Epistle
2 Corinthians 6:16 – 7:1
Brothers and sisters: You are the temple of the living God, just as God has said: "I will dwell with them and walk among them. I will be their God and they shall be my people. Therefore, 'Come out from among them and separate yourselves from them,' says the Lord; 'and touch nothing unclean. I will welcome you and be a father to you and you will be my sons and daughters,' says the Lord Almighty."
Since we have these promises, beloved, let us purify ourselves from every defilement of flesh and spirit, and in the fear of God strive to fulfill our consecration perfectly.
Gospel
Luke 6: 31-36
The Lord said, "Do to others as you would have them do to you. If you love those who love you, what credit is that to you? Even sinners love those who love them. If you do good to those who do good to you, how can you claim any credit? Sinners do as much. If you lend to those from whom you expect repayment, what merit is there in it for you? Even sinners lend to sinners, expecting to be repaid in full.
"Love your enemy and do good; lend without expecting repayment. Then will your recompense be great. You will rightly be called sons of the Most High, since he himself is good to the ungrateful and the wicked. Be compassionate, as your Father is compassionate."
Icon courtesy of Jack Figel, Eastern Christian Publications – ecpubs.com
Saturday, October 1 –