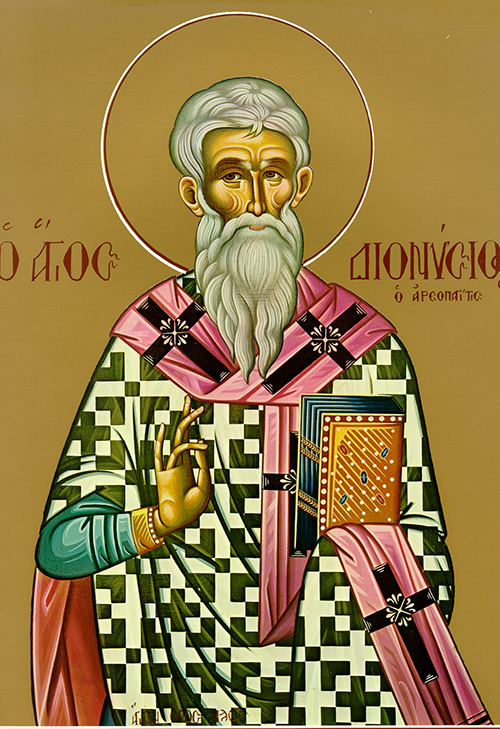 The holy bishop and martyr Dionysius the Areopagite was brought to the Christian faith by the preaching of the Apostle Paul. He remained a companion of Paul for three years, traveling and preaching the Gospel. St. Dionysius was made the first bishop of Athens. He was also present at the repose of the most holy Theotokos. The writings of St. Dionysius hold great significance to the church. Four books of his have survived to the present day: On the Celestial Hierarchy, On the Ecclesiastical Hierarchy, On the Names of God, and On Mystical Theology.
Troparion
You learned goodness and practiced temperance. You robed yourself in the priesthood and girded yourself with good conscience. Therefore, you came to draw ineffable things from the chosen vessel, Paul. You have completed the race, you have kept the faith. O father Dionysius, beg Christ our God to save our souls.
Kontakion
In a spiritual way you passed through the gates of heaven, and you climbed to the third heaven with the apostle Paul. You were given a deep understanding of mystical things with which you have given light to the ignorant. For all of this we invoke you, O Dionysius. Rejoice, O father of all!
Epistle
Ephesians 4: 25-32
Brothers and sisters: See to it, that you put an end to lying; let everyone speak the truth to his neighbor, for we are members of one another. If you are angry, let it be without sin. The sun must not go down on your wrath; do not give the devil a chance to work on you. The man who has been stealing must steal no longer; rather, let him work with his hands at honest labor so that he will have something to share with those in need. Never let evil talk pass your lips; say only the good things men need to hear, things that will really help them. Do nothing to sadden the Holy Spirit with whom you were sealed against the day of redemption. Get rid of all bitterness, all passion and anger, harsh words, slander, and malice of every kind. In place of these, be kind to one another, compassionate, and mutually forgiving, just as God has forgiven you in Christ.
Gospel
Luke 6: 24-31
The Lord said to the people who came to him: "Woe to you rich, for your consolation is now. Woe to you who are full; you shall go hungry. Woe to you who laugh now; you shall weep in your grief. Woe to you when all speak well of you. Their fathers treated false prophets in just this way.
"To you who hear me, I say: Love your enemies, do good to those who hate you; bless those who curse you and pray for those who maltreat you. When someone slaps you on one cheek, turn and give him the other; when someone takes your coat, let him have your shirt as well. Give to all who beg from you. When a man takes what is yours, do not demand it back. Do to others what you would have them do to you."
Icon courtesy of Jack Figel, Eastern Christian Publications – ecpubs.com
Sunday, October 2 –