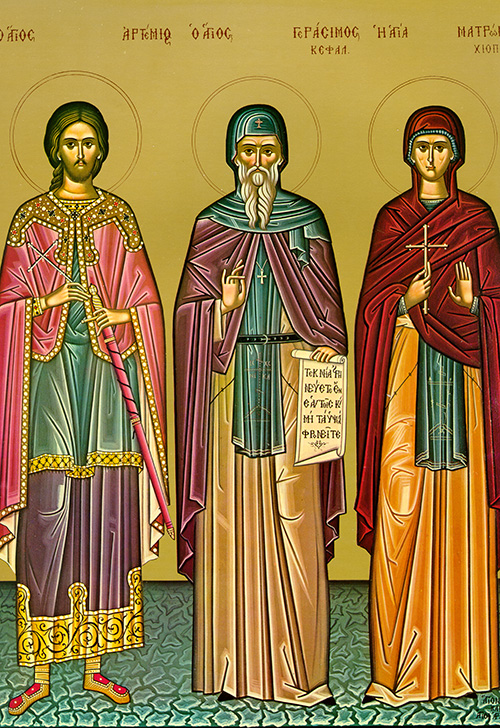 The holy great martyr Artemius was Egyptian by birth. He was the commander-in-chief of the army of the emperor St. Constantine the Great. When the cross of the Lord appeared in the sky to the emperor, Artemius also saw it and came to faith. He was eventually appointed governor in Egypt. During the reign of the emperor Julian the Apostate, he was stripped of his rank and thrown into prison. The emperor had him cruelly killed in the year 392.
Troparion
Preserved in Christ by true belief, O passion-bearer, you overcame the tyrant king and his idol offerings. Because you rebuked that king, the Great King granted you a shining crown of victory and wondrous miracles of healing with which you cure all those who have recourse to you: O Artemius, pray to Christ our God to save our souls.
Kontakion
Let us gather to sing worthy hymns in honor of Artemius, the pious and crown-bearing martyr who defeated his enemies: for he is great among the martyrs and generous in performing miracles, and prays to the Lord for all of us.
Epistle
Colossians 2: 1-7
Brothers and sisters: I want you to know how hard I am struggling for you and for the Laodiceans and the many others who have never seen me in the flesh. I wish their hearts to be strengthened and themselves to be closely united in love, enriched with full assurance by their knowledge of the mystery of God – namely Christ – in whom every treasure of wisdom and knowledge is hidden.
I tell you all this so that no one may delude you with specious arguments. I may be absent in body but I am with you in spirit, happy to see good order among you and the firmness of your faith in Christ. Continue, therefore, to live in Christ Jesus the Lord, in the spirit in which you received him. Be rooted in him and built up in him, growing ever stronger in faith, as you were taught, and overflowing with gratitude.
Gospel
Luke 10: 1-15
At that time the Lord appointed a further seventy-two and sent them in pairs before him to every town and place he intended to visit. He said to them: "The harvest is rich but the workers are few; therefore, ask the harvest-master to send workers to his harvest. Be on your way, and remember: I am sending you as lambs in the midst of wolves. Do not carry a walking staff or traveling bag; wear no sandals and greet no one along the way. On entering any house, first say, 'Peace to this house.' If there is a peaceable man there, your peace will rest on him; if not, it will come back to you. Stay in the one house eating and drinking what they have, for the laborer is worth his wage. Do not move from house to house.
"Into whatever city you go, after they welcome you, eat what they set before you, and cure the sick there. Say to them, 'The reign of God is at hand.' If the people of any town you enter do not welcome you, go into its streets and say, 'We shake the dust of this town from our feet as testimony against you. But know that the reign of God is near.' I assure you, on that day the fate of Sodom will be less severe than that of such a town. It will go ill with you, Chorazin! And just as ill with you, Bethsaida! If the miracles worked in your midst had occurred in Tyre and Sidon, they would long ago have reformed in sackcloth and ashes. It will go easier on the day of judgment for Tyre and Sidon than for you. And as for you, Capernaum, 'Are you to be exalted to the skies? You shall be hurled down to the realm of death!'"
Icon courtesy of Jack Figel, Eastern Christian Publications – ecpubs.com
Thursday, October 19 –