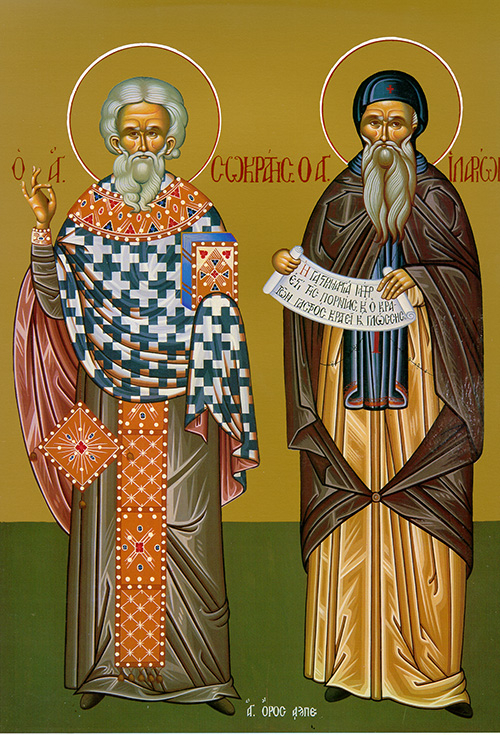 Our venerable father Hilarion the Great followed in the footsteps of St. Anthony , first leading a solitary life near Gaza. Then in this province of Cyprus, he was an outstanding founder and example of eremitical life. He fell asleep in the Lord in the year 372.
Troparion
Your abundant tears made the wilderness sprout and bloom, and your deep sigh made your labor fruitful a hundredfold. You became a star shining over the world with miracles, holy father Hilarion. Pray to Christ our God that He may save our souls.
Kontakion
We gather today to sing hymns in your honor, O brilliant star who make shine the grace of God in our hearts. You were a Light to those in darkness and lifted up to heaven those who cry out, "Joy to you, Hilarion, model of hermits!"
Epistle
2 Corinthians 3: 12-18
Brothers and sisters: Our hope being [the glory that endures], we act with full confidence. We are not like Moses, who used to hide his face with a veil so that the Israelites could not see the final fading of that glory. Their minds, or course, were dulled. To this very day, when the old covenant is read the veil remains unlifted; it is only in Christ that it is taken away. Even now, when Moses is read a veil covers their understanding. "But whenever one turns to the Lord, the veil will be removed." The Lord is the Spirit, and where the Spirit of the Lord is, there is freedom. All of us, gazing on the Lord's glory with unveiled faces, are being transformed from glory to glory into his very image by the Lord who is the Spirit.
Gospel
Luke 7: 1-10
At that time Jesus entered Capernaum. A centurion had a servant he held in high regard, who was at that moment sick to the point of death. When he heard about Jesus he sent some Jewish elders to him, asking him to come and save the life of his servant. Upon approaching Jesus they petitioned him earnestly. They said, "He deserves this favor from you because he loves our people, and even built a synagogue for us." Jesus set out with them. When he was only a short distance from the house, the centurion sent friends to tell him: "Sir, do not trouble yourself, for I am not worthy to have you enter my house. That is why I did not presume to come to you myself. Just give the order and my servant will be cured. I too am a man who knows the meaning of an order, having soldiers under my command. I say to one, 'On your way,' and off he goes; to another, 'Come here,' and he comes; to my slave, 'Do this,' and he does it." Jesus showed amazement to the crowd which was following him to say, "I tell you, I have never found so much faith among the Israelites.: When the deputation returned to the house, they found the servant in perfect health.
Icon courtesy of Jack Figel, Eastern Christian Publications – ecpubs.com
Friday, October 20 –