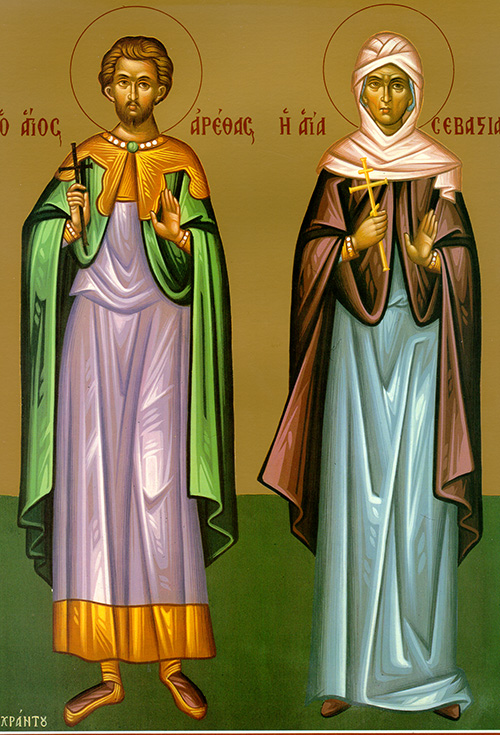 The holy martyr Arethas was governor of the city of Nagran in Arabia. He and his 340 companions, in 523 during the time of the emperor Justinian, gave their lives for Christ under Dhu Nuwas or Dun'an, king of the Himayarites.
Troparion
Opposing the unbelieving king, after the example of Christ, this holy martyr reproached his lack of faith. He acted with courage, and suffered torture and death. For this the angels praise you, O Arethas, and those who suffered with you. All generations of the faithful bless you as a sure intercessor for our souls.
Kontakion
The feast of the passion-bearers comes to us today as a herald of joy. Let us celebrate it and glorify the Lord on high.
Epistle
Philippians 4: 10-23
Brothers and sisters: It gave me great joy in the Lord that your concern for me bore fruit once more. You had been concerned all along, of course, but lacked the opportunity to show it. I do not say this because I am in want, for whatever the situation I find myself in I have learned to be self sufficient. I am experienced in being brought low, yet I know what it is to have an abundance. I have learned how to cope with every circumstance – how to eat well or go hungry, to be well provided for or do without. In him who is the source of my strength I have strength for everything.
Nonetheless, it was kind of you to want to share in my hardships. You yourselves know, my dear Philippians, that at the start of my evangelizing, when I left Macedonia, not a single congregation except yourselves shared with me by giving me something for what it had received. Even when I was at Thessalonica you sent something for my needs, not once but twice. It is not that I am eager for the gift; rather, my concern is for the ever-growing balance in your account. Herewith is my receipt, which says that I have been fully paid and more. I am well supplied because of what I received from you through Epaphroditus, a fragrant offering, a sacrifice acceptable and pleasing to God.
My God in turn will supply your needs fully, in a way worthy of his magnificent riches in Christ Jesus. All glory to our God and Father for unending ages! Amen.
Give my greetings in Christ Jesus to every member of the church. My brethren here send you theirs, as do all those who believe, particularly those in Caesar's service. May the favor of the Lord Jesus Christ be with your spirit. Amen.
Gospel
Luke 10: 22-24
The Lord said, "Everything has been given over to me by my Father. No one knows the Son except the Father and no one knows the Father except the Son–and anyone whom the Son wishes to reveal him." Turning to his disciples Jesus said to them privately: "Blest are the eyes that see what you see. I tell you, many prophets and kings wished to see what you see but did not see it, and to hear what you hear but did not hear it."
Icon courtesy of Jack Figel, Eastern Christian Publications – ecpubs.com
Sunday, October 23 –