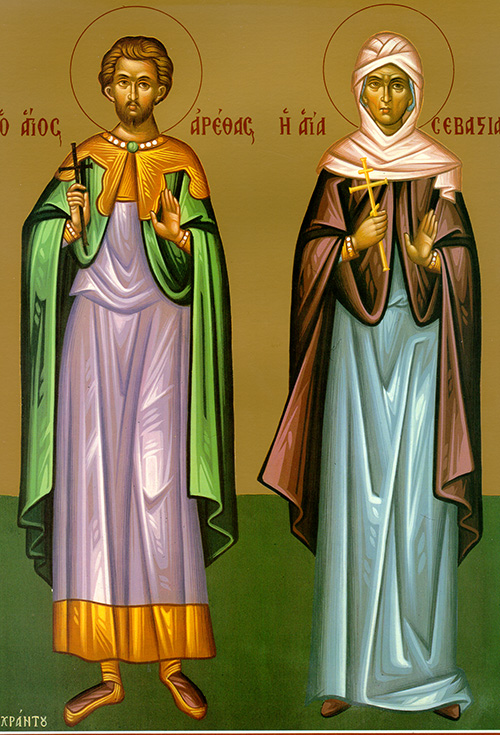 The holy martyr Arethas was governor of the city of Nagran in Arabia. He and his 340 companions, in 523 during the time of the emperor Justinian, gave their lives for Christ under Dhu Nuwas or Dun'an, king of the Himayarites.
Troparion
Opposing the unbelieving king, after the example of Christ, this holy martyr reproached his lack of faith. He acted with courage, and suffered torture and death. For this the angels praise you, O Arethas, and those who suffered with you. All generations of the faithful bless you as a sure intercessor for our souls.
Kontakion
The feast of the passion-bearers comes to us today as a herald of joy. Let us celebrate it and glorify the Lord on high.
Epistle
Colossians 2:20 – 3:3
Brothers and sisters: If with Christ you have died to cosmic forces, why should you be bound by rules that say, "Do not handle! Do not taste! Do not touch!" as though you were still living a life bounded by this world? Such prescriptions deal with things that perish in their use. They are based on merely human precepts and doctrines. While these make a certain show of wisdom in their affected piety, humility, and bodily austerity, their chief effect is that they indulge men's pride.
Since you have been raised up in company with Christ, set your heart on what pertains to higher realms where Christ is seated at God's right hand. Be intent on things above rather than on things of earth. After all, you have died! Your life is hidden now with Christ in God.
Gospel
Luke 11: 1-10
At that time Jesus was praying in a certain place. When he had finished, one of his disciples asked him, "Lord, teach us to pray, as John taught his disciples." Jesus said to them, "When you pray, say: Father, hallowed be your name, your kingdom come. Give us each day our daily bread. Forgive us our sins for we too forgive all who do us wrong; and subject us not to the trial."
Jesus said to them: "If one of you knows someone who comes to him in the middle of the night and says to him, 'Friend, lend me three loaves, for a friend of mine has come in from a journey and I have nothing to offer him'; and he from inside should reply, 'Leave me alone. The door is shut now and my children and I are in bed. I cannot get up to look after your needs' – I tell you, even though he does not get up and take care of the man because of friendship, he will do so because of his persistence, and give him as much as he needs. So I say to you, 'Ask and you shall receive; seek and you shall find; knock and it shall be opened to you.' For whoever asks, receives, whoever seeks, finds; whoever knocks, is admitted."
Icon courtesy of Jack Figel, Eastern Christian Publications – ecpubs.com
Monday, October 23 –