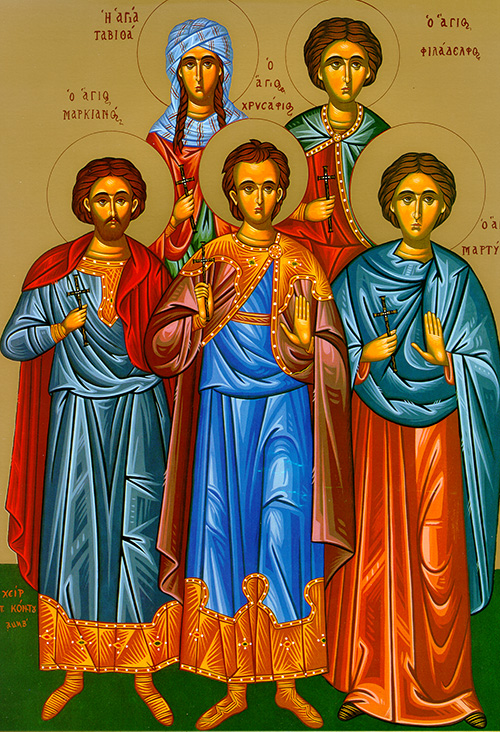 The martyrs Marcian and Martyrius, Notaries of Constantinople, served in a Constantinople cathedral. Marcian was a reader and Martyrius a subdeacon. They both performed in the capacity of notaries, i.e. secretaries, for Patriarch Paul the Confessor. Arian heretics expelled and secretly executed the righteous Patriarch Paul. His throne was given to the heretic Macedonius. The heretics attempted to entice Saints Marcian and Martyrius over to their side by flattery. They offered them gold and promised to consecrate them as archbishops, but all the efforts of the Arians were in vain. Then the impious threatened to slander them before the emperor, and sought to intimidate them with torture and death. But the saints steadfastly confessed Orthodoxy, as handed down by the Fathers of the Church. Marcian and Martyrius were sentenced to death and received their martyrs' crowns in 355.
Troparion
Two martyrs worthy of each other, Macian and Martyrius, have crushed the wickedness of Arius. Obeying Paul, teacher of truth, they taught that the Son is consubstantial with the Father and the Spirit. Thus, they died beneath the sword and were united to Christ. They intercede before Him for the salvation of our souls.
Kontakion
Since childhood you have been good champions, O wise Marcian and Martyrius. You vanquished the heretic Arius and preserved the true faith by following in Paul's footsteps; therefore you deserved to be with him in eternal life. O Defenders of the Holy Trinity.
Epistle
Colossians 3:17 – 4:1
Brothers and sisters: Whatever you do, whether in speech or in action, do it in the name of the Lord Jesus. Give thanks to God the Father through him.
You who are wives, be submissive to your husbands. Avoid any bitterness toward them. You children, obey your parents in everything as the acceptable way in the Lord. And fathers, do not nag your children lest they lose heart.
To slaves I say, obey your human masters perfectly, not with the purpose of attracting attention and pleasing men but in all sincerity and out of reverence for the Lord. Whatever you do, work at it with your whole being. Do it for the Lord rather than for men, since you know full well you will receive an Inheritance from him as your reward. Be slaves of Christ the Lord. Whoever acts unjustly will be repaid for the wrong he has done. No favoritism will be shown. You slaveowners, deal justly and fairly with your slaves, realizing that you too have a master in heaven.
Gospel
Luke 11: 9-13
The Lord said to his disciples: "Ask and you shall receive; seek and you shall find; knock and it shall be opened to you.' For whoever asks, receives, whoever seeks, finds; whoever knocks, is admitted. What father among you will give his son a snake if he asks for a fish, or hand him a scorpion if he asks for an egg? If you, with all your sins, know how to give your children good things, how much more will the heavenly Father give the Holy Spirit to those who ask him."
Icon courtesy of Jack Figel, Eastern Christian Publications – ecpubs.com
Tuesday, October 24 –