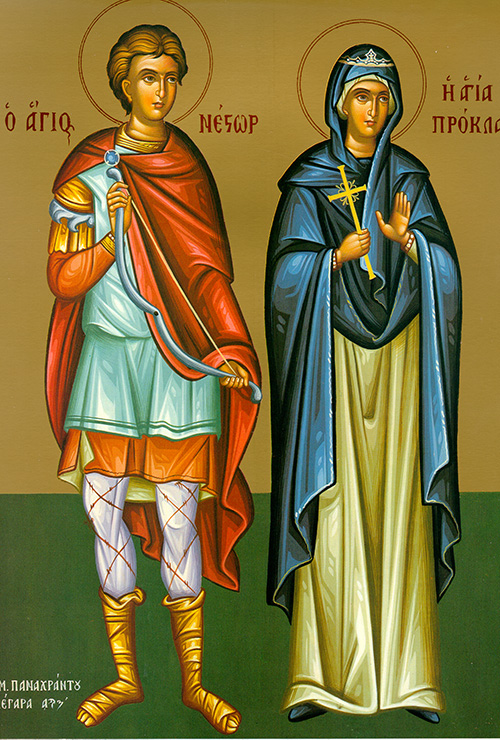 The holy martyr Nestor learned of Christianity from St. Demetrius the Great Martyr. Nestor was moved to defend Christians being tortured in the arena of Salonica, and defeated the brute gladiator who was killing the innocents. The emperor Maximian ordered Nestor to be beheaded in the year 306.
The holy martyr Capitolina was a noble and wealthy lady who divided all of her property among the poor, and freed her slaves. When she was arrested as a Christian and appeared before the magistrate, she confessed her faith in Christ. He ordered her to be thrown into prison, and she was beheaded the next day. Eroteis, who was Capitolina's servant, picked up some stones and threw them at the magistrate. Outraged, he commanded his guards to beat her mercilessly with sticks. By the grace of Christ Eroteis remained unharmed. Then he ordered them to behead her with a sword. In this manner, both of these Saints, the lady and her servant, died by the sword, thereby winning imperishable crowns of glory from Christ in the year 304.
Troparion
You took up the power of the Divine Cross from the great Demetrius, O glorious one, and you set out against the giant. His awesome strength did not save him, for he was brought down by you. You were put to death for this, O martyr, but entered into the presence of Christ. O Nestor, pray for peace and mercy for us all.
Kontakion
Because you fought the good fight, you now inherited immortal glory; through the prayers of Demetrius the martyr, you became a perfect soldier of the Master. Therefore, O wise Nestor, do not cease to intercede together with Demetrius for us all.
Epistle
Colossians 4: 10-18
Brothers and sisters: Aristarchus, who is a prisoner along with me, sends you greetings. So does Mark, the cousin of Barnabas. You have received instructions about him: if he comes to you, make him welcome. Jesus known also as Justus sends greetings. These are the only circumcised ones among those who are working with me for the kingdom of God. They have been a great comfort to me. Epaphras, who is one of you, sends greetings. He is a servant of Christ Jesus who is always pleading earnestly in prayer that you stand firm, that you be perfect and have full conviction about whatever pertains to God's will. I can certainly testify how solicitous he is for you and for those at Laodicea and Hierapolis. Luke, our dear physician, sends greetings. So does Demas.
Give our best wishes to the brothers at Laodicea and to Nymphas and the assembly that meets at his house. Once this letter has been read to you, see that it is read in the assembly of the Laodiceans as well, and that you yourselves read the letter that is coming from Laodicea. To Archippus say, "Take care to discharge the ministry you have received in the Lord."
This greeting is from Paul – in my own hand! Remember my chains. Grace be with you.
Gospel
Luke 11: 23-26
The Lord said, "He who is not with me is against me, and he who does not gather with me scatters. When an unclean spirit has gone out of a man, it wanders through arid wastes searching for a resting-place; failing to find one, it says, 'I will go back to where I came from.' It then returns, to find the house swept and tidied. Next it goes out and returns with seven other spirits far worse than itself, who enter in and dwell there. The result is that the last state of the man is worse than the first."
Icon courtesy of Jack Figel, Eastern Christian Publications – ecpubs.com
Thursday, October 26 –