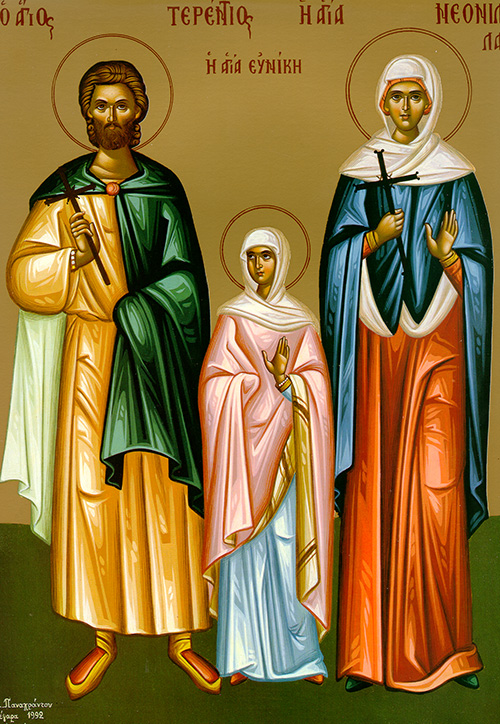 The holy martyrs Terence and Neolina were husband and wife from Syria, who were martyred with their seven children for their witness to Christ.
Our holy father Stephen the Sabbaite was the author of many beautiful canons. He lived in the community of St. Sabbas the Sanctified, near Jerusalem. He later became bishop, and died peacefully in 807.
The holy martyr Paraskevia of Iconium lived during the persecution of Diocletian. Paraskevia took a vow of celibacy and lived her life doing good works for the poor and needy in the name of Christ. She was arrested and taken before the governor. He had her tortured, flogged, and then beheaded in the 4th century.
Troparion – Martyrs
Your martyrs, O Lord our God, in their struggle received incorruptible crowns from You. With Your strength, they brought down the tyrants and broke the cowardly valor of demons. Through their prayers, O Christ our God, save our souls.
Troparion – Stephen
Guide of Orthodoxy, mirror of piety snf exemplary behavior, bright star of the universe and adornment of monks, you enlightened us all by your teachings. O wise Stephen, inspired by God and lyre of the Holy Spirit, intercede with Christ God that He may save our souls.
Troparion – Paraskevia
Wise and all-praised martyress of Christ Paraskevia, you received masculine strength and rejected feminine infirmity, conquering the devil and shaming the torturer, crying out and saying: O come cut my body with the sword and burn it with fire, for rejoicing I go to my Groom Christ. Through these prayers, O Christ God, save our souls.
Kontakion – Martyrs
The honorable memorial of the martyrdom of Terence and his wife comes again today, filling us with joy as we gather to celebrate the feast. These two have received grace from the Holy Spirit to cure ills and heal our souls.
Kontakion – Stephen
You planted a garden of virtues and watered it with your tears of repentance. Since you have found the Tree of Life, O all-glorious one , by your intercession save your flock from perdition and deliver from affliction those who honor you. O wise Stephen, we have chosen you in faith and love as our great intercessor.
Kontakion – Paraskevia
You were offered the all holy and blameless torture, for a payment to the most pure, immortal Groom Christ, you gladdened a place in the angelic choir and you conquered the demonic snares. For this reason we honor you through faith, O Much-suffering Martyress Paraskevia.
Epistle
2 Corinthians 6: 1-10
Brothers and sisters: As your fellow workers we beg you not to receive the grace from God in vain. For he says, "In an acceptable time I have heard you; on a day of salvation I have helped you." Now is the acceptable time! Now is the day of salvation! We avoid giving anyone offense, so that our ministry may not be blamed. On the contrary, in all that we do we strive to present ourselves as ministers of God, acting with patient endurance amid trials, difficulties, distresses, beatings, imprisonments, and riots; as men familiar with hard work, sleepless nights, and fastings; conducting ourselves with innocence, knowledge, and patience, in the Holy Spirit, in sincere love as men with the message of truth and the power of God; wielding the weapons of righteousness with right hand and left, whether honored or dishonored; spoken of well or ill. We are called imposters, yet we are truthful; nobodies who in fact are well known; dead, yet here we are alive; punished, but not put to death; sorrowful, though we are always rejoicing; poor, yet we enrich many. We seem to have nothing, yet everything is ours!
Gospel
Luke 8: 16-21
The Lord said to his disciples: "Ask and you shall receive; seek and you shall find; knock and it shall be opened to you. For whoever asks, receives; whoever seeks, finds' whoever knocks, is admitted. What father among you will give his son a snake if he asks for a fish, or hand him a scorpion if he asks for an egg? If you, with all your sins, know how to give your children good things, how much more will the heavenly Father give the Holy Spirit to those who seek him."
Icon courtesy of Jack Figel, Eastern Christian Publications – ecpubs.com
Friday, October 27 –