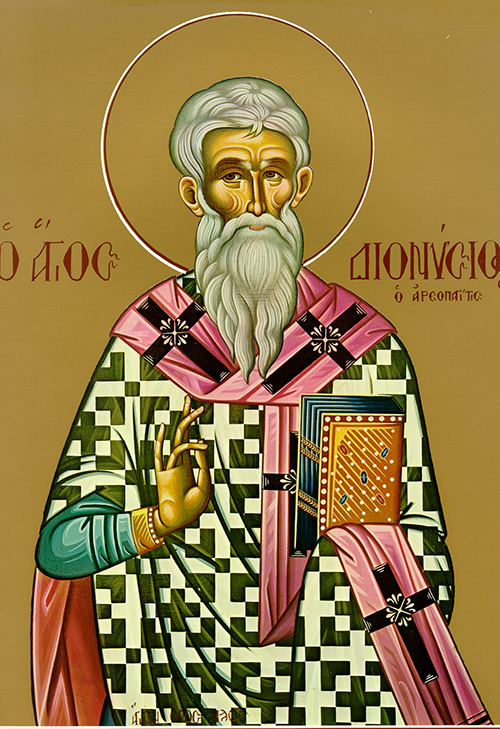 The holy bishop and martyr Dionysius the Areopagite was brought to the Christian faith by the preaching of the Apostle Paul. He remained a companion of Paul for three years, traveling and preaching the Gospel. St. Dionysius was made the first bishop of Athens. He was also present at the repose of the most holy Theotokos. The writings of St. Dionysius hold great significance to the church. Four books of his have survived to the present day: On the Celestial Hierarchy, On the Ecclesiastical Hierarchy, On the Names of God, and On Mystical Theology.
Troparion
You learned goodness and practiced temperance. You robed yourself in the priesthood and girded yourself with good conscience. Therefore, you came to draw ineffable things from the chosen vessel, Paul. You have completed the race, you have kept the faith. O father Dionysius, beg Christ our God to save our souls.
Kontakion
In a spiritual way you passed through the gates of heaven, and you climbed to the third heaven with the apostle Paul. You were given a deep understanding of mystical things with which you have given light to the ignorant. For all of this we invoke you, O Dionysius. Rejoice, O father of all!
Epistle
Philippians 1: 8-14
Brothers and sisters: God himself can testify how much I long for each of you with the affection of Christ Jesus! My prayer is that your love may more and more abound, both in understanding and wealth of experience, so that with a clear conscience and blameless conduct you may learn to value the things that really matter, up to the very day of Christ. It is my wish that you may be found rich in the harvest of justice which Jesus Christ has ripened in you, to the glory and praise of God.
My brothers and sisters, I want you to know that my situation was worked out to the furtherance of the gospel. My imprisonment in Christ's cause has become well known throughout the praetorium here, and to others as well; most of my brothers in Christ, taking courage from my chains, have been further emboldened to speak the word of God fearlessly.
Gospel
Luke 6: 37-45
The Lord said, "Do not judge, and you will not be judged. Do not condemn, and you will not be condemned. Pardon, and you shall be pardoned. Give, and it shall be given to you. Good measure pressed down, shaken together, running over, will they pour into the fold of your garment. For the measure you measure with will be measured back to you."
Jesus also used images in speaking to them: "Can a blind man act as guide to a blind man? Will they not both fall into a ditch? A student is not above his teacher; but every student when he has finished his studies will be on a par with his teacher.
"Why look at the speck in your brother's eye when you miss the plank in your own? How can you say to your brother, 'Brother, let me remove the speck from your eye,' yet fail yourself to see the plank lodged in your own? Hypocrite, remove the plank from your own eye first; then you will see clearly enough to remove the speck from your brother's eye.
"A good tree does not produce decayed fruit any more than a decayed tree produces good fruit. Each tree is known by its yield. Figs are not taken from thornbushes, nor grapes picked from brambles. A good man produces goodness from the good in his heart; an evil man produces evil out of his store of evil. Each man speaks from his heart's abundance."
Icon courtesy of Jack Figel, Eastern Christian Publications – ecpubs.com
Monday, October 2 –