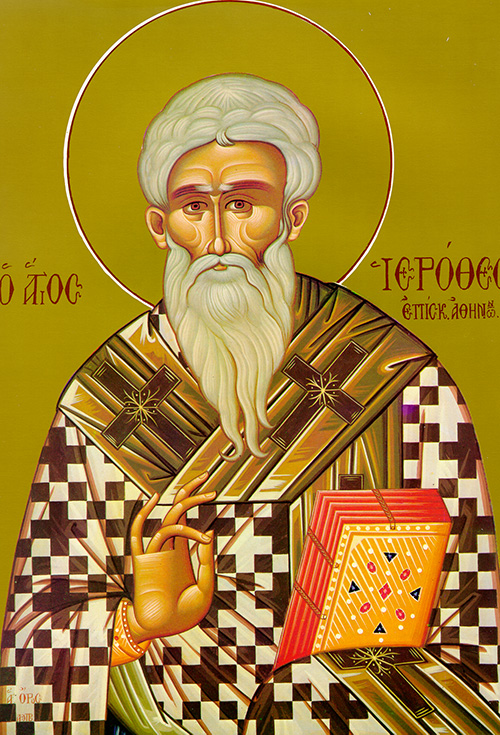 The holy martyr Hierotheus was a friend of St. Dionysius (Denis) the Areopagite. Hierotheus was converted by the Apostle Paul shortly after his friend. Paul later made him bishop of Athens. Tradition tells us that Hierotheus assembled in Jerusalem with the Apostles for the Dormition of the Theotokos. He was martyred in Athens.
Our venerable father Francis of Assisi was a deacon and founder of the Three Orders. He was converted after an unfettered youth in Assisi in Umbria. He chose an evangelical life, serving Jesus Christ found among the poorest and most neglected. Having made himself a poor man, he gathered himself little brothers (i.e., the Friars Minor) in a community. He preached the love of God to everyone, in a journey that reached as far as the Holy Land. Seeking to be a perfect follower of Christ in words and deeds, he wished to travel the needy earth carrying the good news.
Troparion
You learned goodness and practiced temperance. You robed yourself in the priesthood and girded yourself with good conscience. Therefore, you came to draw ineffable things from the chosen vessel, Paul. You have completed the race, you have kept the faith. O father Hierotheus, beg Christ our God to save our souls.
Kontakion
We honor you, O bishop of Athens, for we have learned marvelous and ineffable mysteries from you. You are an author of divine hymns. Intercede that we may be delivered from our sins; O most venerable Hierotheus, we cry out: Rejoice, O holy and most wise father.
Epistle
Philippians 1: 12-20a
Brothers and sisters, I want you to know that my situation has worked out to be furtherance of the gospel. My imprisonment in Christ's cause has become well known throughout the praetorium here, and to others as well; most of my brothers in Christ, taking courage from my chains, have been further emboldened to speak the word of God fearlessly. It is true, some preach Christ from motives of envy and rivalry, but others so do out of good will. Some act from unaffected love, aware that my circumstances provide an opportunity to defend the gospel's cause; others promote Christ, not from pure motives but as an intrigue against me, thinking that it will make my imprisonment even harsher.
What of it? All that matters is that in any and every way, whether from specious motives or genuine ones, Christ is being proclaimed! That is what brings me joy. Indeed, I shall continue to rejoice, in the conviction that this will turn out to my salvation, thanks to your prayers and the support I receive from the Spirit of Jesus Christ. I firmly trust and anticipate that I shall never be put to shame for my hopes.
Gospel
Luke 6:47 – 7:1
The Lord said, "Why do you call me 'Lord, Lord,' and not put into practice what I teach you? Any man who desires to come to me will hear my words and put them into practice. I will show you with whom he is to be compared. He may be likened to the man who, in building a house, dug deeply and laid the foundation on a rock. When the floods came the torrent rushed in on that house, but failed to shake it because of its solid foundation. On the other hand, anyone who has heard my words but not put them into practice is like the man who built his house on the ground without any foundation. When the torrent rushed upon it, it immediately fell in and was completely destroyed." When he had finished this discourse in the hearing of the people, he entered Capernaum.
Icon courtesy of Jack Figel, Eastern Christian Publications – ecpubs.com
Tuesday, October 3 –