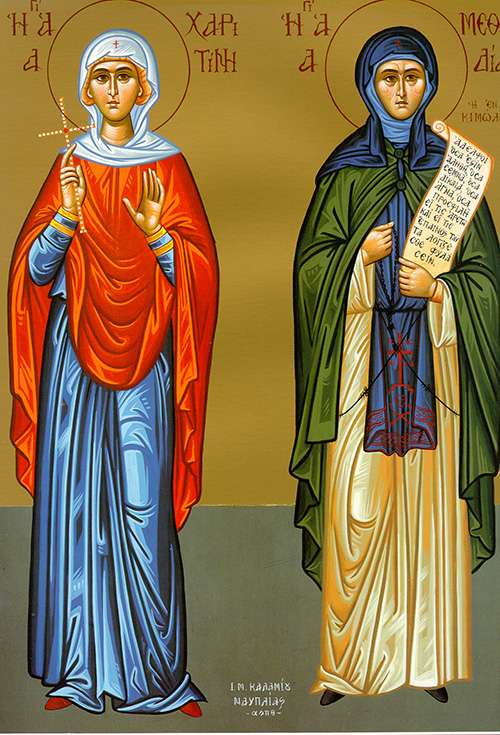 The holy martyr Charitina was a young girl who was brought before a governor of the emperor Diocletian in the year 304. She boldly testified, "It is true that I am a Christian, and a lie that I delude others. O lead those in error to the way of truth, bringing them to my Christ." She endured many awful tortures for the sake of her Lord, and died in the glory of His name.
Troparion
Your lamb Charitina, O Jesus, cries out in a loud voice: I love You, my Bridegroom; I seek You with painful longing; I am crucified with You; in Your baptism, I am buried with You; I suffer for You that I may reign with You; and I die for You that I may live with You. Receive me as a spotless sacrifice immolated with love for You. By her prayers, O merciful One, save our souls.
Kontakion
You shamed the violent enemy with the might of your understanding, O Charitina, after you had strengthened your soul with faith. O all-blessed lady, you went into the presence of Christ wearing a gown dyed red in your blood. Now that you stand in the company of angels, pray for us, O Passion-bearer.
Epistle
Philippians 1: 20a-27a
Brothers and sisters: I have full confidence that now as always Christ will be exalted through me, whether I live or die. For, to me, "life" means Christ; hence dying is so much gain. If, on the other hand, I am to go on living in the flesh, that means productive toil for me – and I do not know which I prefer. I am strongly attracted by both: I long to be freed from this life and to be with Christ, for that is the far better thing; yet it is more urgent that I remain alive for your sakes. This fills me with confidence that I will stay with you, and persevere with you all, for your joy and your progress in the faith. My being with you once again should make you even prouder of me in Christ. Conduct yourselves, then, in a way worthy of the gospel of Christ.
Gospel
Luke 7: 17-30
At that time the report of Jesus being a great prophet spread throughout Judea and the surrounding country. The disciples of John brought their teacher word of all these happenings. Summoning two of them, John sent them to ask the Lord, "Are you 'He who is to come' or are we to expect someone else?" When the men came to Jesus they said, "John the Baptizer sends us to you with this question: 'Are you "He who us to come" or do we look for someone else?'" (At that time he was curing many of their diseases, afflictions, and evil spirits; he also restored sight to many who were blind.) Jesus gave this response: "Go and report to John what you have seen and heard. The blind recover their sight, cripples walk, lepers are cured, the deaf hear, dead men are raised to life, and the poor have the good news preached to them. Blest is the man who finds no stumbling block in me."
When the messengers of John had set off, Jesus began to speak about John to the crowds. "What did you go out to see in the desert–a reed swayed by the wind? What, really, did you go out to see–someone dressed luxuriously? Remember, those who dress in luxury and eat in splendor are to be found in royal palaces. Then what did you go out to see–a prophet? He is that, I assure you, and something more. This is the man of whom Scripture says, 'I send my messenger ahead of you to prepare your way before you.' I assure you, there is no man born of woman greater than John. Yet the least born into the kingdom of God is greater than he."
The entire populace that had heard Jesus, even the tax collectors, gave praise to God, for they had received from John the baptismal bath he administered. The Pharisees and the lawyers, on the other hand, by failing to receive his baptism defeated God's plan in their regard.
Icon courtesy of Jack Figel, Eastern Christian Publications – ecpubs.com
Wednesday, October 4 –