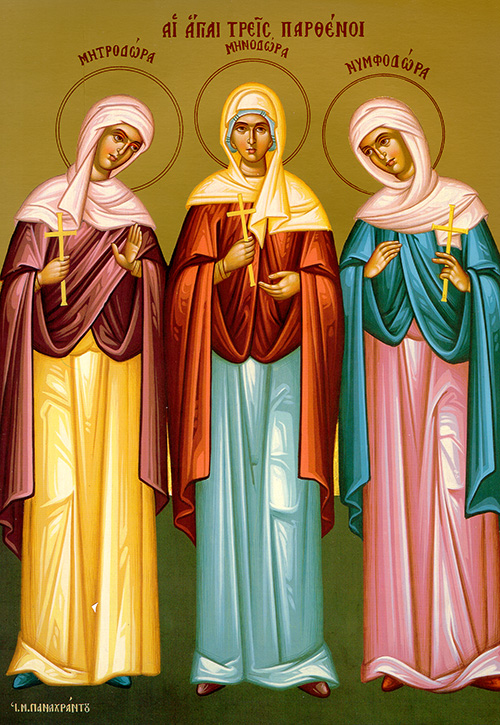 The holy martyrs Menodora, Mitrodora, and Nymphodora were sisters from Bythinia. Brought up as Christians, they withdrew from the city into the desert to live for Christ alone, and gave themselves up to fasting, prayer, and work. They became famous as a source of healing illness, which brought them to the attention of the governor. He, astounded by their beauty, wanted to marry them off to noblemen, but they refused. He then out them to the torture to get them to renounce Christ. They died confessing the name of Jesus in the year 306.
Troparion
You traded violent tortures and bitter death for eternal life. Three virgins professed the Uncreated Trinity before a false judge at the illegal trial. You followed the footsteps of the slaughtered Lamb when they pierced you with a sword. Pray for those who honor your memory.
Kontakion
Fearless as you were in your struggles for the Holy Trinity and because of your sisterly love for each other, you defeated the enemy of your spiritual life. Therefore, in the company of the five virgins you entered victoriously into the heavenly mansions where you are forever joyful with the angels in the presence of the King of all.
Epistle
1 Corinthians 4: 1-5
Brothers and sisters: Men should regard us as servants of Christ and administrators of the mysteries of God. The first requirement of an administrator is that he prove trustworthy. It matters little to me whether you or any human court pass judgment on me. I do not even pass judgment on myself. Mind you, I have nothing on my conscience. But that does not mean that I am declaring myself innocent. The Lord is the one to judge me, so stop passing judgment before the time of his return. He will bring to light what is hidden in darkness and manifest the inventions of hearts. At that time, everyone will receive his praise from God.
Gospel
Matthew 23: 1-12
At that time Jesus told the crowds and his disciples: "The scribes and the Pharisees have succeeded Moses as teachers; therefore, do everything and observe everything they tell you. But do not follow their example. Their words are bold but their deeds are few. They bind up heavy loads, hard to carry, to lay on other men's shoulders while they themselves will not lift a finger to budge them. All their works are performed to be seen. They widen their phylacteries and wear huge tassels. They are fond of places of honor at banquets and the front seats in synagogues, of marks of respect in public and of being called 'Rabbi.' As to you, avoid the title 'Rabbi.' One among you is your teacher, the rest are learners. Do not call anyone on earth your father. Only one is your father, the One in heaven. Avoid being called teachers. Only one is your teacher, the Messiah. The greatest among you will be the one who serves the rest. Whoever exalts himself shall be humbled, but whoever humbles himself shall be exalted."
Readings for Saturday before Exaltation of the Cross
Epistle
1 Corinthians 2: 6-9
Brothers and sisters: There is, to be sure, a certain wisdom which we express among the spiritually mature. It is not a wisdom of this age, however, nor of the rulers of this age, who are men headed for destruction. No, what we utter is God's wisdom: a mysterious, a hidden wisdom. God planned it before all ages for our glory. None of the rulers of this age knew the mystery; if they had known it, they would never have crucified the Lord of glory. Of this wisdom it is written: "Eye has not seen, ear has not heard, nor has it so much as dawned on man what God has prepared for those who love him."
Gospel
Matthew 10: 37-42, 11:1
The Lord said: "Whoever loves father or mother, son or daughter, more than me is not worthy of me. He who will not take up his cross and come after me is not worthy of me. He who seeks only himself brings himself to ruin, whereas he who brings himself to nought for me discovers who he is.
"He who welcomes you welcomes me, and he who welcomes me welcomes him who sent me. He who welcomes a prophet because he bears the name of prophet receives a prophet's reward; he who welcomes a holy man because he is known to be holy receives a holy man's reward. And I promise you that whoever gives a cup of cold water to one of these lowly ones because he is a disciple will not want for his reward."
When Jesus had finished instructing his twelve disciples, he left that locality to teach and preach in their towns.
Icon courtesy of Jack Figel, Eastern Christian Publications – ecpubs.com
Friday, September 9 –