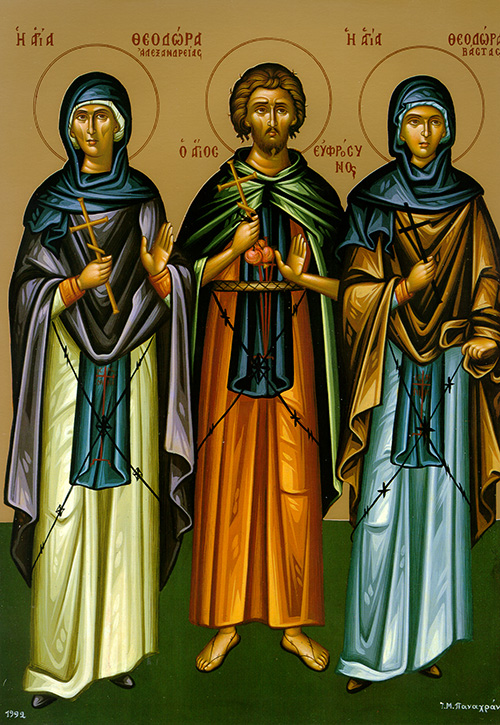 Our venerable mother Theodora of Alexandria who, as a young woman committed adultery on the advice of a fortune-teller. She was accused by her conscience, and left the world, cutting off her hair and dressing as a man in order to enter the monastery of Octodecatos, assuming the name of Theodore. Falsely accused of having sex with a prostitute, she accepted rebuke as a punishment for her former sin. She ended up in the desert for seven years, until the hegumen took her back. Only at her death in the year 490 did the monks realize that she was a woman.
Troparion
In you, O mother, the divine image was strictly preserved; taking up your cross, you followed Christ. You taught us by example how to spurn the flesh, for it passes away, and how to care for the soul, which is immortal. Therefore, O venerable Theodora, your soul rejoices with the angels.
Kontakion
In order to obtain complete forgiveness of your sins, you spent all of your bodily strength in fast and your nights in vigils and prayers to God. Through the way of repentance you obtained forgiveness.
Epistle
Galatians 6: 11-18
Brothers and sisters: See, I write to you in my own large handwriting! Those who are trying to force you to be circumcised are making a play for human approval–with an eye to escaping persecution for the cross of Christ. The very ones who accept circumcision do not follow the law themselves. They want you to be circumcised only that they may boast about your bodily observance.
May I never boast of anything but the cross of our Lord Jesus Christ! Through it, the world has been crucified to me and I to the world. It means nothing whether one is circumcised or not. All that matters is that one is created anew. Peace and mercy on all who follow this rule of life, and on the Israel of God.
Henceforth, let no man trouble me, for I bear the brand marks of Jesus in my body. Brethren, may the favor of our Lord Jesus Christ be with your spirit. Amen.
Gospel
John 3: 13-17
The Lord said: "No one has gone up to heaven except the One who came down from there – the Son of Man [who is in heaven]. Just as Moses lifted up the serpent in the desert, so must the Son of Man be lifted up, that all who believe may have eternal life in him. Yes, God so loved the world that he gave his only Son, that whoever believes in him may not die but may have eternal life. God did not send the Son into the world to condemn the world, but that the world might be saved through him."
Icon courtesy of Jack Figel, Eastern Christian Publications – ecpubs.com
Saturday, September 10 –