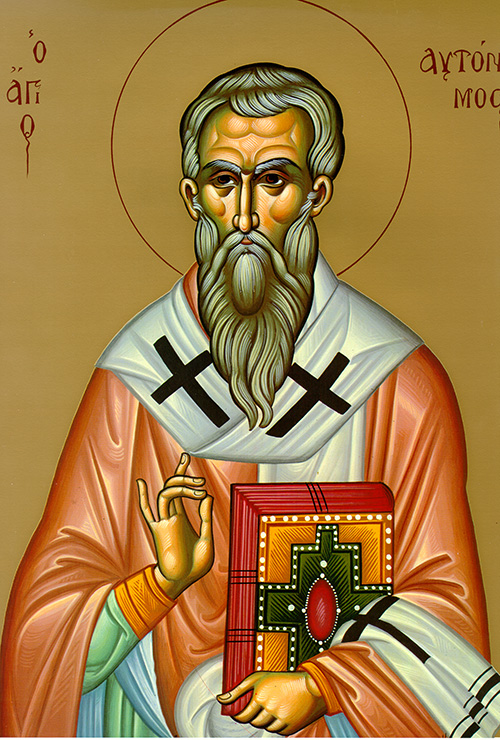 The holy bishop martyr Autonomous fled Italy during the Diocletian persecution and settled in Asian Bithynia at a place called Soreoi. There, he converted many to Christianity, and built a church for them dedicated to the holy Archangel Michael. Autonomous lived in the home of a devout Christian, Cornelius, whom he first ordained as a presbyter, and then consecrated to the episcopacy. Not far from Soreoi there was a place called Limnae, inhabited entirely by pagans. St. Autonomous went to this place and soon enlightened many with the Gospel of Christ. This embittered the pagans, and one day they rushed into the Church of the Holy Archangel Michael in Soreoi during the divine service and slew Autonomous in the sanctuary, and killed many other Christians in the church.
Troparion
The Church calls us to celebrate your holy memory with faith, O splendid and glorious Autonomous, who pleased the Trinity. She rejoices and praises you. Pray for us to God, the only Lover of Mankind.
Kontakion
O most wise one, you worthily offered the Divine Mysteries, You became an acceptable offering, O God-blessed one. You drank from the cup of Christ, O most glorious one, O light of the whole world, pray unceasingly for all of us.
Epistle
Galatians 2: 11-16
Brothers and sisters: When Cephas came to Antioch I directly withstood him, because he was clearly in the wrong. He had been taking his meals with the Gentiles before others came who were from James. But when they arrived he drew back to avoid trouble with those who were circumcised. The rest of the Jews joined in his dissembling till even Barnabas was swept away by their pretense. As soon as I observed that they were not being straightforward about the truth of the gospel, I had this to say to Cephus in the presence of all: "If you who are a Jew are living according to Gentile ways rather than Jewish, by what logic do you force the Gentiles to adopt Jewish ways?"
We are Jews by birth, not sinners of Gentile origin. Nevertheless, knowing that a man is not justified by legal observance but by faith in Jesus Christ, we too have believed in him in order to be justified by faith in Christ, not by observance of the law; for by works of the law no one will be justified.
Gospel
Mark 5: 24-34
At that time a large crowd followed, pushing against Jesus. There was a woman form the area who had been afflicted with a hemorrhage for a dozen years. She had received treatment at the hands of doctors of every sort and exhausted her savings in the process, yet she got no relief; on the contrary, she only grew worse. She had heard about Jesus and came up behind him in the crowd and put her hand on his cloak. "If I just touch his clothing," she thought, "I shall get well." Immediately her flow of blood dried up and the feeling that she was cured of her affliction ran through her whole body. Jesus was conscious at once that healing power had gone out from him. Wheeling about in the crowd, he began to ask, "Who touched my clothing?" His disciples said to him, "You can see how this crowd hems you in, yet you ask, 'Who touched me?'" Despite this, he kept looking around to see the woman who had done it. Fearful and beginning to tremble now as she realized what had happened, the woman came and fell in front of him and told him the whole truth. He said to her, "Daughter, it is your faith that has cured you. Go in peace and be free of this illness."
Icon courtesy of Jack Figel, Eastern Christian Publications – ecpubs.com
Sunday, September 11 –