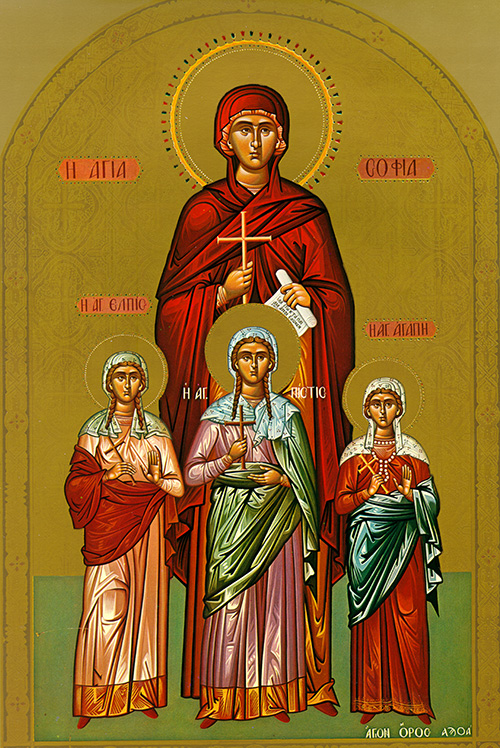 The holy martyrs St. Sophia [Wisdom], and her daughters Faith [Vera], Hope [Nadežda], and Charity [Luba] were born in Italy. Their mother was a pious Christian widow who named her daughters after the three Christian virtues. Faith was 12, Hope was 10, and Love was 9. St. Sophia raised them inj the love of the Lord Jesus Christ. St. Sophia and her daughters did not hide their faith in Christ, but openly confessed it before everyone. They lived and suffered in Rome in the time of the emperor Hadrian. For refusing to sacrifice to the goddess Artemis, he had them put to death around the year 137.
Troparion
The Church solemnly celebrates and rejoices over the newly-born children and their radiant mother. Named for Wisdom and like her name, she gave birth to three children equal to the three theological virtues. In the company of these three wise virgins, she gazes on God the Word and Chaste Groom. We join her in her happiness spiritually and sing: O thrice-blessed martyrs, Faith, Hope, and Charity make us firm in faith, hope, and charity.
Kontakion
The three sacred branches of honorable Sophia, Faith and Hope and Charity, have shown forth. Through grace they outwitted the wisdom of the Greeks. Both through their suffering and through being bearers of victory, Christ, the Master of All, granted to them incorruptible crowns.
Epistle
1 Corinthians 1: 26-29
Brothers and sisters, you are among those called. Consider your situation. Not many of you are wise, as men account wisdom; not many are influential; and surely noy many are well-born. God chose those whom the world considers absurd to shame the wise; he singled out the weak of this world to shame the strong. He chose the world's lowborn and despised, those who count for nothing, to reduce to nothing those who were something; so that mankind can do no boasting before God.
Gospel
John 8: 21-30
The Lord said to the people coming to him: "I am going away. You will look for me but you will die in your sins. Where I am going you cannot come." At this some of the Jews began to ask, "Does he mean he will kill himself when he claims, 'Where I am going you cannot come'?"
Jesus went on: "You belong to what is below; I belong to what is above. You belong to this world–a world which cannot hold me. That is why I said you would die in your sins unless you come to believe that I AM."
"Who are you, then?" they asked him. Jesus answered: "What I have been telling you from the beginning. I could say much about you in condemnation, but no, I only tell the world what I have heard from him, the truthful One who sent me." They did not grasp that he was speaking of the Father. Jesus continued: "When you have lifted up the Son of Man you will come to realize that I AM and that I do nothing by myself. I say only what the Father has taught me, He has not deserted me since I always do what pleases him." Because he spoke this way, many came to believe in him.
Icon courtesy of Jack Figel, Eastern Christian Publications – ecpubs.com
Friday, September 16 –