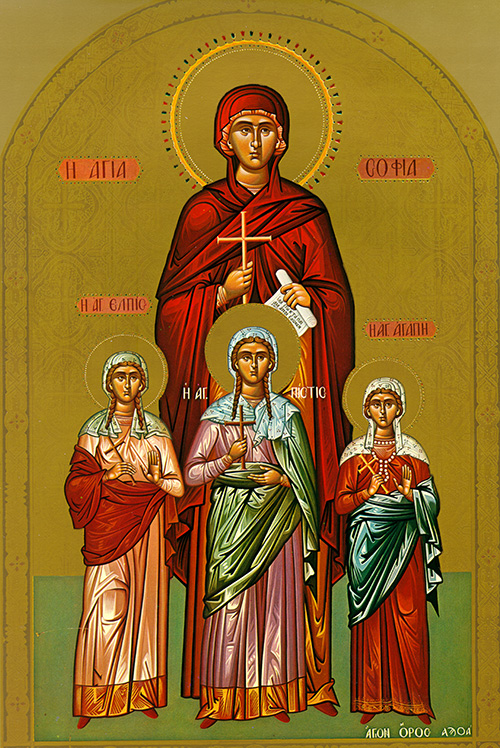 The holy martyrs St. Sophia [Wisdom], and her daughters Faith [Vera], Hope [Nadežda], and Charity [Luba] were born in Italy. Their mother was a pious Christian widow who named her daughters after the three Christian virtues. Faith was 12, Hope was 10, and Love was 9. St. Sophia raised them in the love of the Lord Jesus Christ. St. Sophia and her daughters did not hide their faith in Christ, but openly confessed it before everyone. They lived and suffered in Rome in the time of the emperor Hadrian. For refusing to sacrifice to the goddess Artemis, he had them put to death around the year 137.
Troparion
The Church solemnly celebrates and rejoices over the newly-born children and their radiant mother. Named for Wisdom and like her name, she gave birth to three children equal to the three theological virtues. In the company of these three wise virgins, she gazes on God the Word and Chaste Groom. We join her in her happiness spiritually and sing: O thrice-blessed martyrs, Faith, Hope, and Charity make us firm in faith, hope, and charity.
Kontakion
The three sacred branches of honorable Sophia, Faith and Hope and Charity, have shown forth. Through grace they outwitted the wisdom of the Greeks. Both through their suffering and through being bearers of victory, Christ, the Master of All, granted to them incorruptible crowns.
Epistle
Galatians 2: 16-20
Brothers and sisters: Knowing that a man is not justified by legal observance but by faith in Jesus Christ, we too have believed in him in order to be justified by faith in Christ, not by observance of the law; for by works of the law no one will be justified. But if, in seeking to be justified in Christ, we are shown to be sinners, does that mean that Christ is encouraging sin? Unthinkable! If, however, I were to build up the very things I had demolished, I should then indeed be a transgressor. It was through the law that I died to the law, to live for God. I have been crucified with Christ, and the life I live now is not my own; Christ is living in me. I still live my human life, but it is a life of faith in the Son of God, who loved me and gave himself for me.
Gospel
Mark 8: 34b-38, 9:1
The Lord said, "If a man wishes to come after me, he must deny his very self, take up his cross and follow in my steps. Whoever would preserve his life will lose it, but whoever loses his life for my sake and the gospel's will preserve it. What profit does a man show who gains the whole world and destroys himself in the process? What can a man offer in exchange for his life? If anyone in this faithless and corrupt age is ashamed of me and my doctrine, the Son of Man will be ashamed of him when he comes with the holy angels in his Father's glory."
He also said to them: "I assure you, among those standing here there are some who will not taste death until they see the reign of God established in power."
Icon courtesy of Jack Figel, Eastern Christian Publications – ecpubs.com
Saturday, September 16 –