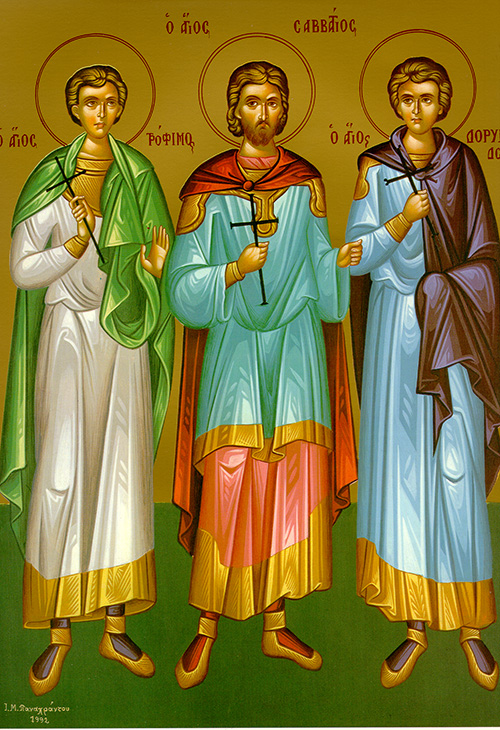 The holy martyrs Trophimus, Sabbatius, and Dorymedont suffered for Christ during the reign of the Roman emperor Probus (276-282). A pagan festival was being celebrated in the city of Antioch. The Christians Trophimus and Sabbatius arrived in the city just as the festival was taking place, and were saddened by this loud and indecent spectacle. They prayed that the Lord would guide the errant on the way of salvation. When they were told to renounce Christ, they resolutely refused to do so. St. Sabbatius died under the fierce torment. St. Trophimus was sent to the city of Synnada in Phrygia for even more terrible tortures. The senator Dorymedont, a secret Christian, visited St. Trophimus in prison to wash and bind his wounds. They were beheaded with the sword.
Troparion
God is praised in the Holy Trinity, and He praises the three martyrs, Trophimus, Sabbatius, and Dorymedont. By their faith, they conquered the enemy. Through their prayers, have mercy on us, O Christ our God.
Kontakion
The Church honors and glorifies your light-bearing passion as a foundation of martyrs and confirmation of piety. O ever-hymned blessed passion-bearer, divinely wise and glorious Trophimus, and those who suffered with you, implore cleansing for those who profess you, for you are invincible.
Epistle
Galatians 4:28 – 5:10
Brothers and sisters: You are children of the promise, as Isaac was. But just as in those days the son born in nature's course persecuted the one whose birth was in the realm of the spirit, so do we find it now. What does Scripture say on the point? "Cast out slave girl and son together; for the slave girl's son shall never be heir on equal terns with the son" of the one born free.
Therefore, my brothers and sisters, we are not children of a slave girl but of a mother who is free.
It was for liberty that Christ freed us. So stand firm, and so not take on yourselves the yoke of slavery a second time! Pay close attention to me, Paul, when I tell you that if you have yourselves circumcised, Christ will be of no use to you! I point out once more to all who receive circumcision that they are bound to the law in its entirety. Any of you who seek your justification in the law have severed yourselves from Christ and fallen from God's favor! It is in the spirit that we eagerly await the justification we hope for, and only faith can yield it. In Christ Jesus neither circumcision nor the lack of it counts for anything; only faith, which expresses itself through love.
You were progressing so very well; who diverted you from the path of truth? Such enticement does not come from him who calls you. "A little yeast can affect the entire dough." I trust that, in the Lord, you will not adopt a different view. May condemnation fall on whoever it is that is unsettling you.
Gospel
Luke 3: 19-22
At that time, Herod the tetrarch was censured by John on the subject of Herodias, his brother's wife, and for all his other crimes. He added to his guilt by shutting John up in prison.
When all the people were baptized, and Jesus was at prayer after likewise being baptized, the skies opened and the Holy Spirit descended on him in the visible form like a dove. A voice from heaven was heard to say: "You are my beloved Son. On you my favor rests."
Icon courtesy of Jack Figel, Eastern Christian Publications – ecpubs.com
Sunday, September 18 –