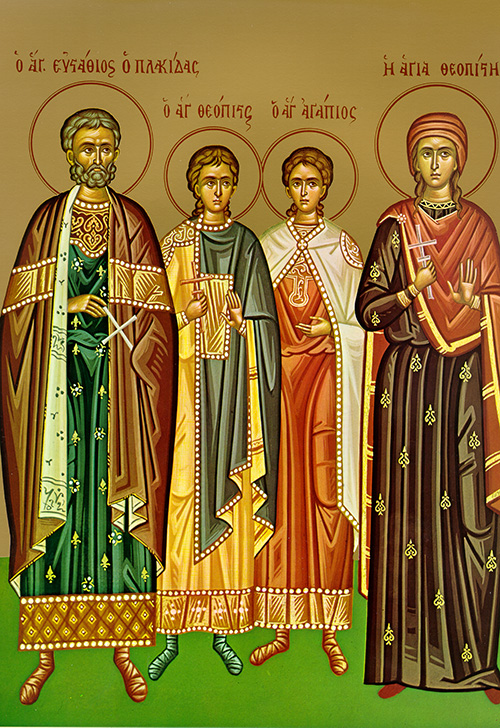 The holy martyr Eustace was a Roman military leader in the time of the emperors Titus and Trajan. He was a righteous and merciful pagan. One day while hunting, he found a stag. In the stag's antlers, a cross appeared, and Eustace heard a voice telling him to find a Christian priest and be baptized. He and his whole family were baptized, and then left Rome for Egypt on their way to Jerusalem. On the journey, they were all separated. Years later, they found each other again only to be martyred after confessing for Christ in front of the emperor Hadrian.
The holy martyr Prince Michael of Chernigov was a sickly child who was known for his great piety. In his youth he was healed by the intercession of St. Nikeras the Stylite of Pereyaslavl. When the Mongol horde invaded and conquered the area in 1240, Prince Michael and his counselor Theodore went to meet the Mongol khan. A pagan priest demanded the two worship fire before their meeting, but the saints refused. They had come prepared to confess for Christ. Prince Michael was beaten and beheaded. The Mongols promised Theodore great honor if he participated in a pagan ritual, but he steadfastly refused, and followed the path of his prince. He too was beheaded. The confessors' unwavering faith impressed the khans so much so that they no longer required the conquered Russians to perform any pagan rituals.
Troparion – martyrs
Your martyrs, O Lord our God, in their struggles received incorruptible crowns from You. Armed with Your strength, they brought down the tyrants and broke the cowardly valor of demons. Through their prayers, O Christ our God, save our souls.
Troparion – confessor
Having completed your life as martyrs, having been adorned with the crowns of confessors flowing up to the heavens, O wise Michael, pray to Christ our God to protect your country according to his great mercy.
Kontakion – martyr
O holy Eustace, you were an imitator of Christ in His passion. You drank of His cup with courage and thereby became a sharer of His glory, receiving divine forgiveness from on high from the God of all.
Kontakion – confessors
Perceiving an earthly kingdom as nothing and having abandoned passing glory, you came to the labor of voluntary ascetic effort. You preached the Trinity to the impure torturers, O passion-bearer Michael and brave Theodore. Standing before the King of Powers, pray to protect your country without harm, and for us who venerate you unceasingly.
Epistle
Ephesians 3: 8-21
Brothers and sisters: To me, the least of all believers, was given the grace to preach to the Gentiles the unfathomable riches of Christ and to enlighten all men on the mysterious design which for ages was hidden in God, the Creator of all. Now, therefore, through the church, God's manifold wisdom is made known to the principalities and powers of heaven, in accord with his age-old purpose, carried out in Christ Jesus our Lord. In Christ and through faith in him we can speak freely to God, drawing near him with confidence. Hence, I beg you not to be disheartened by the trials I endure for you; they are your glory.
That is why I kneel before the Father from whom every family in heaven and on earth takes its name; and I pray that he will bestow in you gifts in keeping with the riches of his glory. May he strengthen you inwardly through the working of his Spirit. May Christ dwell in your hearts through faith, and may charity be the root and foundation of your life. Thus you will be able to grasp fully, with all the holy ones, the breadth and length and height and depth of Christ's love, and experience this love which surpasses all knowledge, so that you may attain to the fullness of God himself.
To him whose power now at work in us can do immeasurably more than we ask or imagine–to him be glory in the church and in Christ Jesus through all generations, world without end. Amen.
Gospel
Luke 4: 1-15
At that time Jesus, full of the Holy Spirit, returned from the Jordan and was conducted by the Spirit into the desert for forty days, where he was tempted by the devil. During that time he ate nothing, and at the end of it he was hungry. The devil said to him, " If you are the Son of God, command this stone to turn into bread." Jesus answered him, "Scripture has it, 'Not on bread alone shall man live.'"
Then the devil took Jesus up higher and showed him all the kingdoms of the world in a single instant. The devil said to Jesus, "I will give you all this power and glory of these kingdoms; the power has been given to me and I give it to whomever I wish. Prostrate yourself in homage before me, and it shall all be yours." In reply, Jesus said to him, "Scripture has it, 'You shall do homage to the Lord your God; him alone shall you adore.'"
Then the devil led Jesus to Jerusalem, set him on a parapet of the temple, and said to him, "If you are the Son of God, throw yourself down from here, for Scripture has it, 'He will bid his angels watch over you'; and again [it says] 'With their hands they will support you, that you may never stumble on a stone.'"
Jesus said to him in reply, "It also says, 'You shall not put the Lord your God to the test.'"
When the devil had finished all the tempting he left him, to await another opportunity. Jesus returned in the power of the Spirit to Galilee, and his reputation spread throughout the region. He was teaching in their synagogues, and all were loud in his praise.
Icon courtesy of Jack Figel, Eastern Christian Publications – ecpubs.com
Tuesday, September 19 –