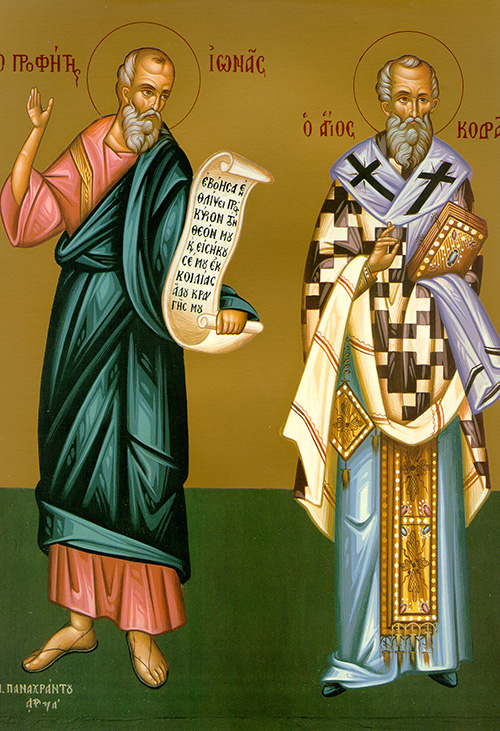 The holy apostle Quadratus of Magnesia of Greece, was a disciple of the Apostles. It is told that he, by his faith and diligence, gathered together the Church, which had been scattered by terror in the persecution of Hadrian the emperor. He also presented a book in defense of the Christian religion, worthy of the apostolic teaching, to that same emperor.
Troparion
O holy Apostle Quadratus, intercede with the merciful God that He may grant our souls forgiveness of sin.
Kontakion
O Lord, the world offers You the apostle Quadratus, a precious hierarch and a courageous sufferer. The world honors his honorable memory with hymns, asking always remission for its sins through his intercession, O merciful Lord.
Epistle
Ephesians 4: 14-19
Brothers and sisters: Let us, then, be children no longer, tossed here and there, carried about by every wind of doctrine that originates in human trickery and skill in proposing error. Rather, let us profess the truth in love and grow to the full maturity of Christ the head. Through him the whole body grows, and with the proper functioning of the members joined firmly together by each supporting ligament, builds itself up to love. I declare and solemnly attest in the Lord that you must no longer live as the pagans do–their minds empty, their understanding darkened. They are estranged from a life in God because of their ignorance and their resistance; without remorse they have abandoned themselves to lust and the indulgence of every sort of lewd conduct.
Gospel
Luke 4: 16-22
At that time Jesus came to Nazareth where he had been reared, and entering the synagogue on the sabbath as he was in habit of doing, he stood up to do the reading. When the book of the prophet Isaiah was handed to him, he unenrolled the scroll and found the passage where it is written: "The spirit of the Lord is upon me; therefore he has anointed me. He has sent me to bring glad tidings to the poor, to proclaim liberty to captives, recovery of sight to the blind and released to prisoners, to announce a year of favor from the Lord."
Rolling up the scroll he gave it back to the assistant and sat down. All in the synagogue had their eyes fixed on Jesus. Then he began by saying to them, "Today this scripture passage is fulfilled in your hearing." All who were present spoke favorably of him; they marveled at the appealing discourse which came from his lips.
Icon courtesy of Jack Figel, Eastern Christian Publications – ecpubs.com
Wednesday, September 20 –