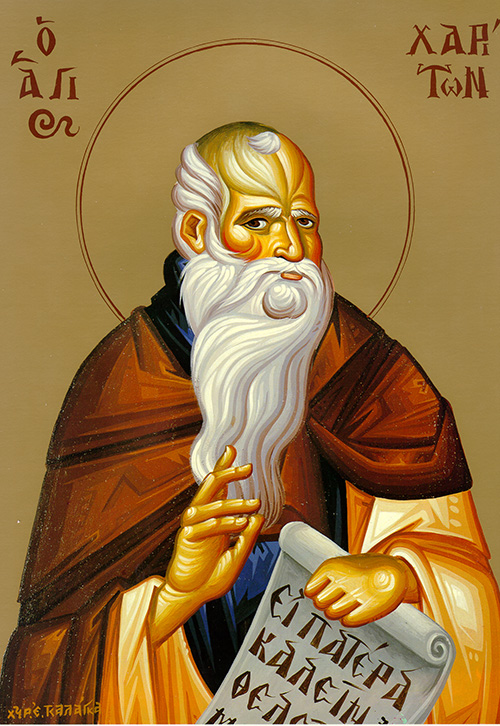 Our venerable father and confessor Chariton was abbot in the Old Lavra near Bethlehem in Palestine during the 4th century. He was diligent in prayer and fasting, and founded many lavras in the desert before his falling asleep in the Lord in 362.
The holy martyr Wenceslaus, prince of the Czechs, was the leader of the Bohemians. He was trained in divine and human wisdom by his grandmother St. Ludmilla. He was severe toward himself but gentle in ruling his kingdom and merciful to the poor. He redeemed in large numbers pagan slaves about to be sold so that they might be baptized. After enduring many difficulties in ruling his subjects and in spreading the faith, he was betrayed by his brother Boleslaus and killed by assassins in a church in Old Boleslavia (modern-day Altbunzlau) in Bohemia in the year 929.
The holy prophet Baruch was a disciple and faithful friend of the prophet Jeremiah. He foretold the return of the Jews from the Babylonian captivity, and the coming of the Son of God on earth. It is held that he was killed by the Jews from Egypt, as was the prophet Jeremiah, in the seventh century before Christ.
Troparion
Your abundant tears made the wilderness bloom, and your deep sighing made your labor fruitful a hundredfold. You became a star shining over the world with miracles, holy father Chariton. Pray to Christ God that He may save our souls.
Kontakion
O divinely minded Chariton, you found your delight in the monastic life. You conquered the passions of your body and increased in faith; you blossomed forth like the Tree of Life in the midst of paradise, O most blessed and holy father.
Epistle
2nd Corinthians 4: 6-15
Brothers and sisters: God who said, "Let light shine out of darkness," has shone in our hearts, that we in turn might make known the glory of God shining on the face of Christ. This treasure we possess in earthen vessels to make it clear that its surpassing power comes from God and not from us. We are afflicted in every way possible, but we are not crushed; full of doubts, we never despair. We are persecuted but never abandoned; we are struck down but never destroyed. Continually, we carry about in our bodies the dying of Jesus, so that in our bodies the life of Jesus may also be revealed. While we live we are constantly being delivered to death for Jesus' sake, so that the life of Jesus may be revealed in our mortal flesh. Death is at work in us, but life in you. We have that spirit of faith which the Scripture says, "Because I believed, I spoke out." We believe and so we speak, knowing that he who raised up the Lord Jesus will raise us up along with Jesus and place both us and you in his presence. Indeed, everything is ordered to your great benefit, so that the grace bestowed in abundance may bring greater glory to God because they who give thanks are many.
Gospel
Luke 6: 17-23
At that time, coming down the mountain with the Twelve, Jesus stopped at a level to stretch where there were many of his disciples; a large crowd of people was with them from all Judea and Jerusalem and the coast of Tyre and Sidon, people who came to hear him and be healed of their diseases. Those who were troubled with unclean spirits were cured; indeed, the whole crowd was trying to touch him because power went out from him which cured all. Then, raising his eyes to his disciples, he said: "Blest are you poor; the reign of God is yours. Blest are you who hunger; you shall be filled. Blest are you who are weeping; you shall laugh. Blest shall you be when men hate you, when they ostracize you and insult you and proscribe your name as evil because of the Son of Man. On the day they do so, rejoice and exult, for your reward shall be great in heaven."
Icon courtesy of Jack Figel, Eastern Christian Publications – ecpubs.com
Wednesday, September 27 –