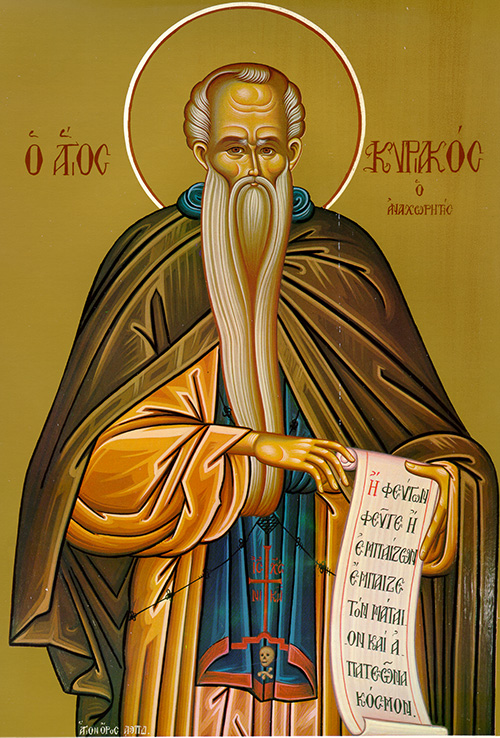 Our venerable father Cyriacus the anchorite was born in Corinth of a Christian family, he left to go to Jerusalem and entered the monastery. He learned at the feet of saints such as Euthymius and Gerasimos. He was famous for his silence, his asceticism, and his zeal for the Orthodox faith.
Troparion
You made the wilderness your dwelling, O father Cyriacus, the bearer of God. You became an angel in the flesh and a wonderworker. Through prayers, fast, and vigils, you obtained from God special graces to heal the sick and to sanctify the souls of those who come to you with trust. Glory to the One who gave you strength! Glory to the One who crowned you! Glory to the One who through your intercession grants healing to all!
Kontakion
The holy lavra always honors you as a powerful protector and advocate, and yearly celebrates your memory. But since you have confidence before the Lord, keep us safe from our enemies, so that we may cry out: Rejoice, O thrice-blessed Father.
Epistle
Ephesians 6: 18-24
Brothers and sisters: At every opportunity pray in the Spirit, using prayers and petition of every sort. Pray constantly and attentively for all in the holy company. Pray for me that God may put his words on my lips, that I may courageously make known the mystery of the gospel–that mystery for which I am an ambassador in chains. Pray that I may have courage to proclaim it as I ought.
Tychicus, my dear brother and faithful minister in the Lord, will keep you informed as to how I am and what I am doing. I have sent him to you for the very purpose of giving you news about me for your hearts' consolation.
May God the Father and the Lord Jesus Christ grant the brothers peace and love and faith. Grace be with all who love our Lord Jesus Christ with unfailing love.
Gospel
Luke 6: 17-23
At that time coming down the mountain with them, Jesus stopped at a level stretch where there were many of his disciples; a large crowd of people was with them from all Judea and Jerusalem and the coast of Tyre and Sidon, people who came to hear him and be healed of their diseases. Those who were troubled with unclean spirits were cured; indeed, the whole crowd was trying to touch him because power went out from him which cured all. Then, raising his eyes to his disciples, he said: "Blest are you poor, the reign of God is yours. Blest are you who hunger; you shall be filled. Blest are you who are weeping; you shall laugh. Blest shall you be when men hate you, when they ostracize you and insult you and proscribe your name as evil because of the Son of Man. On the day they do so, rejoice and exult, for your reward shall be great in heaven."
Icon courtesy of Jack Figel, Eastern Christian Publications – ecpubs.com
Thursday, September 28 –