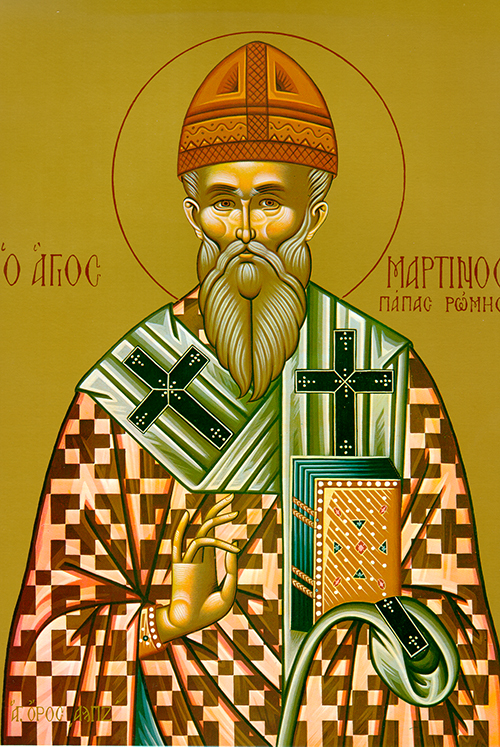 Our holy father and confessor Martin, pope of Rome, who condemned the heresy of the Monothlites at the Lateran Synod (693). By the order of the emperor Constans II, an assault was made on the Lateran basilica to capture Martin. He was removed from his See and taken to Constantinople, where he lay in a penitentiary in strict confinement. From there he was sent to Kherson, where, after about two years, he reached the end of his tribulations and gained his eternal crown.
The holy new martyrs Anthony, John, and Eustathius, who died in the city of Vilna, Lithuania in the year 1342. They were slaves who were baptized by a Christian priest. When this was discovered, they were hanged from a great oak tree. This oak tree was cut down and a church dedicated to the Holy Trinity was built on the site. The stump of the tree became the Holy Table.
Troparion for Martin
O guide of the true faith, mirror of piety and commendable behavior, bright star of the universe, and adornment of pontiffs, you enlightened us all by your teachings. O wise Martin, inspired by God and lyre of the Holy Spirit, intercede with Christ our God that He may save our souls.
Troparion for the martyrs
You disowned earthly wealth and glory, O holy martyrs, and you bravely endured torture for the faith. You walked willingly into death for the life of the Lord, and Christ has guided you with a pillar of cloud. With glory and honor He has crowned you at his throne. Standing there we ask you to pray for our salvation.
Kontakion for Martin
You set out firmly with priestly devotion and completed the course on martyrdom. You passed into heaven, O wise Martin, and received laurels which will never fade. Now we come to celebrate your holy memory, crying out: As you stand before Christ, remember us, O martyr.
Kontakion for the martyrs
Having abandoned the mistakes of your ancestors, you were led to Christ with complete sincerity. You stood courageously and wisely until death, and so you have captured the trophy of victory. O blessed martyrs, pray unceasingly to the Master for all of us.
Readings for the day
Isaiah 50: 4-11
The Lord God has given me the tongue of a teacher, that I may know how to sustain the weary with a word.
Morning by morning he wakens– wakens my ear to listen as those who are taught.
The Lord God has opened my ear, and I was not rebellious, I did not turn backward.
I gave my back to those who struck me, and my cheeks to those who pulled out the beard; I did not hide my face from insult and spitting.
The Lord God helps me; therefore I have set my face like flint, and I know that I shall not be put to shame; he who vindicates me is near.
Who will contend with me? Let us stand up together.
Who are my adversaries? Let them confront me.
It is the Lord God who helps me; who will declare me guilty?
All of them will wear out like a garment; the moth will eat them up.
Who among you fears the Lord and obeys the voice of his servant, who walks in darkness and has no light, yet trusts in the name of the Lord and relies upon his God?
But all of you are kindlers of fire, lighters of firebrands.
Walk in the flame of your fire, and among the brands that you have kindled!
This is what you shall have from my hand: you shall lie down in torment.
1st Corinthians 11: 23-32
Brothers and sisters: I received from the Lord what I handed on to you, namely, that the Lord Jesus on the night in which he was betrayed took bread, and after he had given thanks, broke it and said, "This is my body, which is for you. Do this in remembrance of me." In the same way, after supper, he took the cup, saying, "This cup is the new covenant in my blood. Do this, whenever you drink it, in remembrance of me." Every time, then, you eat this bread and drink this cup, you proclaim the death of the Lord until he comes! This means that whoever eats the bread or drinks the cup of the Lord unworthily sins against the body and blood of the Lord. A man should examine himself first; only then should he eat of the bread and drink of the cup. He who eats and drinks without recognizing the body eats and drinks a judgment on himself. That is why many among you are sick and infirm, and why so many are dying. If we were to examine ourselves, we would not be failing under judgment in this way; but since it is the Lord who judges us, he chastens us to keep us from being condemned with the rest of the world.
Matthew 26: 2-20; John 13: 3-7; Matthew 26: 31-39; Luke 22: 43-45; Matthew 26:40 – 27:2
The Lord said to his disciples, "You know that in two days' time it will be Passover, and that the Son of Man is to be handed over to be crucified."
At that time the chief priests and elders of the people were assembled in the palace of the high priest, whose name was Caiaphas. They plotted to arrest Jesus by some trick and kill him; but they said, "Not during the festival, for fear of a riot among the people."
While Jesus was in Bethany at the house of Simon the leper, a woman carrying a jar of costly perfume came up to him at table and began to pour it on his head. When the disciples saw this they grew indignant, protesting: "What is the point of such extravagance? This could have been sold for a good price and the money given to the poor." Jesus became aware of this and said to them: "Why do you criticize the woman? It is a good deed she has done for me. The poor you will always have with you but you will not always have me. By pouring this perfume on my body, she has contributed toward my burial preparation. I assure you, wherever the good news is proclaimed throughout the world, what she did will be spoken of as her memorial."
Then one of the Twelve whose name was Judas Iscariot went off to the chief priests and said, "What are you willing to give me if I hand Jesus over to you?" They paid him thirty pieces of silver, and from that time on he kept looking for an opportunity to hand him over.
On the first day of the feast of Unleavened Bread, the disciples came up to Jesus and said, "Where do you wish us to prepare the Passover supper for you?" He said, "Go to this man in the city and tell him, 'The Teacher says, My appointed time draws near. I am to celebrate the Passover with my disciples in your house.'"
The disciples then did as Jesus had ordered, and prepared the Passover supper.
When it grew dark Jesus reclined at the table with the Twelve. *Jesus–fully aware that he had come from God and was going to God, the Father who had handed everything over to him–rose from the meal and took off his cloak. He picked up a towel and tied it around himself. Then he poured water into a basin and began to wash his disciples' feet and dry them with the towel he had around him. Thus he came to Simon Peter, who said to him, "Lord, are you going to wash my feet?" Jesus answered, "You may not realize now what I am doing, but later you will understand." Peter replied, "You shall never wash my feet!" Jesus answered, "If I do not wash you, you will have no sharee in my heritage." "Lord," Simon Peter said to him, "then not only my feet, but my hands and head as well." Jesus told him, "The man who has bathed has no need to wash [except for his feet]; he is entirely cleansed, just as you are; though not all." The reason he said, "Not all are washed clean," was that he knew his betrayer.
After Jesus had washed the feet of the Twelve, he put his cloak back on and reclined at table once more. He said to them: "Do you understand what i just did for you? You address me as 'Teacher' and 'Lord' and fittingly enough, for that is what I am. But if I washed your feet–I who am Teacher and Lord–then you must wash each other's feet. What I just did was to give you an example: as I have done, so you must do. I solemnly assure you, no slave is greater than his master; no messenger outranks the one who sent him. Once you know all these things, blest will you be if you put them into practice."
*In the course of the meal Jesus said, "I assure you, one of you is about to betray me." Distressed at this, they began to say to him one after another, "Surely it is not I, Lord?" He replied: "The man who has dipped his hand into the dish with me is the one who will hand me over. The Son of Man is departing, as Scripture says of him, but woe to that man by whom the Son of Man is betrayed. Better for him if he had never been born."
Then Judas, his betrayer, spoke: "Surely it is not I, Rabbi?" Jesus answered, "It is you who have said it."
During the meal Jesus took bread, blessed it, broke it, and gave it to the disciples. "Take this and eat it," he said, " this is my body." Then he took a cup, gave thanks, and gave it to them. "All of you must drink from it," he said, "for this is my blood, the blood of the covenant, to be poured out in behalf of many for the forgiveness of sins. I tell you, I will not drink this fruit of the vine from now until the day when I drink it new with you in my Father's reign." Then, after singing songs of praise, they walked out to the Mount of Olives.
Jesus then said to them, "Tonight your faith in me will be shaken, for Scripture has it: 'I will strike the shepherd and the sheep of the flock will be dispersed.' But after I am raised up, I will go to Galilee ahead of you," Peter responded, "Though all may have their faith in you shaken, mine will never be shaken!" Jesus said to him, "I give you my word, before the cock crows tonight you will deny me three times." Peter replied, "Even though I have to die with you, I will never disown you." And all the other disciples said the same.
Then Jesus went to a place called Gethsemani. He said to his disciples, "Stay here while I go over there and pray." He took along Peter and Zebedee's two sons, and began to experience sorrow and distress. Then he said to them, "My heart is nearly broken with sorrow. Remain here and stay awake with me." He advanced a little and fell prostrate in prayer. "My Father, if it is possible, let this cup pass me by. Still, let it be as you would have it, not as I."
*An angel then appeared to him from heaven to strengthen him. In his anguish he prayed with all the greater intensity, and his sweat became like drops of blood falling to the ground.
*When Jesus returned to his disciples, he found them asleep. He said to Peter, "So you could not stay awake with me for even an hour? Be on guard, and pray that you may not undergo the test. The spirit is willing but the nature is weak." Withdrawing a second time, he began to pray: "My Father, if this cannot pass me by without my drinking it, your will be done!" Once more, on his return, he found them asleep; they could not keep their eyes open. He left them again, withdrew somewhat, and began to pray a third time, saying the same words as before. Finally he returned to his disciples and said to them: "Sleep on now. Enjoy your rest! The hour is on us when the Son of Man is to be handed over to the power of evil men. Get up! Let us be on our way! See, my betrayer is here."
While he was still speaking, Judas, one of the Twelve, arrived accompanied by a great crowd with swords and clubs. They had been sent by the chief priests and elders of the people. His betrayer had arranged to give them a signal, saying, "The man I shall embrace is the one; take hold of him." He immediately went over to Jesus, said to him, "Peace, Rabbi," and embraced him. Jesus answered, "Friend, do what you are here for!" At that moment they stepped forward to lay hands on Jesus, and arrest him. Suddenly one of those who accompanied Jesus put his hand on his sword, drew it, and slashed at the high priest's servant, cutting off his ear. Jesus said to him: "Put back your sword where it belongs. Those who use the sword are sooner or later destroyed by it. Do you not suppose I can call on my Father to provide at a moment's notice more than twelve legions of angels? But then how would Scriptures be fulfilled which say it must happen this way?"
At that very time Jesus said to the crowd: "Am I a brigand, that you have come armed with swords and clubs to arrest me? From day to day I sat teaching in the temple precincts, yet you never arrested me. Nonetheless, all this has happened in fulfillment of the writings of the prophets." Then all the disciples deserted him and fled.
Those who had apprehended Jesus led him off to Caiaphas the high priest, where the scribes and elders were convened. Petra kept following him at a distance as far as the high priest's residence. Going inside, he sat down with the guards to see the outcome. The chief priests, with the whole Sanhedrin, were busy trying to obtain false testimony against Jesus so that they might put him to death. They discovered none, despite the many false witnesses who took the stand. Finally two came forward who stated: "This man has declared, 'I can destroy God's sanctuary and rebuild it in three days.'" The high priest rose to his feet and addressed Jesus: "Have you no answer to the testimony leveled against you?" But Jesus remained silent. The high priest then said to him: "I order you to tell us under oath before the living God whether you are the Messiah, the Son of God." Jesus answered: "It is you who say it. But I will tell you this: Soon you will see the Son of Man seated at the right hand of the Power and coming on the clouds of heaven." At this the high priest tore his robes: "He has blasphemed! What further need have we of witnesses? Remember, you heard the blasphemy. What is your verdict?" They answered, "He deserves death!" Then they began to spit in his face and hit him. Others slapped him, saying: "Play the prophet for us, Messiah! Who struck you?"
Peter was sitting in the courtyard when one of the serving girls came over to him and said, "You too were with Jesus the Galilean." Peter denied it in front of everyone: "I do not know what you are talking about!" When he went out to the gate another girl saw him and said to those nearby, "This man was with Jesus the Nazarene." Again Peter denied it with an oath: "I do not know the man!" A little while later some bystanders came over to Peter and said, "You are certainly one of them! Even your accent gives you away!" At that Peter began cursing, and swore, "I do not even know the man!" Just then a cock began to crow and Peter remembered the prediction Jesus had made: "Before the cock crows, you will deny me three times." Peter went out and began to weep bitterly.
At daybreak all the chief priests and the elders of the people took formal action against Jesus to put him to death. They bound him and led him away to be handed over to the procurator Pilate.
Icon courtesy of Jack Figel, Eastern Christian Publications – ecpubs.com
Wednesday, April 13 –