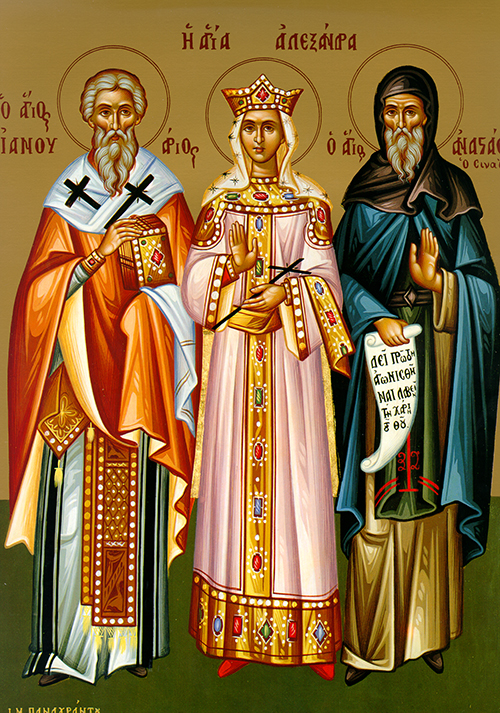 The holy bishop martyr Januarius and his companions Proculus, Sonius and Faustus (deacons), Desiderius (lector), Eutyches, and Akutionus were martyred in the reigns of Maximian and Galerius the emperors, by the persecutor Timothy. Januarius was bishop of Benevento in Italy. To this day, many wonders are worked at the tomb of this saint.
The holy martyr Theodore and his mother Philippa suffered under the reign of Antoninus Pius (138-161) in Perga, Pamphylia along with Dioscorus, Socrates, and Dionysius. The military commander there ordered the youth to offer sacrifice to idols, but the martyr submitted to neither persuasion nor threats. Then the military commander had him placed on a red-hot plate and poured liquid tar on him. Suddenly, there was an earthquake, and a torrent of water gushed forth from the ground and extinguished the fire. The military commander told St. Philippa to save her son by urging him to offer sacrifice to the idols. St. Philippa replied that when her son was born, it was revealed to her that he would be crucified for Christ. Hearing this, the military commander ordered to crucify St. Theodore, and the other martyrs to be beheaded. St. Theodore hung on the cross for three days, offering prayers to God until he finally died.
Troparion
Anointed with the grace of the priesthood, you became good shepherds for God's people. You were snatched and eaten like sheep, but you were offered like a sacrifice to God in imitation of your Master who was slaughtered like a lamb. Pray for us who hold fast to your cherished memory.
Kontakion
You were anointed with the chrism of the priesthood and washed in the blood of martyrdom. You are radiant as you sing praise in heaven's halls. Guard those who come to your temple and sing; Preserve us who supplicate Christ our God.
Epistle
Acts 2: 38-43
In those days, Peter addressed the people: "You must reform and be baptized, each one of you, in the name of Jesus Christ, that your sins may be forgiven; then you will receive the gift of the Holy Spirit. It was to you and your children that the promise was made, and to all those still far off whom the Lord our God calls."
In support of his testimony he used many other arguments, and kept urging, "Save yourselves from this generation which has gone astray." Those who accepted his message were baptized; some three thousand were added that day.
They devoted themselves to the apostles' instruction and the communal life, to the breaking of bread and the prayers. A reverent fear overtook them all, for many wonders and signs were performed by the apostles.
Gospel
John 3: 1-15
At that time a certain Pharisee named Nicodemus, a member of the Jewish Sanhedrin, came to him at night. "Rabbi," he said, "we know you are a teacher come from God, for no man can perform signs and wonders such as you perform unless God is with him." Jesus gave this answer: "I solemnly assure you, no one can see the reign of God unless he is begotten from above."
"How can a man be born again once he is old?" retorted Nicodemus. "Can he return to his mother's womb and be born over again?" Jesus replied: "I solemnly assure you, no one can enter into God's kingdom without being begotten of water and spirit. Flesh begets flesh. Spirit begets spirit. Do not be surprised that I tell you that you must all be begotten from above. The wind blows where it will. You hear the sound it makes but you do not know where it comes from, or where it goes. So it is with everyone begotten of the Spirit."
"How can such a thing happen?" asked Nicodemus. Jesus responded: "You hold the office of teacher of Israel and still you do not understand these matters? I solemnly assure you, we are talking about what we know, we are testifying to what we have seen, but you do not accept our testimony. If you do not believe when I tell you about earthly things, how are you to believe when I tell you about those of heaven? No one has gone up to heaven except the One who came down from there– the Son of Man who is in heaven. Just as Moses lifted up the serpent in the desert, so must the Son of Man be lifted up, that all who believe may have eternal life in him."
Icon courtesy of Jack Figel, Eastern Christian Publications – ecpubs.com
Wednesday, April 20 –