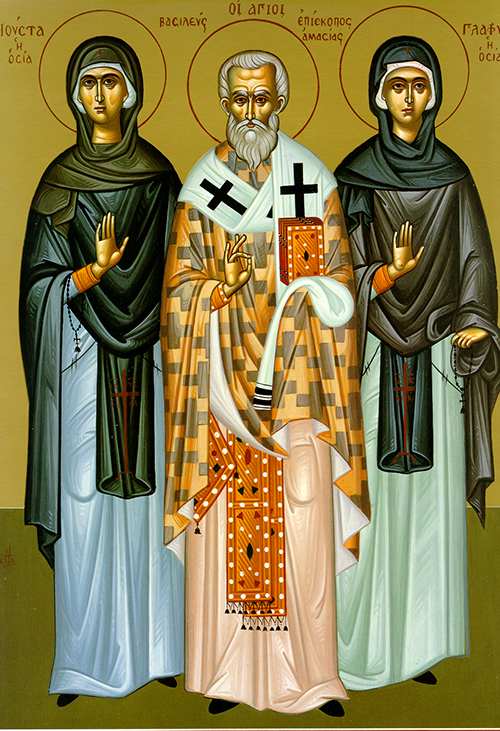 The Hieromartyr Basil, Bishop of Amasea, lived at the beginning of the fourth century in the Pontine city of Amasea. He encouraged and comforted the Christians suffering persecution by the pagans. During this time the Eastern part of the Roman Empire was ruled by Licinius (311-324), the brother-in-law of the holy emperor Constantine the Great. Licinius deceitfully signed St. Constantine's Edict of Milan (313), which granted religious toleration to Christians but he hated them and continued to persecute them.
Troparion
O holy priest-martyr Basil, you lent yourself to the apostles' way of life and succeeded them on their throne. Inspired by God, you found the way to contemplation through the practice of virtue. Therefore, you became a perfect teacher of truth, fighting for the faith unto the shedding of your blood. Intercede with Christ our God that He may save our souls.
Kontakion
By disobeying the edict of the king, you gained heaven. As you now raise your song there, remember us who commemorate you, O priest-martyr Basil.
Epistle
Acts 4: 1-10
In those days, while Peter and John were still addressing the crowd, the priests, the captain of the temple guard, and the Sadducees came up to them, angry because they were teaching the people and proclaiming the resurrection of the dead in the person of Jesus. It was evening by now, so they arrested them and put them in jail for the night. Despite this, many of those who had heard the speech believed; the number of men came to about five thousand.
When the leaders, the elders, and the scribes assembled the next day in Jerusalem, Annas the high priest, Caisphas, John, Alexander, and all who were of the high-priestly class were there. They brought Peter and John before them and began the interrogation in this fashion: "By what power or in whose name have men of your stripe done this?"
Then Peter, filled with the Holy Spirit, spoke up: "Leaders of the people! Elders! If we must answer today for a good deed done to cripple and explain how he was restored to health, then you and all the people of Israel must realize that it was done in the name of Jesus Christ the Nazorean whom you crucified and whom God raised from the dead. In the power of that name this man stands before you perfectly sound."
Gospel
John 3: 16-21
The Lord said, "God so loved the world that he gave his only Son, that whoever believes in him may not die but may have eternal life. God did not send the Son into the world to condemn the world, but that the world might be saved through him. Whoever believes in him avoids condemnation, but whoever does not believe is already condemned for not believing in the name of God's only Son. The judgement of condemnation is this: the light came into the world, but men loved darkness rather than light because their deeds were wicked. Everyone who practices evil hates the light; he does not come near it for fear his deeds will be exposed, But he who acts in truth comes into the light, to make clear that his deeds are done in God."
Icon courtesy of Jack Figel, Eastern Christian Publications – ecpubs.com
Monday, April 25 –