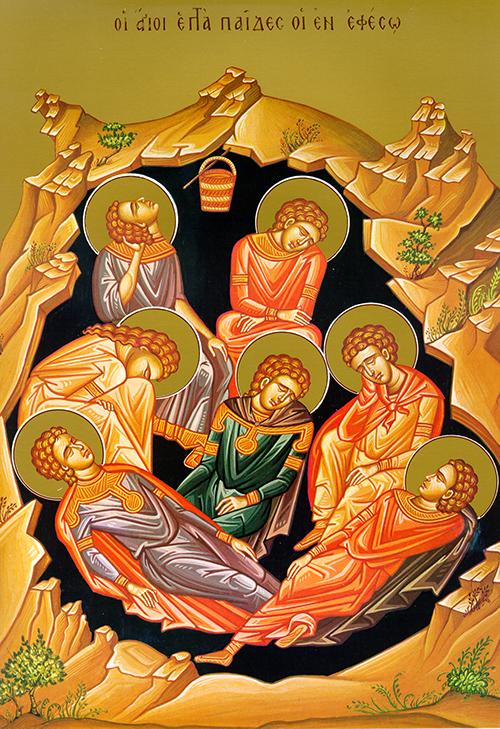 The holy seven children of Ephesus: During the persecution of the emperor Decius, seven young soldiers refused to sacrifice to idols. Tradition says that their names were: Maximilian, Iamblichus, Martinian, John, Dionysius, Exacustodianus, and Antoninus. They concealed themselves in a cave outside of Ephesus, and the emperor sealed them into that cave to kill them in the year 250. In the year 454, during the reign of the Christian emperor Theodosius the Younger (408-450), a dispute arose about the veracity of the Christian teaching on the resurrection of the dead. The youths awoke, testified to the true teaching, and one week later died.
The venerable martyr Eudoxia was a native of Heliopolis in Phoenicia who lived in the times of the emperor Trajan (98-117). At first she led a licentious life, enticed a large number of men to evil by her rare beauty, and amassed riches of great value. Having heard a certain Germanus, a monk, speak on religion and repentance, she was converted to Christ and baptized by Bishop Theodotos. After having distributed her goods to the poor, the saint retired to a monastery and there practiced all the ascetical exercises. She was brought before Emperor Adrian (177-138), accused by the very ones who she had formerly corrupted. Working miracles and curing the Emperor's son, she converted the latter to the Christian faith. She received her crown of martyrdom through beheading.
Troparion
What a marvel of faith! The seven holy youths lived in a cave as in a palace, and they passed on without corruption. After time had marched on, they came out as if from sleep and are fitting signs of the resurrection of all. Have mercy on us, O Christ, through their prayers.
Kontakion
Despising the corruptible things of this world, they received gifts which were incorruptible. They died but did not decay. Coming out after many years, they bury unbelief. O faithful people, come to praise them today, and let us raise a hymn to Christ.
Epistle
1 Corinthians 14: 6-19
Brothers and sisters, just suppose that I should come to you speaking in tongues. What good will I do you if my speech does not have some revelation, or knowledge, or prophecy, or instruction for you? Even in the case of lifeless things which produce a sound, such as a flute or a harp, how will anyone know what is being played if there is no distinction among the notes? If the bugle's sound is uncertain, who will get ready for battle? Similarly, if you do not utter unintelligible speech because you are speaking in a tongue, how will anyone know what you are saying? You will be talking to the air. There are many different languages in the world and all are marked by sound; but if I do not know the meaning, I shall be a foreigner to the speaker and he a foreigner to me. Since you have set your hearts on spiritual gifts, try to be rich in those that build up the church.
This means that the man who speaks in a tongue should pray for the gift of interpretation. If I pray in a tongue my spirit is at prayer but my mind contributes nothing. What is my point here? I want to pray with my spirit, and also to pray with my mind. I want to sing with my spirit and with my mind as well. If your praise of God is solely with the spirit, how will the one who does not comprehend be able to say "Amen" to your thanksgiving? He will not know what you are saying. You will be uttering praise very well indeed, but the other man will not be helped. Thank God, I speak in tongues more than any of you, but in the church I would rather say five intelligible words to instruct others than ten thousand words in a tongue.
Gospel
Matthew 20: 17-28
At that time as Jesus was starting to go up to Jerusalem, he took the Twelve aside on the road and said to them: "We are going up to Jerusalem now. There the Son of Man will be handed over to the chief priests and scribes, who will condemn him to death. They will turn him over to the Gentiles, to be made sport of and flogged and crucified. But on the third day he will be raised up."
The mother of Zebedee's sons came up to Jesus accompanied by her sons, to do him homage and ask of him a favor. "What is it you want?" Jesus said. She answered, "Promise me that these sons of mine will sit, one at your right hand and the other at your left, in your kingdom." In reply Jesus said, "You do not know what you are asking. Can you drink of the cup I am to drink of?" "We can," they said. He told them, "From the cup I drink of, you shall drink. But sitting at my right hand or my left is not mine to give. That is for those to whom it has been reserved by my Father."
The other then, on hearing this, became indignant at the two brothers. Jesus called them together and said: "You know how those who exercise authority among the Gentiles lord it over them; their great ones make their importance felt. It cannot be like that with you. Anyone among you who aspires to greatness must serve the rest, and whoever wants to rank first among you must serve the needs of all. Such is the case with the Son of Man who has come, not to be served by others, but to serve, to give his own life as a ransom for the many."
Icon courtesy of Jack Figel, Eastern Christian Publications – ecpubs.com
Wednesday, August 3 –