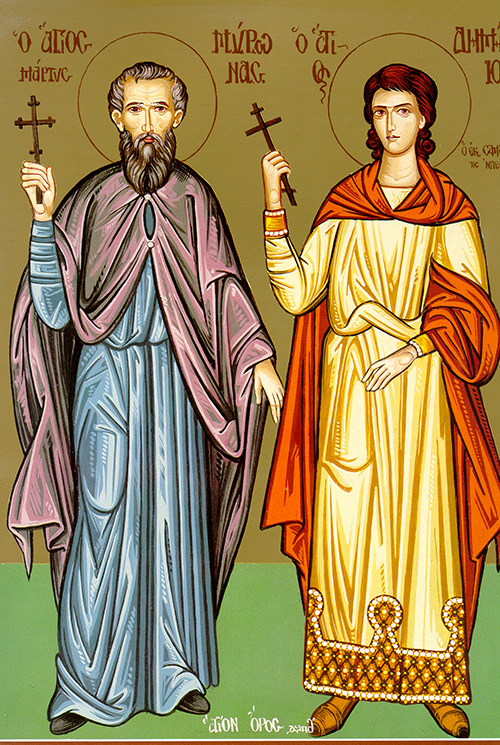 The holy martyr Myron was a priest in the town of Achaia. He was of wealthy and prominent origin, yet was kind and meek by nature- a lover of both God and man. During the reign of Emperor Decius, on the Feast of the Nativity of Christ, pagans charged into the church, dragged Myron out of the service, and subjected him to torture by fire. During this torture, and angel appeared to him and encouraged him. The pagans began to peel his skin in strips from his head to his feet. The martyr grabbed one such strip of skin and struck his torturer, the judge, on his face with it. As though possessed, the judge grabbed a sword and killed himself. Finally, the pagans took Myron to the city of Cyzicus, and slew him there with the sword, in the year 250.
Troparion
Your martyr Myron, O Lord our God, in his struggle received an incorruptible crown from You. With Your strength, he brought down the tyrants and broke the cowardly valor of demons. Through his prayers, O Christ our God, save our souls.
Kontakion
From your tenderest years you loved Christ and kept all His commandments, O most glorious Myron. You followed Him quickly with your innocence, and it is fitting that you now keep company with angels. Seek the forgiveness of sins for those who honor you.
Epistle
2 Corinthians 3: 4-11
Brothers and sisters: This great confidence in God is ours, through Christ. It is not that we are entitled of ourselves to take credit for anything. Our sole credit is from God, who has made us qualified ministers of a new covenant, a covenant not of a written law but of spirit. The written law kills, but the Spirit gives life.
If the ministry of death, carved in writing on stone, was inaugurated with such glory that the Israelites could not look on Moses' face because of the glory that shone on it (even though it was a fading glory), how much greater will be the glory of the ministry of the Spirit? If the ministry of the covenant that condemned had glory, greater by far is the glory of the ministry that justifies. Indeed, when you compare that limited glory with this surpassing glory, the former should be declared no glory at all. If what was destined to pass away was given in glory, greater by far is the glory that endures.
Gospel
Mathew 23: 29-39
The Lord said: "Woe to you scribes and Pharisees, you frauds! You erect tombs for the prophets and decorate the monuments of the saints. You say, "Had we lived in our forefathers' time we would not have joined them in shedding the prophets' blood.' Thus you show that you are sons of the prophets' murderers. Now it is your turn: fill up the vessel measured out by your forefathers. Vipers' nest! Brood of serpents! How can you escape condemnation to Gehenna? For this reason I will send you prophets and wise men and scribes. Some you will kill and crucify, others you will flog in your synagogues and hunt down from city yo city; until the retribution overtakes you for all the blood of the just ones shed on earth, from the blood of holy Abel to the blood of Zechariah, son of Barachiah, whom you murdered between the temple building and the altar. All this, I assure you, will be the fate of the present generation. O Jerusalem, Jerusalem, murderess of prophets and stoner of those who were sent to you! How often have I yearned to gather your children, as a mother bird gathers her young under her wings, but you refused me. Recall the saying, 'You will find your temple deserted.' I tell you, you will not see me from this time on until you declare, 'Blessed is he who comes in the name of the Lord!'"
Icon courtesy of Jack Figel, Eastern Christian Publications – ecpubs.com
Tuesday, August 16 –