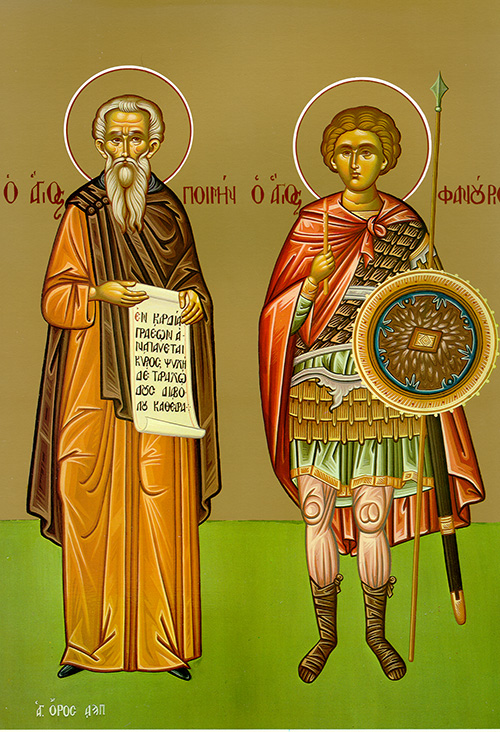 St. Pimen the Great was born about the year 340 in Egypt. He went to one of the Egyptian monasteries with his two brothers, Anoub and Paisius, and all three received monastic tonsure. The brothers were such strict ascetics that when their mother came to the monastery to see her children, they did not come out to her from their cells. For many monks, St. Pimen was a spiritual guide and instructor. They wrote down his answers to ser for the edification of others besides themselves. St. Pimen was strict in his fasting and sometimes would not partake of food for a week or more. He advised others to eat every day but to do so without eating their fill. Abba Pimen heard of a certain monk who went for a week without eating, but had lost his temper. The saint lamented that the monk was able to fast for an entire week, but was unable to abstain from anger for even a single day. St. Pimen died at the age of 110. Soon after his death, he was acknowledged as a saint pleasing to God. He was called "the Great" as a sign of his great humility, uprightness, ascetic struggles, and self-denying service to God.
Troparion
Your abundant tears made the wilderness sprout and bloom, and your deep sighing made your labor fruitful a hundredfold. You became a star shining over the world with miracles, holy father Pimen. Pray to Christ God that He may save our souls.
Kontakion
Today the holy memory of your splendid struggles has dawned, gladdening the souls of the pious, O divinely wise Pimen, our venerable father.
Epistle
1 Corinthians 1: 26-31
Brothers and sisters, you are among those called. Consider your situation. Not many of you are wise, as men account wisdom; not many are influential; and surely not many are well-born. God chose those whom the world considers absurd to shame the wise; he singled out the weak of this world to shame the strong. He chose the world's lowborn and despised, those who count for nothing, to reduce to nothing those who were something; so that mankind can do no boasting before God. God it is who has given you life in Christ Jesus. He has made him our wisdom and also our justice, our sanctification, and our redemption. This is just as you find it written, "Let him who would blast, boast in the Lord."
Gospel
Matthew 20: 29-34
At that time as Jesus and the disciples were leaving Jericho a large crowd followed them, and suddenly two blind men sitting by the roadside, who heard that Jesus was passing by, began to shout, "Lord, Son of David, have pity on us!" The crowd began to scold them in an effort to reduce them to silence, but they only shouted the louder, "Lord, Son of David, have pity on us!" Jesus then stopped and called out to them, "What do you want me to do for you?" "Lord," they told him, "open our eyes!" Moved with compassion, Jesus touched their eyes, and immediately they could see; and they became his followers.
Icon courtesy of Jack Figel, Eastern Christian Publications – ecpubs.com
Friday, August 26 –